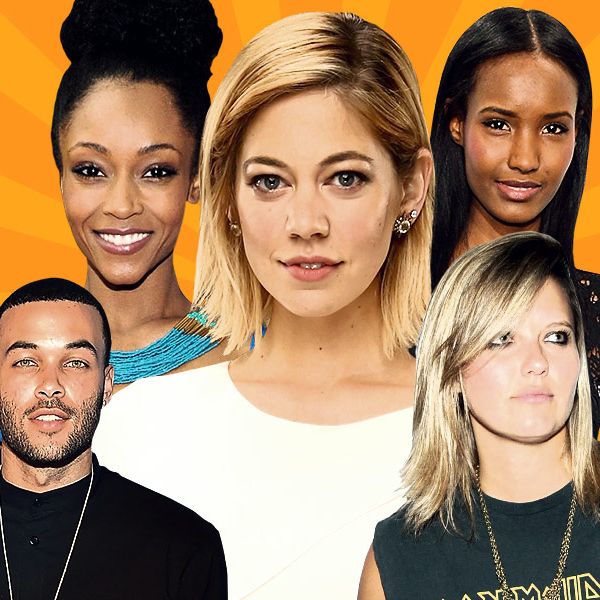 Photo: Maya Robinson and Photos by Getty Images
People — cruel people — love to joke that winning America's Next Top Model is essentially like getting a pat on the back and a gold star. Roughly zero contestants on Tyra Banks's long-running series (we're on Cycle 21 now) have gone on to become supermodels. Instead, maybe they earn a modest living doing runway shows, ad campaigns, and music videos; sometimes they fall to pieces and end up seeking Dr. Phil. Part of the irony in watching ANTM: Knowing that their smizes will soon disintegrate into crying emojis. Some, however, defy the odds and flip their quasi-fame into movie roles (those acting challenges really pay off), non-modeling gigs, and more reality TV. Since ANTM (Boys & Girls 2) returns tonight, Vulture created a power ranking of the show's most enterprising contestants based on their biggest achievements.
15. CariDee English (Winner, Cycle 7)
Post-ANTM: Modeling for Jil Sander and Carlos Campos; host of MTV's Scarred and Oxygen's Pretty Wicked; small roles on One Tree Hill and Gossip Girl
Power Points: Everything you need to know about CariDee is in her Twitter bio: "I was born in a Willie Nelson birthing suite." As a spokesperson for the National Psoriasis Foundation, she's spoken about her struggles as a model. She also notably pointed out Top Model's well-known curse, writing: "Critics and industry love to give us all shit for not being the next big supermodel. We all have done well, and we all had to do it on our own." Touché.
14. Danielle "Dani" Evans (Winner, Cycle 6)
Post-ANTM: Modeling for Sephora, Tory Burch, and Zang Toi
Power Points: Impress Tyra with your gap-toothed smile and you'll go far in this industry. No side businesses, but Dani has primarily stuck to modeling and scored solid regular runway gigs.
13. Cassandra Whitehead (11th Place, Cycle 5)
Post-ANTM: Small parts in Fast & Furious, One Tree Hill and Hannah Montana; a speaking role on season four of Mad Men. (She played a model, and Harry Crane hit on her.)
Power Points: Cassandra will forever be remembered as the girl who quit ANTM because she hated (and sobbed about) her hair makeover, a.k.a. she did not want to be on top. Having sort of taken up acting, the beauty queen still has time to get that role of a lifetime.
12. Camille McDonald (5th Place, Cycle 2; 11th Place, Cycle 17)
Post-ANTM: Marketing internship at Diane von Furstenberg; launched lingerie line, Lingerwear (yeah …)
Power Points: "She just has to lose the attitude," judge Nigel Barker once said about Camille. The reality-TV contestant you hate in the best way, she's also the model whose RBF and walk (she named her "company" Signature Walk, Inc.) are unmatched. Since the show, she's also talked about launching a shoe line and releasing a cookbook.
11. Don Benjamin (8th Place, Cycle 20)
Post-ANTM: Still rapping; created a Kickstarter for his album …
Power Points: Ladies. Love. Don. Benjamin. In Tyra's first-ever cycle featuring both men and women, most of the guys proved to be completely inept at walking down a runway without looking like ax murderers. Don needed heavy tutoring. But the real reason he's on this list is his social following. His 766,000 Instagram legion is more than even Eva the Diva.
10. Brittany "Bre" Scullark (3rd Place, Cycle 5; 10th Place, Cycle 17)
Post-ANTM: Old Navy, Pantene, Dark & Lovely, and Garnier Fructis ads and commercials; small role in Law & Order: SVU; runway shows for Valentino and Nicole Miller
Power Points: Though known to throw a temper tantrum or three, especially if you swipe her granola bar, Bre knows how to own the catwalk. She's one of the more visible contestant's and even launched her own luxury candle collection, BrVelle by Bre.
9. Kim Stolz (5th place, Cycle 5)
Post-ANTM: MTV correspondent and host of MTVu's The Freshman; co-owned the (now closed) restaurant the Dalloway in Soho; currently director of equity-derivative sales at Bank of America
Power Points: Kim's super-awkward catwalk and general lack of modeling skills still got her in the top five. The show's first openly gay contestant bounced back from her loss and became an MTV VJ (she interviewed John Edwards) and now works on Wall Street. TYRA MAIL! It says, "You win IRL."
8. Whitney Thompson (Winner, Cycle 10)
Post-ANTM: Modeling for Target, J.C. Penney, and Forever 21; face of Panache Lingerie; launched dating web site the Big and the Beautiful
Power Points: Two consistent Top Model archetypes exist: the bitch and the pageant queen. Whitney was the latter, the first and only plus-size model to win. Six years later, her "fiercely real" curves are still getting her paid.
7. Toccara Jones (7th Place, Cycle 3)
Post-ANTM: Modeling for Ashley Stewart and New York and Company; BET correspondent; Celebrity Fit Club; workout DVD Toccara's Fabulous Workout for Real-Size Women; featured in Vogue Italia's all-black issue
Power Points: Besides breaking Top Model's plus-size barrier, Toccara made us want to be BFFs with her thanks to her bubbly personality. That's no doubt helped her land hosting gigs and stay in the public eye.
6. Adrianne Curry (Winner, Cycle 1)
Post-ANTM: Modeling for Von Dutch and Macy's; reality TV (Celebrity Family Feud, Surreal Life, and My Fair Brady); collaborated with Stan Lee on the YouTube superhero series Superfans
Power Points: Yes, she was a train wreck, and granted, it's a lowbrow résumé, but the inaugural Top Model winner gets kudos for maximizing her reality TV moment. (No ones talking about Saleisha Stowers for a reason.) And, wait, she worked with STAN LEE. Well played.
5. Fatima Siad (3rd Place, Cycle 10)
Post-ANTM: Runway shows for Ralph Lauren, Hermès, Dries van Noten, and Betsey Johnson; face of spring 2012 Hervé Léger campaign
Power Points: Surprise! The stunning Somalia-born Fatima makes money actually modeling. One of the few contestants who's landed high-end runway shows consistently, Fatima boasts an impressive portfolio despite placing third. Peep her taking a ride in Michael Kors's private jet.
4. Lisa D'Amato (6th Place, Cycle 5; Winner, Cycle 17)
Post-ANTM: Modeling for Guess, Old Navy, and Barney's; runway shows for Diane von Furstenberg and Alice & Olivia; her song, "Can't Touch It," got played on Entourage; Celebrity Rehab With Dr. Drew
Power Points: "Old in the face" is the best way to describe Lisa, the two-time ANTM contestant who also moonlights as a musician. Anyone who remembers this POT LEDOM magic knows she was born to sing. Listen to her latest single, "Comfortably Dumb". (Fun fact: She also had an app called Earth to Lisa).
3. Eva Marcille (Winner, Cycle 3)
Post-ANTM: Modeling for DKNY and Apple Bottoms; roles on House of Payne, The Young and the Restless, and I Think I Love My Wife; cast member on Oxygen's reality-TV series Girlfriend Confidential: LA; Instagram queen
Power Points: Eva (last name formerly Pigford) is easily one of the most recognizable Top Model alums, with a decent film portfolio. A pair of medium-profile relationships have made her a gossip-blog staple (she was engaged to Lance Gross and has a baby with singer-songwriter Kevin McCall). Though we'll always remember her as the queen bitch of her cycle, most of us went from hating her to liking all of her gorgeous Instagram pics.
Post-ANTM: Small roles in Ugly Betty and All My Children, TRON: Legacy, Lee Daniels' The Butler, and The Kids Are Alright ; Garnier Fructis campaign; playing Whitney Houston in the upcoming Lifetime biopic I Will Always Love You: The Whitney Houston Story
Power Points: YaYa's photo critiques usually boiled down to her looking too much like a dancer. Opinionated but not a mean girl, she finished second behind Eva Pigford (the mean girl). YaYa won the war, though, spinning her silver medal into respectable acting gigs, including a potential breakthrough part playing Whitney Houston in a TV biopic. Tyra approves. Bobbi Kristina does not.
1. Analeigh Tipton (3rd Place, Cycle 11)
Post-ANTM: Recurring role on Hung; roles in The Green Hornet, Crazy Stupid Love, Warm Bodies, and Lucy; starring in ABC's Manhattan Love Story this fall
Power Points: Analeigh — an adorable, figure-skating fan favorite — had a part in a Ryan Gosling movie. We repeat: She had a part in a Ryan Gosling movie, playing Steve Carrell's kid's babysitter. Her upcoming lead role in the primetime rom-com, Manhattan Love Story, secures her spot in the Top Model Hall of Fame.