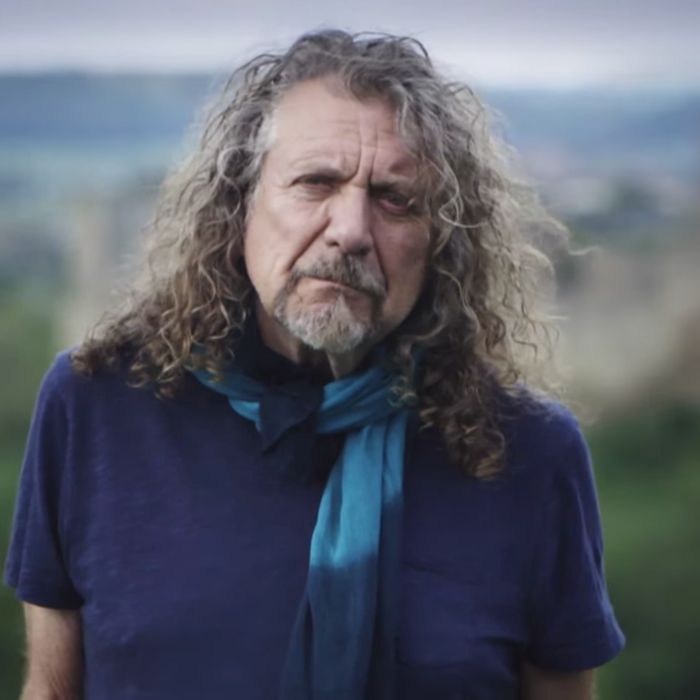 It's been 45 years since Robert Plant made his recording debut with Led Zeppelin, though you'd never guess that from his new solo album, Lullabye … and the Ceaseless Roar, on which his vocal cords still seem to be in mint condition. "I think the more I sing, the better my voice gets," says Plant, who recorded Lullabye with his new band, the Sensational Space Shifters, after road-testing the material — Zeppelin-esque rock, occasionally drawing on Celtic and African influences — for the past couple years.
Most of the other artists who have been at this for 40-plus years seem to have run out of gas. What is it that you're doing right, and why have the other guys lost it?
Well that's a really provocative question, young man, and you must go stand on the naughty step. I don't think anybody's lost it. It's the company you keep. The company I keep is very empowered, humorous, creative, and energetic, and there's an enjoyment in stretching the parameters of what we do. We've been on the road for a year, just playing around the planet, which gave us the opportunity to be quite selective about the ideas that we pursued [on this album].
Do you still enjoy touring?
Oh, yeah, I wouldn't do six weeks of festivals in Europe if I didn't like it. I'm coming to the greater New York area soon, actually. The Capitol Theater [in Port Chester, on September 25], and then the Brooklyn Academy of Music [on September 27 and 28]. I love touring — especially now that we have Juldeh Camara, our West African guy in the band. He's very humorous, very comical. It's all confusing when he keeps calling me "uncle." A term of endearment, apparently.
You've said the song "Turn It Up" was inspired by taking long drives through the American South.
I've been taking drives like that for years. As a kid in England, I was really drawn to the music of Mississippi. I went on various pilgrimages as the years went by, just to see where my heroes came from. But Mississippi today has got nothing at all to do with the vibe of the musical Mississippi of the '30s and the '40s. Culturally and socially, I'm sure it's just a very pale reflection of what it might have been. So I was looking for ghosts, to be honest. I was listening to AM radio, which is riveting. If you ever want to lose faith in life, be very careful which station you tune into down there. There are so many Americas, and I didn't really know which America I was in.
The album opens and closes with your versions of "Little Maggie," a Stanley Brothers song from the '40s. You recorded a version with Alison Krauss for 2007's Raising Sand. Why didn't it make that album?
It was dreadful. It helped cement the friendship that Alison and I share, but it was very funny and very bad and very wrong. I tried to sing it in a traditional, Smokey Mountain Tennessee way, a yee-haw way. So Alison had to pick herself up off the floor because she was laughing hysterically. Then we moved on. But I didn't forget the song, and we tried it again for this album. The British having a crack at it — there's something quite ironic about that, but it did work.
Earlier this year, Led Zeppelin's catalog went up on Spotify. Does it bother you that those albums, with all their warmth and dynamic range, are being listened to in cold, compressed streaming audio?
Yeah, it does. I don't champion too many things, but I do champion the sound of music. It's a hell of a compromise. For example, with Lullabye … and the Ceaseless Roar — never mind Zeppelin — I spent a lot of making sure the vinyl sounds really good, so people have that option. But it is slightly heartbreaking to think that anything can be dismissed sonically and put to the sword by the confines digitalized, computerized sound reproduction. It's hell.
I see that you have a Twitter account. Is that really you Tweeting?
Sometimes. If it's a little bit oblique, or about something you wouldn't expect, then I guess it must be me. I'll call [my team] saying, "Put this up! Put that up!" At other times, it's just them keeping people up to speed on what's going on.
You recently moved back to England after a couple years in Austin, Texas. What was it like living there?
I was very fortunate to enjoy great friendships in Austin, which I sadly miss. I found their hospitality and charm in Austin second to none. But I was yearning for a musical project. My work with American musicians has faltered and come to a natural, suitable finale. My family was saying, "Where has he gone?" And I was thinking, Where have I gone? I'd gone to sea. So I had to come back.
I have a friend in Austin who said he saw you shopping at Whole Foods. Did that actually happen?
No, no, no, I was working at Whole Foods [laughs]. You know, Whole Foods is more of a dating agency than a shop. If you're gonna go shopping for food in Austin, go to Fiesta, the supermarket with a difference. You can get a pork enchilada there whilst picking up some British tomato ketchup and some teabags, and you can do the whole transaction in Spanish.