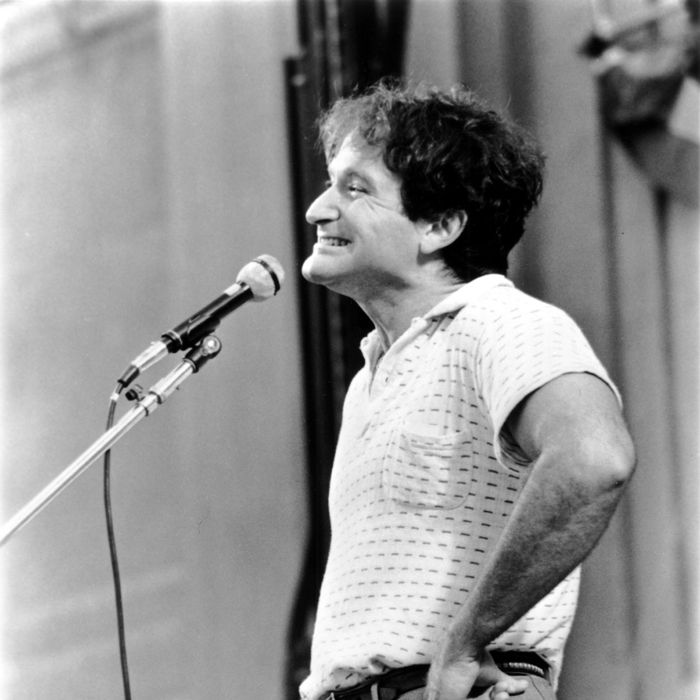 Photo: Richard McCaffrey/Michael Ochs Archives/Getty Images
Last night, when I heard my roommate say "Robin Williams," following the words "did you hear about," my brain summoned the same image of Robin Williams it always does whenever I hear his name: Robin performing stand-up, yet, for some reason, he's in the audience, up in the balcony, straddling the ledge, fiercely alive. The iconography of the moment, mixed with my nostalgia for the time when I first saw that image, resulted in me not actually remembering where it was from. I Googled around and couldn't find the image or the clip, but I saw that five of his stand-up specials are currently on YouTube in their entirety. I watched them all. So should you.
My search for the memory didn't last long. There, in the first few minutes of his 1978 HBO special Off the Wall (titled "Live at the Roxy 1978" on YouTube), Williams heads out into the audience, and then — just like that — pops himself up onto the balcony's railing. It's pretty fucking awesome, deserving of its placement in my memory. And then you realize this was his first televised solo showcase, a place where, to this day, stand-ups usually trot out their best, most polished stuff. Not Robin. He essentially spends the first nine minutes of the hour performing amid the audience, at one point even stopping planned material before he starts it just so he can go play in the crowd some more.
My favorite parts of his specials are his intros, where he just riffs on the space he's in. You see him look around, take in the venue and the crowd, and then quickly filter it all into a hilarious joke about what he's looking at, so we can see the moment through his eyes. If you watch the five specials below in chronological order, you'll notice the material getting tighter and more focused as he gets older — with 1986's polished yet still spontaneous Live at the Met probably being his best hour — but no matter what, he never loses this sense of wonder and fun.
Watching them each back to back, I'll can pinpoint my absolute favorite moment of the five. In Off the Wall, about 45 minutes in, it appears as if Williams has finished his set. He leaves the stage and a solo piano plays what can only be described as music to close down a bar to. But the audience is still clapping, so Williams comes back onstage to oblige. He points at someone in the audience. "I want to improvise with this motherfucker right here," he says, and up walks a young John Ritter. Before the two do a couple of pretty funny improv games, they just play around onstage like two young kids, dancing, touching each other, and doing particularly dumb bits. No one has ever had more fun filming an hour of comedy for television, and no one ever will. You can feel how Robin just wants to live in this moment forever. For me, he will.