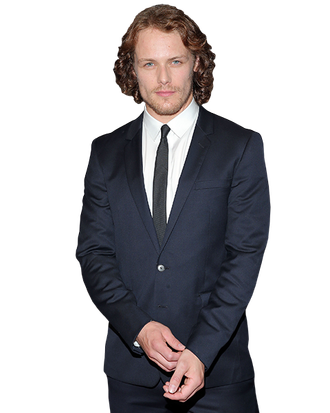 Outlander's Sam Heughan
Photo: Jemal Countess/Getty Images
Outlander is more than a historical adventure series involving time travel; the Starz drama, which debuted this past Saturday and is based on Diana Gabaldon's best-selling book series, also has a romance at its core. The slow-burning flames of passion are stoked when Claire, a married 20th-century Englishwoman and trained combat nurse magically transported back some 200 years, falls in with a group of Highlanders and meets Jamie, a hot Scot frequently in need of her medical expertise. The treatment provides Jamie with multiple opportunities to take his shirt off — not that anyone's complaining. Sam Heughan, the actor who plays Jamie, tells Vulture that he learned to fight, ride horses, and speak Gaelic for the role, and that he's excited to be playing a character with so many layers to be revealed. "We won't shy away from the sex and violence in the books, because this is the world they live in, but it doesn't feel gratuitous," he promises. "There are no mass orgies." Heughan rang us up from Scotland to chat about his "one fine ass," auditioning for Game of Thrones, and Gabaldon's seal of approval.
Are you shooting today?
I'm actually at home, looking out a window at Glasgow. It's my day off today, and it's probably the first one I've had this year. I've been working  on this for over a year now — it's such a whirlwind! Going to Comic-Con and going to New York was my first time to take stock and realize what we're making here, to step away for a second.
Well, it looks like you and Ron started a trend when you were in New York recently for an event at 92Y — a lot of men showed up in kilts.
[Laughs.] I'm delighted. Although, I have to say, I think Ron deserves a lot of credit for this, because he regularly wears his kilt at least once a week. Any opportunity. We went out for dinner, and he was rocking it. Even at the very first read-through that we did with a lot of the folks from Starz and Sony, he wore his kilt. And he looks great in it. Now I'm going to have up my game! [Laughs.] It's interesting how it makes you stand differently or walk differently when you're wearing one, although they're very useful. It wasn't a ceremonial thing as much as practical, warrior's equipment — so it's almost an extension of the character. If you're caught short, and you need to go, you can! Although I have to be a bit careful when it's windy, or when I'm getting in and out of a car. Sometimes I forget, and I might be giving the front row a treat!
Diana Gabaldon also brought down the house at the 92Y event when she paid you a huge compliment. I think she said, "Honesty compels me to say that you have one fine ass, Sam!"
Yeah, I was plying her with a lot of whiskey that night. [Laughs.] That was very kind of her.
She's been supportive of your casting since the beginning, which helped silence book superfans who may have had doubts. You almost had a Fifty Shades of Grey moment there, but she put that to rest when she assured everyone that, based on your audition, you were the right man to play Jamie, even though you're blond.
That was a big one, wasn't it? People forget actors can adapt and change their appearance. In this industry, people sometimes cast to type, or as close to type as possible, but actors are a lot more versatile than you think! We're constantly playing different characters, some older, some younger, especially if we're doing theater. But fans have been waiting for these books [to be made as a film or TV show] for 20 years, and they have their own ideas of how these characters should look, and you certainly can't please everyone. But this is our adaptation. There could be another one in the future, but for our adaption, I think we've honestly tried to keep it as close to the book as possible, and we've got the best people for the job. I think the fans will be happy with the choices we've made. And we're really lucky to have Diana onboard. It's all down to Diana, to be honest. She's helped transfer the fans over, so we're lucky to have that fan base onboard already. And she's been very supportive along the way, throughout the whole process. She's been so generous with her time and her notes. We talk a lot via email and Twitter, and I'm very lucky, obviously, that she's always there if I've got any questions. It's nice to feel that support, to connect on a personal level, to have a friend there. When we finally met at [the Television Critics Association press tour] in January, it felt like we had been talking for a long time.
You auditioned for Game of Thrones before this, right?
I auditioned for Game of Thrones seven times! Loads of times. I auditioned for Renly, Loras, some of the members of the Night's Watch. And I'd always get so close! I'd be like, "Guys, just give me a sword!" [Laughs.] Everyone was going in for those parts. But you know, it's funny about those things. You're up for so many things, and coming from those auditions, and testing on other shows, I had more experience, more experience with the process. And maybe I was more confident. And I don't know, something about this one just felt right. This part felt different. I knew this character. I felt a connection with him. I knew where he had come from. And I was excited to work with Ron [D. Moore]. And I love having a book or something to research to fall back on, so occasionally I can go double check. But the material was already there. Diana actually sent me the books, some of her short stories that she hadn't published, some extra scenes, and this graphic novel, The Exile. And actually, to be honest, that was the first time I started to see Jamie as sort of a separate entity, because if you read that book, you start to see where he's come from, and his life.
They call Jamie "the king of men" in the writers' room.
[Laughs.] Wow.
Because he's like this idealized man for some folks. And you already have a devoted fan base, the Heughligans.
I've met a couple of them! They sell shirts and donate the money to charities in your name, such as leukemia/lymphoma research. They're very encouraging, very positive. The fact that they're so into it, it's nice to have that support.
I suppose it's kind of like the Cumberbitches for Benedict Cumberbatch, or the Hiddlestoners, for Tom Hiddleston. Have you heard of those?
I did, recently. I guess it's the social media that's made it a lot easier to do that, to be up and become part of something.
Many of the Heughligans have been collecting these little cardboard cutouts of you as Jamie, which they call the Pocket Jamie, and they do various stuff to him. They even have contests about it. Did you get one?
No! I didn't. I could have done stuff to him as well! Put him up as target practice. Knock him down. Whack him! [Laughs.]