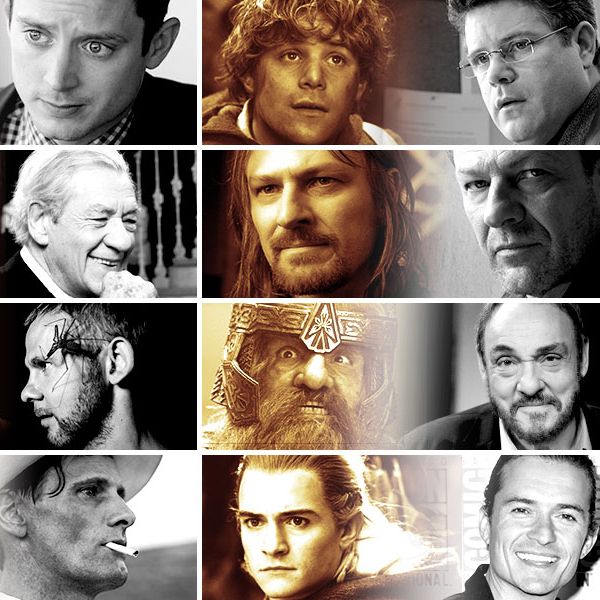 With Sean Bean making his return to television next Wednesday on the new TNT action show Legends, it marks a nice pop-culture moment when a majority of the nine members of the Fellowship of the Ring will have been regulars on TV series this year. Vulture mentioned this interesting development to the actor who played Boromir in Peter Jackson's adaptation of J.R.R. Tolkien's The Lord of the Rings earlier this week at a special Legends screening, hosted by Entertainment Weekly at the Tribeca Grand, and the coincidence seem to please him. "Does it?" Bean asked excitedly. "Are they? Really?" Really!
Check this out:
Sean Bean (Boromir) will star in TNT's Legends.
Elijah Wood (Frodo) has Wilfred, which has its series finale the same night Legends premieres.
Sean Astin (Samwise) is currently appearing on FX's The Strain.
Ian McKellen (Gandalf) stars in the Brit-com Vicious, which recently ended its first-season run on PBS.
Dominic Monaghan (Merry) hosts the travel-adventure show Wild Things, which aired its second season this spring on BBC America.
That's five of the nine Fellowship members already. But Gimli will also join the party this fall: John Rhys-Davies has joined the cast of ABC's Once Upon a Time. More tenuous connections that we giddily threw out to Bean anyway: Viggo Mortensen (Aragorn) stars in The Two Faces of January, debuting on demand August 28, while Orlando Bloom (Legolas) turned up last week on the syndicated TMZ on TV show due to his recent smackdown with Justin Bieber. "Good going!" said Bean, complimenting Bloom's feat with a laugh. (We should also mention that Liv Tyler, who played Fellowship friend Arwen, appears on HBO's The Leftovers.) But then Bean wondered, "Where's Billy [Boyd]? Where could Billy be?" There was no sign of Pippin as far as the TV eye could see. But other than that, Bean concluded happily, "We're all together again!"
Bean said that, of all the projects we rattled off, he has followed Wild Things the most closely, and admitted that he's a little confused by the concept of Wilfred: "Is it a comedy?" Noting that Legends begins and Wilfred ends on the same night, Vulture asked him whether that might finally rewrite Tolkien lore and allow Boromir to overpower Frodo through the ratings? "I hope so," Bean chuckled. "We're on at the same time! It's a competition!" The important climactic scene between Boromir and Frodo in 2001's The Lord of the Rings: The Fellowship of the Ring remains hugely important to Bean. "I just think it was heroic! And he lasted a long time," Bean chuckled, referencing the many, many death scenes onscreen (TNT is even marketing Legends with the social-media campaign "Don't Kill Sean Bean"). "And it was poignant, that moment. It was a wonderful scene, the way they shot it, the way Peter Jackson imagined it. And it was the way I kind of imagined it, a very worthy death. He kind of turned into the man he once was, before the Ring made him crazy and corrupted his weaknesses. He was allowed to become Boromir of old."
Bean told us that the tattoo on his right arm marking his time in the Fellowship was actually procured in the very neighborhood where the Legends screening was held, and the event sparked a poignant memory of getting the tattoo — on September 10, 2001. "I was with Orlando and Elijah at the time, here in New York, and it was weird, because the next day was September 11," he said. "That was a shock. A very unpleasant time."
As we wrapped up our conversation, Bean said that he was hopeful that the Fellowship-ization of television will help people to rediscover the Lord of the Rings movies. "Isn't that always the case?" he said. "People like something, and something else pops up, and points them to something else. I guess you get a new generation who's curious about what's coming up and discovering it for themselves." In the meantime, Game of Thrones has yet to call Bean for any flashback scenes for season five. "I'm still waiting!" he laughed.