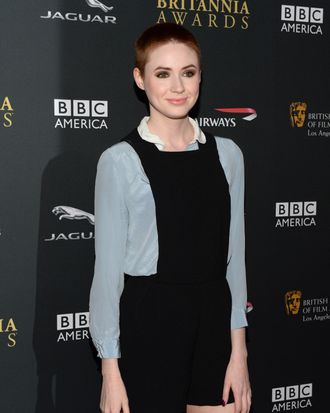 Actress Karen Gillan with Stylebop.com attends the 2013 BAFTA LA Jaguar Britannia Awards presented by BBC America at The Beverly Hilton Hotel on November 9, 2013 in Beverly Hills, California.
Photo: Michael Kovac/Getty Images
The first episode of ABC's millennial comedy Selfie premieres September 30, and now you can stream the first episode online. Selfie is a modern retelling of My Fair Lady, which stars Doctor Who's Karen Gillan as "Eliza Dooley" a narcissistic social-media addict who hires a marketing guru, played by Harold and Kumar's John Cho, to rehabilitate her image after she accidentally stars in an unflattering viral video. Watch the pilot (or just pretend to watch the pilot while you check your Instagram) on Hulu.