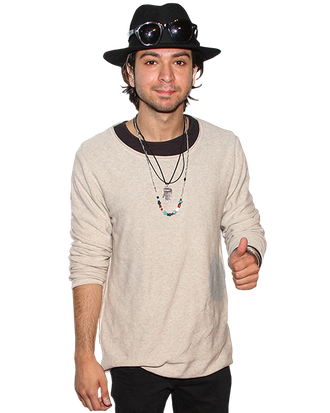 Pop-and-lock your way to the theater: Step Up is back for another round. And with Channing Tatum loooong gone, we're focused on Adam Sevani, or "Moooooose," as he is better known in the series. The floppy-haired dynamo was mistakenly left out of the majority of Step Up Revolution (his cameo at the end barely makes up for that major faux pas!) but he's back for Step Up All In. To celebrate, we talked to the man behind the Moose, Adam Sevani, about all things Step Up, hanging out in Las Vegas, and whether he'd take part in Tatum's Magic Mike XXL. (Channing, if you're reading this: Moose is waiting on your call. Honestly, we're all waiting.)
Step Up All In is out so soon! Are you excited?
Uhhh yes. I don't know. Maybe!
Maybe? What do you mean?
I'm not as excited as I was when the first one came out because we've done so many of these.
That's true. You're a veteran of Step Up by now. You must feel like you're on a never-ending roller coaster of the same type of movies.
Exactly. Exactly.
But I will say I missed you in Step Up Revolution. When you appeared at the end, the entire movie theater I was in erupted into cheers. That must be nice!
It's awesome.
And now you're in Vegas. Did you guys do the typical Vegas stuff?
Vegas is kind of crazy because there's so much going on. Everyone goes there to be entertained. We actually saw our good friends the JabbaWockeeZ's show, which I was thoroughly impressed with. Very proud, because I've known those guys forever, maybe over 14 years.
Of course! From So You Think You Can Dance. Do you watch a lot of the dance shows?  
I've never seen a single episode of So You Think You Can Dance.
No way.
Yeah; I watched the first season of America's Best Dance Crew, because the JabbaWockeeZ were on it, but I don't watch any dance shows like that.
With this being the fifth movie, you guys had to up your game. Were there any dance scenarios you found crazy to work with?
No. You know what? You would hope that you could keep upping it, but I still wanted to do more. I wanted to do way more than I was given. I mean, we didn't really even have much time to prepare for this movie. Two weeks! A lot of my stuff I just made up the day of. All the dance sequences you see me doing, none of it was really preplanned. It just happened ten minutes before we had to shoot, and I was like, "Alright, I'll just do this."
That's crazy!
Yeah, I know, but it's just how we've been doing these movies. The whole entire shooting of these movies is always behind, because you don't have a lot of time to prepare. I wish we had more time because I wish it could get bigger, but it was good for the time that we had.
It's just crazy that it's such a big movie but you only had two weeks to prepare, you know?
Right, exactly.
That's exactly like the plot in the movie where you only have a week to prepare.
Now that I think of it, that's exactly how the movie was. I don't know how it came together, but it did.
If you had to star in a different movie franchise, which would it be?
That's a great question. Probably Rush Hour. I like that whole cop-comedy type of drama. It's funny because we had these [VHS] copies of copies of the movies. So you couldn't really see anything.
What about the Magic Mike sequel? Channing Tatum must still have love for the Step Up franchise. If he asked you to be in Magic Mike XXL, would you do it?
Yeah, sure! I'd have to beef up and gain some muscle and that's no problem, but I haven't seen [Magic Mike].
Hold up. You haven't seen Magic Mike?
I haven't seen it!
I mean you'd have to do some stripping, but I feel like that would be a fun thing for anyone.
I mean, I do that on the side anyway … [Laughs.]
Okay, well, you have to go see Magic Mike like, now. He might call.
I will!