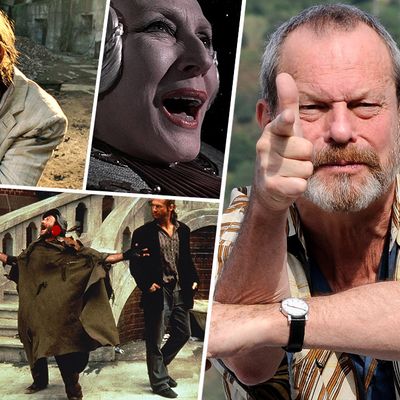 Sometimes it's a wonder he gets any movies made at all. Over the course of his legendary career, Terry Gilliam (Brazil, Time Bandits, 12 Monkeys) has built a reputation as a director who likes to try for the impossible — be they shots, scenes, or entire movies. This is, after all, a man who made a romantic comedy about homeless people, madness, and death (The Fisher King). A man who made a microbudget, absurdist, effects-laden coming-of-age fantasy (Tideland). A man who made a film of Hunter S. Thompson's Fear and Loathing in Las Vegas that's just as nutty, if not more so, as the original book.
Sometimes his job is difficult because he sets impossible challenges for himself. Sometimes it's difficult because fate doesn't cooperate: His attempted filming of The Man Who Killed Don Quixote was famously scuttled due to horrid weather and an ill lead, as depicted in the brilliant documentary Lost in La Mancha. On The Imaginarium of Doctor Parnassus, his star Heath Ledger died halfway through the shoot, leading to Ledger's scenes being completed by the triumvirate of Johnny Depp, Jude Law, and Colin Farrell.
Gilliam's latest, The Zero Theorem, which hits theaters this weekend, is another of the director's wild, impossible projects: an elaborate, dystopian sci-fi film starring Christoph Waltz as a brilliant neurotic working for an all-controlling, all-seeing corporation as he tries to unlock the meaning of life. It's a surreal carnival of visual wonders made all the more impressive by the fact that it was shot on practically no budget. So, when we got a chance to talk to Gilliam recently, we wanted to ask him about some of the most difficult scenes and shots of his career. Some were ones he suggested. Others were ones we were curious about. Here are those scenes, with Gilliam's thoughts on them.