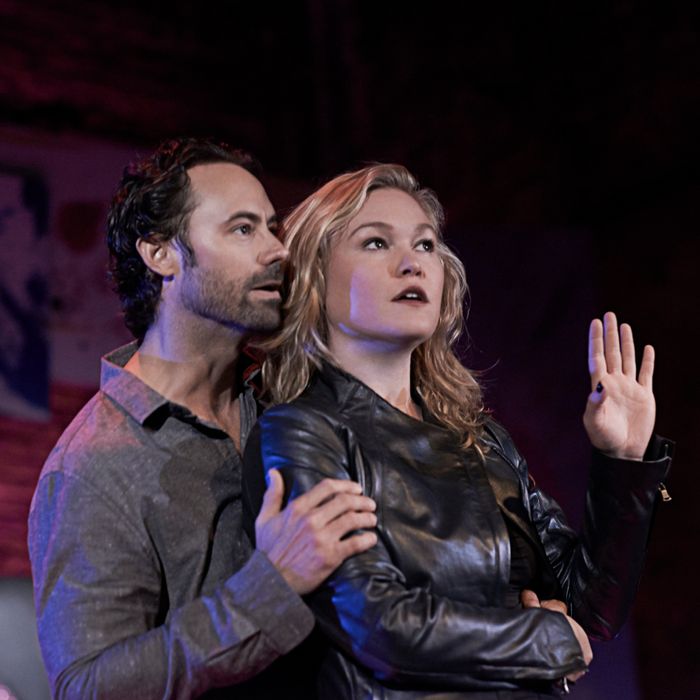 Photo: ?HarryFellows2014/?HarryFellows2014
What hath Godot wrought? The pregnant, performative style of stage dialogue revolutionized by Beckett and honed by Pinter has, over the years, devolved into a cheap lingua franca used by playwrights as high-gloss varnish on their piddly dramedies and rom-coms. In the latter category is Scott Organ's Phoenix, a two-hander featuring no existential dread, but plenty of dreadful conversations. These consist mostly of feints and gambits that curlicue endlessly around nothing:
SUE: There's good weird and there's bad weird.
BRUCE: Right. Bad, like, come look at my homemade chain-mail armor that I made with my own two hands …
SUE: You have chain-mail armor?
BRUCE: No, I'm saying if …
SUE: Yes. And no. There's worse weird, believe me.
BRUCE: Or I'm in a barbershop quartet.
SUE: Depends. I feel like some guys could pull that off.
BRUCE: I'm not in one.
SUE: Depending on who you are.
BRUCE. I'm not in one.
SUE: That's fine.
BRUCE: Do you think that I should look into it?
SUE: A barbershop quartet?
BRUCE: Yes.
SUE: No.
BRUCE: Then we are agreed.
This vapid patter from the first scene, like most of the rest of the play, has little purpose but to fill time between plot announcements that are spaced like telephone poles across a desert. You see everything coming from miles away. As such, it can barely be called a spoiler to reveal that Sue, who hooked up with Bruce four weeks before the action, is pregnant, and that Phoenix (named for the town where she's planning to have the abortion but also, alas, for the death-defying bird) will chart the "surprising" course of their relationship as it hobbles from zero to maybe. That's about as much as the characters grow, too. At the start, he's boyish, she's anal; by the end they've met in the middle at banal.
What's actually surprising is that this fluff is being given a commercial run in New York, even after a 2010 production by the Barrow Group garnered mediocre reviews. The casting of Julia Stiles, former teen queen and star of the 2009 Broadway Oleanna, only partly explains it. (For the record, she's way better than the material, and the material is way better than the production.) The rest of the explanation is buried in the playbill, which reads like a genealogy of the Hapsburgs. Stiles and her stiff co-star, James Wirt, are part of a multiply interlinked network — I was about to say cabal — of indie-movie types who have one film in the can, one about to shoot, and another in development. The one in development is, you guessed it, Phoenix. So this stage production is, in effect, a rehearsal, which may explain the actors' unreadiness. But what explains the shoddy, amateurish staging? Hideous beglittered spin-art collages dominate the set; the lighting is erratic, the pacing elephantine. (The director is Jennifer DeLia.) It's almost as if no one associated with Phoenix had ever seen a play — though clearly someone read one once.
Phoenix is at the Cherry Lane Theatre through August 23.