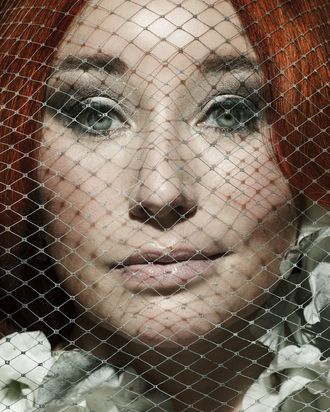 Photograph by Christian Conti
Photo: Christian Conti
"I've actually never been here before," Tori Amos says, walking up the steps of the Metropolitan Museum of Art in a pair of metallic, strappy sandals. It's 11 a.m. on a Thursday morning, and the 50-year-old singer-songwriter is calmly winding her way through packs of schoolchildren in matching summer-camp T-shirts. Though she's long cited the visual arts as a primary inspiration—she's named Cézanne, Diane Arbus, and 19th-century painter Daniel Maclise as influences on her new record, Unrepentant Geraldines—Amos doesn't consider herself an art scholar. "I'm an ignorant person on that front, and that's fine," she says as we make our way to the European-painting wing. Amos, who is in town gearing up for the U.S. leg of her world tour, which brings her to the Beacon Theatre this month, stops halfway up the Met's central marble staircase and grabs my arm urgently. She says she can "hear" art. "It seems silent, but it isn't," Amos explains. "If you can allow yourself to be invaded by what's around you when you're looking at it, then you might be called to prayer."
This kind of fervent, near-religious searching has defined Amos's work since her solo debut, 1992's Little Earthquakes. The albums that followed, particularly Under the Pink (1994) and Boys for Pele (1996), established her as one of her gen­eration's most innovative and unconventional musicians, a provocateur whose outré lyrics and image—she was photographed breast-feeding a pig for her album art, was rumored to have dated Trent Reznor, and wrote explicitly about her own rape—were grounded in unimpeachably strong songwriting. (Amos began playing piano at 2, composing at 5, and attended a music prep school on a scholarship.) She was the sexually confident, feminist mystic of the '90s alternative-rock-goddess club that included Courtney Love and Björk.
At 50, Amos lives a relatively quiet life with her husband, British sound engineer Mark Hawley, and their 13-year-old daughter, Natashya, whom she calls "Tash." But Amos hasn't lost her sprightliness. "It's time for the lioness on the bull!" she exclaims, squatting slightly in front of The Flight Into Egypt, by Luca Giordano, and moving her hips as if she's riding a bronco. "There's a time, at 50, to sing these songs with these moves and have the stool"—she gestures between her legs—"as my bull." Amos stands up, chuckling at herself. "As Tash says: 'Not too much skin and no interpretive dance, Mom.' But I'm allowed to do anything at the piano."
Unrepentant Geraldines is Amos's 14th studio album and eighth to debut in Billboard's top ten, making her one of the rare '90s icons who have stayed commercially relevant. She recorded it with Hawley at the home studio on their secluded compound in Cornwall. When, in the mid-'90s, Amos told Hawley she had a "crush" on him, he made isolation a condition of their partnership. "He's very antisocial," she says, strolling slowly across the gallery floor. "When we got together, it was 'No Hollywood, no metropolitan city.' He said, 'I'm kidnapping you, and you're going to thank me for the rest of your life.' " She cackles. "It's good I married a Brit because I needed to laugh. I wasn't laughing in 1992."
Amos's heels make tinny echoes as we move into the next room. "Sometimes wouldn't you just love to go back and watch them work?" the singer says, taking in a Gustave Courbet. "It's such a different skill set." She likes the notion of a tangible, physical connection between artist and instrument. "The idea that you'd build your own piano," she continues, "that you're having to do that in order to play music."
Last year, Amos collaborated with London's Royal National Theatre (and co-writer Samuel Adamson) on a musical adaptation of a Scottish fairy tale, The Light Princess. "I love the thespians, but they don't think ethereal, global. They're locked on the stage," says Amos, who hopes to bring the show to Broadway eventually. She stops and grabs my arm again. "I'm making The Light Princess into a record," she says in a forceful whisper. "Next year." Amos thinks the recorded versions of many musical-theater productions sound as if they were made on an assembly line. "How can you get somebody to unzip their skin and give you their heart and soul when you're ticktock?" she wonders. "That's not how we make records." Her version will be "a sonic extravaganza," she promises. "More like Jesus Christ Superstar and Chess."
We head downstairs to "Beyond Fashion," a special exhibit of couturier Charles James's exquisite structural gowns, which are displayed like frosted pastries in bakery cases. The last time Amos got properly dressed up for a nonwork event was for "dinner with Mark and Tash. She has an eye for that kind of stuff, so you want her to be proud," Amos says of her daughter, who co-stars with Amos in her newest video, a mother-daughter love note titled "Promise." "Tash tells me the worst thing a mother can do is show up at school and all the guys are saying"—Amos adopts the accent of a lewd British teenage boy—" 'Your mother is gagging for it.' Tash said, 'Do you want to make a girl's life hell? Be that mom.' " Amos admires an emerald gown. "What I've had to learn is there is casting dressing for certain situations," she says. "You don't want to really, really stick out at any end of the spectrum because it should be about [the kids]. It shouldn't be about the attention you're causing because you're in pleather at the assembly."
At the rooftop café and lawn upstairs, Amos orders Sweet Maui Onion potato chips and sweet tea. We settle into the faux grass, shaded by a trellis, and I ask her about a comment she recently made: "Can most women honestly say they feel that their spiritual and secular aspects are completely integrated?" That union is one of the themes of the new record. "It's about, How can I be spiritual and hot?" she summarizes. "Women have no problem playing that role of mistress, but the key is integrating mistress and wife," she goes on. "When they have to be them, their authentic selves [in bed], they're not sure."
Complete integration, Amos says, requires rewiring a woman's relationship with sex and with other women. "Somehow we think if another woman fails, we succeed," she continues. "We've all been guilty of kind of chuckling when one of the sisterhood poops on her Jimmy Choos." She laughs. "You think, Oh, dear! But then you think, Ha-ha-ha-ha. Mine have no stains today. But then you think, What have I just done? Who have I become?" She applies a slick of sheer orange gloss to her lips. "You cannot allow other women to shame you," she says. "You can't allow it into your aura." Amos wrinkles her nose. "I don't like that word."
The singer would like to visit the bookstore, but first she takes a selfie for her Instagram feed, New York skyline in the background. I ask about her enduring reputation as an iconoclast. "I think of myself as just a voice that has to ask certain questions," she says as we toss out our trash and head downstairs. "Today it's good to be 50 and in the music industry. But that's today." She stops on the ledge just shy of the elevator, the Upper East Side laid out below her. "But there are other battles you're always having." She brings up Stravinsky, whose Rite of Spring, Amos says, "had the biggest effect on me of anything that's ever been done," in part because it received such mixed reviews when first performed. "If he'd walked away from that and didn't make sure that work was out there, we wouldn't have it today, but he still believed in it," she says. "Not everything you do will be revered, and as an artist you have to know that," she adds. "But there must be something really delicious about the battle."
*This article appears in the August 11, 2014 issue of New York Magazine.