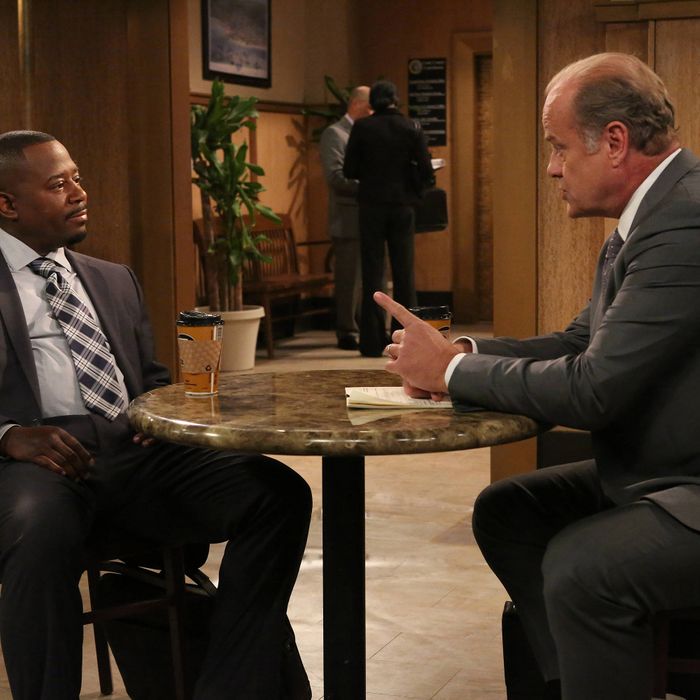 FX's latest comedy attempt premieres tonight. Partners stars Kelsey Grammer and Martin Lawrence as odd-couple lawyers, and the show itself leaves a bit to be desired. But more important, it brings two '90s-era icons back, and thus it raises the question: How long is long enough, and how long is too long, between roles of the past and roles of today? We present a very unscientific look at some of the actors and actresses on current shows and how soon these shows came after iconic (or at least widely seen) roles on other shows — plus what lessons future stars can glean from these leaps.
Courteney Cox: five years between Friends and Cougar Town
Matt LeBlanc: seven years between Friends and Episodes
That's the tough transition, to go from a popular ensemble series to a leading role in the same genre, and it took both former Friends a few tries to get it right. (RIP, Dirt. And … uh… Joey.) Each of their current shows was sold on its star's power, and that turned out not to be quite enough — but given time to develop and find a voice and give the ensembles more substance, each show found a way. So if you're a big star looking for a new vehicle, don't get a sports car; get a minivan, and let a fantastic supporting cast pile on in with you.
Julianna Margulies: nine years between ER and The Good Wife
Again, find yourself a good show and then hunker down! Another lesson from Veep and Good Wife would be to get a wig; both Louis-Dreyfus and Margulies cover naturally curly hair with straight wigs on their shows. Maybe Kelsey Grammer should get a wig?
Mark Harmon: ten years between St. Elsewhere and Chicago Hope; three years between Chicago Hope and NCIS
Harmon has a few significant things going for him: First is that he never really left TV — between Chicago Hope and NCIS, for example, he had a pretty memorable guest turn on The West Wing, plus a handful of one- and two-season shows here and there. Second is that he's widely regarded as handsome; that's just a boon for basically anyone. And third, Harmon has been on ensemble shows, so seeing him as part of another ensemble feels appropriate.
Tim Allen: 12 years between Home Improvement and Last Man Standing
I'm reluctant to call Last Man Standing significant, but it's just heading into its fourth season, and it has no sitcom competition as the only scripted comedy airing Friday nights. The lesson to be gleaned here — which is the same lesson we can learn from the familiar-face-laden The Millers — is that people really want to watch crap. They love it. Or at least they don't seem to reject it, and crap with a familiar star in it? Well, that's basically a money factory.
The Entire Cast of Parenthood, Basically: Craig T. Nelson, 13 years between Coach and Parenthood; Lauren Graham, just three years after Gilmore Girls
Again, ensembles make for more forgiving endeavors, plus most of the cast is playing at least adjacent to the roles for which they're most famous: Nelson is still a sorta-gruff dad; Graham is still a talky single mom. Peter Krause is more affable here than on Six Feet Under, but just by a little; Mae Whitman is a little tougher than she was on In Treatment (though, in fairness, a lot tougher than she was on Arrested Development). No need to reinvent the wheelhouse, Kelsey Grammer in Boss.
Julia Louis-Dreyfus: 14 years between Seinfeld and Veep
For our present purposes, Watching Ellie and The New Adventures of Old Christine are not significant enough shows, even though JLD won an Emmy for the latter. But Veep is a big-deal show (even though it has fewer viewers), and it's given JLD a pop currency anyone would be jealous of. Unfortunately for other performers, the real takeaway lesson is to be on a fantastic show — which presumably everyone's trying to do in the first place. It's easy to have an iconic role when a show is as solid as Veep is.
Claire Danes: 16 years between My So-Called Life and Homeland
Danes had plenty of film work in between these shows, but surprisingly, Homeland really is her second TV series — no failed six-episode shows or pilots that didn't quite take. Given that Danes was an actual teen when MSCL aired, the only real page one can take from her playbook is to grow up and to do so gracefully. Good luck, everybody!