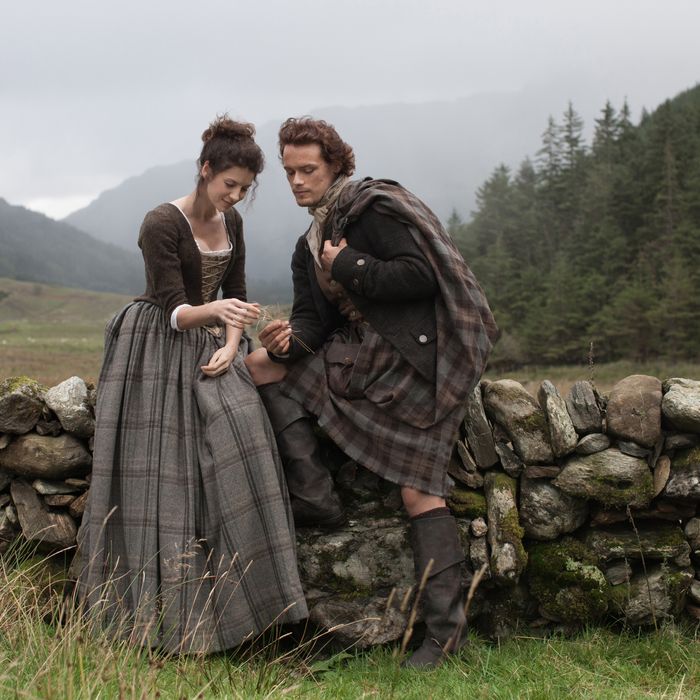 Outlander is already being positioned as a feminist answer to Game of Thrones, but I don't see much resemblance other than the fact that it's on pay cable, is based on a series of best-selling fantasy novels, and many of its characters ride horses and swing swords. This new Starz drama from Ronald D. Moore is, like his brilliant and sometimes infuriating reimagining of Battlestar Galactica, defiantly its own thing: part romance-novel fantasy, part time-travel story, and part wartime drama (set across two time periods).
But its core is about the emotional and cultural differences between men and women, and how their relationships have and have not changed over the centuries. It contains violence, sex, nudity, rape, and all sorts of cruelty, and, as on Thrones, there are points where you cannot entirely defend the show's gender politics. (The core of its first few episodes is a captivity narrative involving a frequently shirtless Scottish hunk in a kilt who at one point tells the very feminist heroine, "I'll pick you up and throw you over my shoulder" — threat or promise?) No matter: Narrative pleasure doesn't obey rules of representational neatness, and the fact that this show's sensibility veers between Molly Haskell and Sir Walter Scott is fascinating.
The story starts in Scotland in 1945, not long after VE Day. Claire Randall (Caitriona Balfe), a former battlefield nurse, is on a second honeymoon and sightseeing trip with her beloved husband Frank (Tobias Menzies), a historian and ex–British Intelligence officer. Somehow she gets transported via druidic henge to 18th-century Scotland, which was then in open rebellion against the British Crown, and falls in with a roving band of Scottish soldiers, including the aforementioned kilted beefcake fantasy object, Jamie Fraser (Sam Heughan). As Claire comes to terms with the fact that she really, truly is stuck in another century, and that she has no obvious means of return, her chemistry with Jamie starts to morph into an actual relationship, though it would be unfair to describe the twists and turns of that journey in too much detail. She's a stranger in a strange land. People don't like or understand the way she talks to them, and they think her bra is some sort of corset (it kind of is).
Director John Dahl (Rounders, The Last Seduction) establishes the look and tone of this series, which is curiously gentle despite its often harsh content. Outlander is punctuated with savage violence (including a flashback in the second episode to a woman's violation and a man's torture) but rarely dwells on it, often cutting away from explicit sex or violence before anyone can accuse the filmmakers of being gratuitous. There's also a sense in which Outlander can be watched not just as an involving fish-out-of-water adventure, but also as a commentary on female audience's often thorny relationship to mainstream genre fiction, which tends to be centered on issues of pride, honor, and goal-oriented journeys that end with the hero winning glory and a woman.
Claire is no Conan type (although the way Balfe plays her, we never doubt that she has steel in her spine). She's unquestionably the protagonist of the story, and she's immediately put in a doubly defensive position and has to stay there for a while until she can get accustomed to her new circumstances. She's a woman in a highly militarized group defined by alpha-dog posturing, and a 20th-century woman at that; Outlander is never more engrossing than when a scene emphasizes Claire's reactions as she's forced to decide whether to say what she really thinks of a man's behavior or assertion or recitation of policy, or err on the side of silence. The show is similarly attentive to the symbolic value of sexual acts. Claire's husband goes down on her in one of the present-day sequences, and we're given to understand it in the context of their equal-for-1945 relationship; once she trips back in time and we realize that we're in a much more, shall we say, phallocentric world, that sex scene starts to feel like a glimpse of a long-gone paradise, but from the future rather than the past.