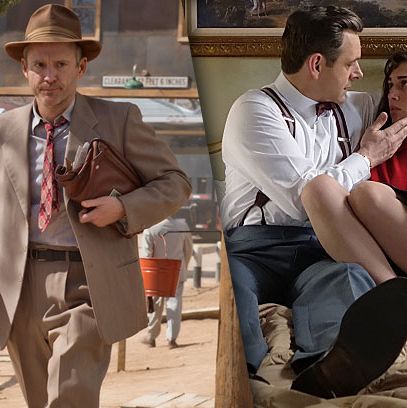 WGN's Manhattan debuted last week, joining Masters of Sex in the "TV shows about science" club. It's a good club. But it has far too few members. There should be so many more science shows! Shows about scientists, about their work, their home lives, the weird experiments they do — there's no end to the stories that could be told. Here are a few humble suggestions.
Bad Apple: an eight-episode Netflix drama about the Stanford Prison Experiment
Premise: College students simulate a prison environment, and the "guards" begin psychologically torturing the "inmates" within three days.
People never cite the second half of that apple aphorism — a few bad apples ruin the whole bunch. They all become bad apples! That's just apple science, I guess. The real experiment only lasted six days, but each episode could include Orange Is the New Black–style flashbacks to people's regular lives, plus the psychologists organizing the study are good for an episode or two.
Surely You're Joking: a Showtime series about Richard Feynman 
Premise: He's a scientist, an amateur safe-cracker, a bongo-enthusiast, and a gnarly womanizer.
It could be a companion piece to Masters of Sex, a warts-and-all depiction of a person who contains multitudes.
Malleable: an FX series about "repressed memories" 
Premise: A look at the once-common scientific phenomenon, out of fashion ever since cognitive scientist Elizabeth Loftus's work helped demonstrate the fallibility of personal accounts.
This could be a murky psychological drama set in the '90s, perhaps centering on a legal case that relies on repressed memory testimony. Do people believe this witness? Get some funky '90s cellphones and educate America about how unreliable memories are and how easy it is to convince someone that something happened.
Assayer: a Cinemax show about Galileo 
Premise: Come on, you know who Galileo is.
Historical dramas are hot right now, and Cinemax already has The Knick — why not go a few hundred years further back? The show could focus specifically on heliocentrism and Galileo's battles with the church, and because it's TV, there will probably have to be some sword-fighting at some point, accuracy be damned.
Obedience: an MTV show about the Milgram Experiment
Premise: Subjects are told to administer increasingly powerful electrical shocks to a person in another room. Mostly they do so.
People are obedient. Sometimes that keeps society running smoothly (e.g., we stop at stop signs), and sometimes that leads to folks torturing each other ("I was just following orders …"). What Catfish did for social fraud Obedience could do for compliance. Plus, at the end of each episode, when the subjects are told that they've been part of a study on following commands, we can watch people realize they're secretly monsters. You agreed to administer what you thought was a life-threatening electrical shock just because someone in a lab coat told you to! Get it together, humanity.