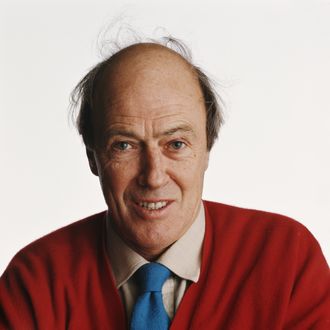 Roald Dahl originally had 15 children getting the golden ticket to tour Willy Wonka's super-secret chocolate factory before settling on the now familiar five in his children's classic Charlie and the Chocolate Factory. This means that, in earlier drafts, there were a lot more rooms and a lot more temptation: As you'll remember, each room was a test of a child's self-control, and each time, some hapless child would succumb to their candy-obsessed (or squirrel-obsessed) selves and get lost. In this previously unseen chapter published by the Guardian, the factory tour, now down to eight kids, makes a stop at the Vanilla Fudge Room. The Guardian says the text was "deemed too wild, subversive and insufficiently moral for the tender minds of British children almost 50 years ago."
The room sounds magical though:
In the centre of the room there was an actual mountain, a colossal jagged mountain as high as a five-storey building, and the whole thing was made of pale-brown, creamy, vanilla fudge. All the way up the sides of the mountain, hundreds of men were working away with picks and drills, hacking great hunks of fudge out of the mountainside; and some of them, those that were high up in dangerous places, were roped together for safety.

As the huge hunks of fudge were pried loose, they went tumbling and bouncing down the mountain, and when they reached the bottom they were picked up by cranes with grab-buckets, and the cranes dumped the fudge into open waggons – into an endless moving line of waggons (rather like smallish railway waggons) which carried the stuff away to the far end of the room and then through a hole in the wall.
But, of course, this is just another test of will, and two naughty little boys by the names of Wilbur Rice and Tommy Troutbeck decide to go for a ride on the wagons, even though they are told not to. They disappear through the "hole in the wall." The distraught moms of Wilbur and Tommy ask Mr. Wonka where their kids went. He responds:
"That hole," said Mr Wonka, "leads directly to what we call The Pounding And Cutting Room. In there, the rough fudge gets tipped out of the waggons into the mouth of a huge machine. The machine then pounds it against the floor until it is all nice and smooth and thin. After that, a whole lot of knives come down and go chop chop chop, cutting it up into neat little squares, ready for the shops."
We'll let you free-associate what the notably perverted Dahl was thinking about when wrote about holes and fudge and pounding rooms.
You can read the whole chapter here.