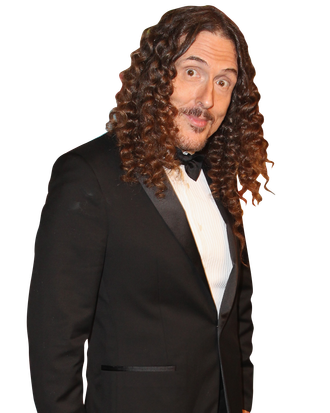 Photo: Jonathan Leibson /FilmMagic
With Neil Patrick Harris not hosting this year's Emmy Awards, there was a noticeable lack of musical numbers. Except for the one by Man of Summer 2014 Weird Al Yankovic, who put together a medley of TV theme-song parodies. We caught up with Yankovic at last night's HBO Emmys after-party and asked him about George R.R. Martin's typewriter and what show got cut from the skit.
How did the theme songs happen?
It was Seth Myers. First, he DM'd me on Twitter, because I guess he didn't have my phone number, but he wrote, "Hey, I wanna talk to you about doing something at the Emmys." I was like, "Okay," and I gave him my number. My wife and I were on vacation in Hawaii, and we were on a black-sand beach. I was surprised we even got reception there. He called me and pitched me the whole idea about the TV theme-songs. I was like, "Yeah, that sounds great, absolutely! We'll cut the vacation short and come back."
You really did that?
Yeah!
Do you watch all the shows you sang about?
Uh, I had a working knowledge. Some I've seen every episode, like Mad Men. I saw all of True Detective — well, we cut True Detective. That used to be in there! But some of them I just had a working knowledge of.
Which were you most proud of?
Hmmm … hard to say.
The Homeland one was my favorite. "Making out with terrorists …"
Oh, yeah! Yeah, we watched all of that one. [Laughs.] Yeah, I collaborated with the Emmy writers. I wrote some stuff, they wrote some stuff. We kinda mixed it together. We kept punching it up right up until tonight.
Game of Thrones got almost as many shout-outs as Matthew McConaughey tonight, and it got the longest theme.
Well, it makes the best ending. It's so grandiose. How can you not end with that, and how can you not make it big?
Are you a fan?
If I'm being honest, it's one of those shows that I've been meaning to get into because all my friends are like, Oh, you gotta watch. I'm sure one of these days I'm going to binge-watch everything. I probably have to wait until I'm on the road because I've not [had] a lot of free time.
Yeah, congrats on the album! So how long did it take you to put this whole thing together?
Well, Seth called two, two and a half weeks ago? So not that long. We just kind of did it through email and figured it out. Seth is the best. I'm so grateful that he reached out. I had such a great time.
The George R.R. Martin bit was on point.
Oh, thank you, thank you!
Did he know that typewriter was coming?
I don't think so. Yeah, I don't think so. We just kind of sprung it on him.
Were you nervous at all about it?
A little bit, but not as nervous as I normally would be, because for something with that many eyeballs, you know, normally I'd be curled up in an anxiety ball on the floor. I get nervous about big stuff like that, but for some reason, I wasn't that nervous because I felt like everyone had my back. Being onstage with Andy Samberg was very calming. We were just having fun. That really calmed my nerves.
What are some of the other shows that didn't make the cut?
We had a whole True Detective theme we cut two days ago. We had a Downton Abbey song that didn't make it through the first draft. The Homeland one was longer, but we had to trim it down for time.
What did the True Detective theme sound like?
One of the lines was, "It was like Starsky & Hutch — if Nietzsche had written it."
Why would you cut that?
It was a tight show, they had to cut it for time.