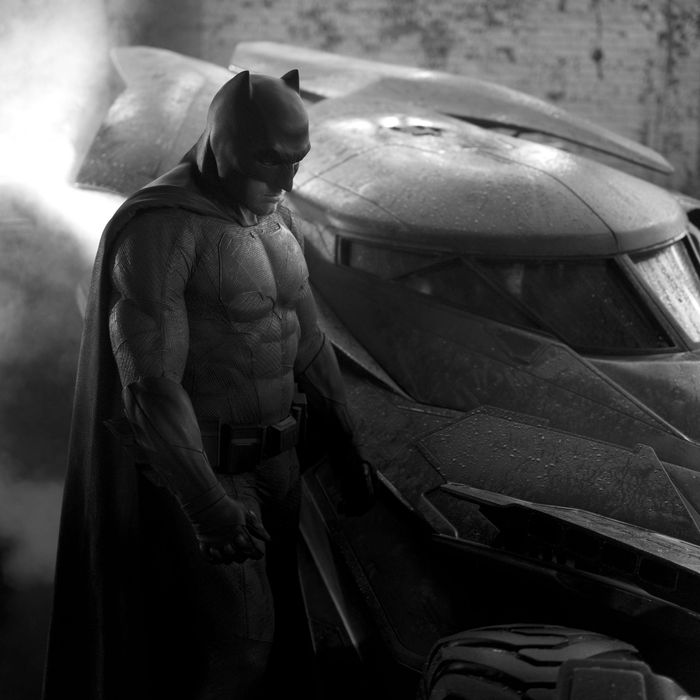 A little over a month ago, we noted that "When It Comes to Box Office, the Entire Year Is Summer-Movie Season Now." If you didn't believe us then, today's news from Warner Bros. might turn your head: The studio is moving its ultra-anticipated Batman v. Superman: Dawn of Justice out of the summer season entirely, rescheduling the film for March 25, 2016. Some sort of move had long been anticipated — Batman v. Superman's former slot, May 6, 2016, was already occupied by Captain America 3, and one of those movies was bound to blink — but the date change is still surprising in its specifics. It's also the clearest sign yet that over the next few years, the movie release calendar will be blown to smithereens.
Warner Bros. could have moved Batman v. Superman to a different summer slot, but instead, the film was bumped to a March that now looks as action-packed as any recent June or July I can remember: A different megabucks entry will come out each weekend in that month, from Tim Burton's fantasy Peregrine's Home for Peculiars to the franchise-starter Warcraft to the second Divergent sequel … and now, WB's superhero face-off. Even more telling, WB just announced a slew of future release dates for its untitled DC properties — nine in all, stretching all the way to 2020 — and if you add the newly rescheduled Batman v. Superman to the list, half of those important superhero films are slated for non-summer openings.

Marvel fans will likely crow about the fact that two of DC's biggest superheroes fled a fight with Captain America, but I think this move had less to do with the threat of the third Captain America film and more to do with the superlative grosses of the second one. Captain America: The Winter Soldier was released this past April, and it's still the year's biggest blockbuster, having dwarfed every summer spectacular released since. Yes, Guardians of the Galaxy may likely top Winter Soldier when all is said and done, but that's unusual, too: August was long considered the weakest month in the summer season until Guardians beat the former August box office record (by $25 million!) with its staggering $94.3 million opening. The notion that two movies released in April and August will top anything we got in May, June, or July is totally topsy-turvy.

Still, it's more proof that the summer movie season isn't what it used to be — especially after this year's underwhelming installment has been unable to produce a $300 million blockbuster, the first time that's happened since 2001 — and a sign that moviegoing truly has become a year-round enterprise. We've had more than a few big franchises that have eschewed summer entirely, like the Hunger Games series or all of Peter Jackson's Middle-earth movies, but this is the first time that a summer-tailored sequel of this size felt there was more to make in March than in a prime vacation month like July (or even a comfortable November/December berth, for that matter). It might have seemed inconceivable that Christian Bale's Batman would ever pop up in a place like March, but Ben Affleck's dark knight already inhabits a different era, and it's one where superheroes are now prepared to strike when you least expect.