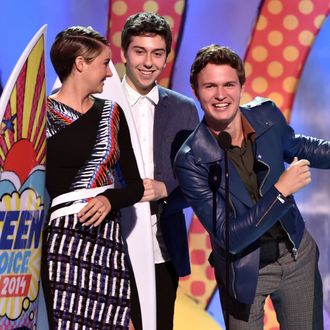 Photo: Kevin Winter/Getty Images
For a taste of what teens are into these days, just look to the nominations (and winners) of this year's Teen Choice Awards. In short: The Fault in Our Stars, Demi Lovato, One Direction, and Pretty Little Liars. If you learn anything from this year's Teen Choice Awards, it's the names of people (and bands!) you've never heard before but clearly need to be paying attention to. For example, the show was hosted by Tyler Posey (Who? Teen Wolf) and Sarah Hyland (Who? Modern Family). Want to learn more teen things? Here's what you missed:
"Cancer sucks," said the Fault in Our Stars cast as they accepted surfboard after surfboard, basically sweeping the awards show with their youth. (Shailene won for both Divergent and Fault.) Here is a list of the awards they won: Choice Movie Scene-Stealer, Choice Movie Lip Lock, Choice Movie Actress: Drama, Choice Movie Chemistry, Choice Movie Breakout Star, and Choice Movie: Drama. (The Teen Choice Awards has lots of categories.)
The award for Choice Summer Song? Not MAGIC!'s "Rude" (although you bet they were there to perform their No. 1 hit). Summer Song went to Demi Lovator's "Really Don't Care," and Demi also won Choice Summer Music Star: Female. (She lost Choice Smile to Harry Styles, though. Bummer.)
Vulture favorite Becky G made her fleeting Song of Summer plea … although after seeing this, let's just say that Dr. Luke's production seems to be doing her lots of favors. No shade, no shade, no shade.
Taylor was there, and she wore a crop top:
Other things that teens love? The Kardashians, and keeping up with them:
Host Tyler Posey reunited with his Maid of Manhattan co-star, J.Lo (He played her son!) and asked her for a dancing gig. (He was 11 years old when that movie came out.)
Both One Direction and 5 Seconds of Summer sent in their acceptance speeches, but only 5SOS did it "topless":
Teens also love (to hate) Donald Sutherland, a.k.a. The Hunger Games' President Snow, who won Choice Villain. He beat other old people, including Kate Winslet, Michael Fassbender, Jamie Foxx, and Kelsey Grammer.
"Am I shorter than the surfboard?" asked Kevin Hart, who won Choice Comedian. (He beat Jimmy Fallon, Andy Samberg, Mindy Kaling, and Kenan Thompson.) Answer: Yes. He has that in common with most teens.