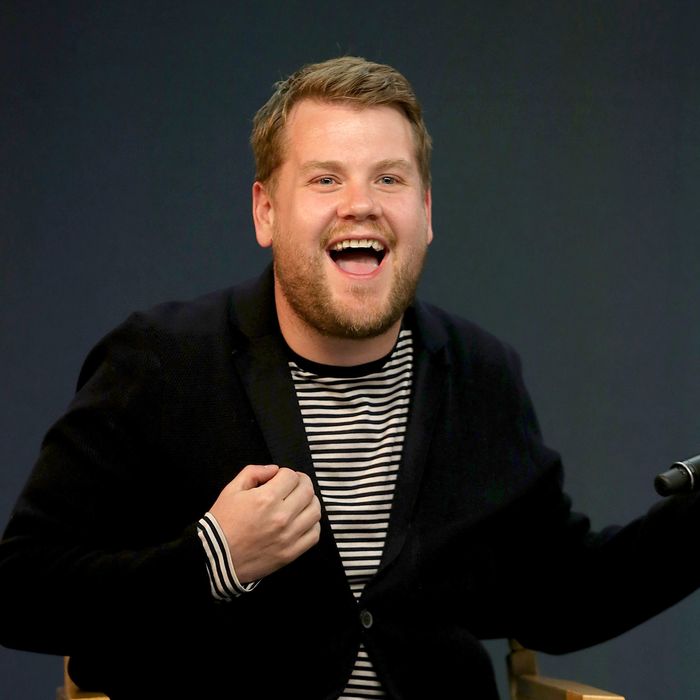 500205005DM025_Meet_The_Cas
Photo: Danny Martindale/Getty
British writer and actor James Corden is reportedly taking over Craig Ferguson's late-night spot. But who is James Corden? Well, he's a Tony winner, for starters; he's the Baker in Into the Woods; he's in Begin Again with Keira Knightley; and he's pretty damn famous in the U.K. But he's not a household name in the U.S. — yet. Here's your quick and easy guide to Corden's career so far.
He's been on a bunch of British TV shows
Including the boy-band satire Boyz Unlimited (1999), Teachers (2001), and Fat Friends (2005).
He co-created and starred the British sitcom Gavin & Stacey
Gavin & Stacey is a wildly uncynical romance and very much about "regular" people. The series was a big hit in the U.K., and a few U.S. adaptations were developed but never quite made it to air. You can see the original on Hulu Plus, though. Corden won a BAFTA and a British Comedy Award for playing the goofy sidekick Smithy.
But his own sketch show, Horne & Corden, was eviscerated in the British press, and he developed a not-so-great reputation.
The "backlash" started in 2009, and thus began "one of the steepest and quickest falls from grace in showbiz history." This largely continued up through the release of his 2011 autobiography. "Every time I tell someone I'm interviewing him they flinch visibly and a horrified noise explodes through their nose. The consensus seems to be that the actor, comedy writer, co-creator of hit sitcom Gavin and Stacey, presenter of sports gameshow A League of Their Own, is arrogant and loud, his humour laddish and dated, that he has an unappealing, thespy air of entitlement. Also, most essentially, he's attention-seeking," a reporter wrote then. Yikes.
He won a Tony in 2012 for his role in One Man, Two Guvnors
Corden beat out Philip Seymour Hoffman, James Earl Jones, Frank Langella, and John Lithgow for the award. And he credited his then-girlfriend, now-wife with turning his life around. (Corden's The History Boys co-star Dominic Cooper introduced the couple.)
He co-created and stars in The Wrong Mans
The show, available on Hulu, is an action dramedy about two British office drones who suddenly find themselves in a Jack Bauer–style situation. Corden again plays the goofy sidekick.
He's hosted the Brit Awards four times.
And he cut off Adele. Nobody cuts off Adele!
He knows "Call Me Maybe."
Ugh, when will America get Big Fat Quiz of the Year?
(He knows "That's Not My Name," too. Mostly.)

He's playing the Baker in Rob Marshall's Into the Woods
Don't worry. The guy can sing sing, too.