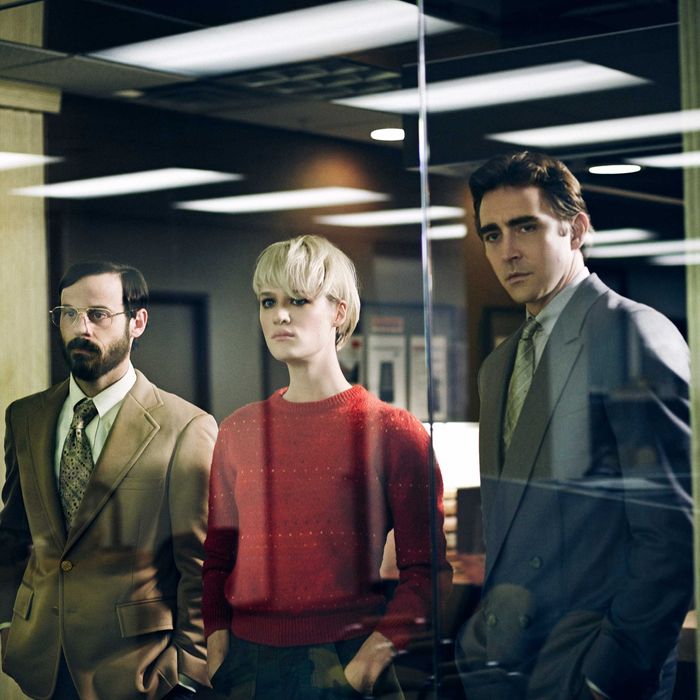 Scoot McNairy as Gordon Clark, Mackenzie Davis as Cameron Howe and Lee Pace as Joe MacMillan - Halt and Catch Fire _ Season 1, Gallery - Photo Credit: James Minchin III/AMC
Photo: James Minchin III/AMC
AMC today announced it was ordering a second season of its PC-era origin-story drama Halt and Catch Fire, a decision that, for anyone who'd been tracking the show's ratings, likely prompted a two-word response: Wait, what? As we noted a few weeks ago, the Nielsen numbers for Halt were relatively tiny for a top-ten cable network such as AMC. Even counting folks who time-shifted the show via DVR, Halt averaged a mere 1.3 million viewers over its first ten episodes, and a modest 0.5 rating among adults under 50. That's far short of the audience levels for last summer's quickly canceled Low Winter Sun (1.8 million) or this spring's Turn (2 million), and not even in the same area code as AMC's megahit The Walking Dead (around 14 million). What's more, same-day viewership of Halt plunged during its run: After debuting with 1.2 million viewers, fewer than 600,000 caught this month's finale the night it aired. And while critics were generally favorable in their assessments of Halt, they were hardly ecstatic. At first glance, AMC's decision to renew seems a head-scratcher. But put in the larger context of how the network has operated in the Mad Men era — and how difficult it's been for all networks to launch new shows these day — the Halt move starts to make a little more sense.
Given the huge success of Walking Dead, the late-in-life surge for Breaking Bad, and the overwhelming critical acclaim for Mad Men, it's sometimes easy to forget that as recently as the Bush administration, AMC was little more than a backwater for commercial-filled telecasts of movies not good enough for Turner Classic Movies. Cable giants such as TNT, USA, and even FX have been cranking out commercial hits for a decade or more; by comparison, when it comes to producing original series, AMC is, like the protagonists in Halt, not far out of start-up mode. Sure, the fact that it's proven it can do big numbers with its shows makes the small audience for a show such as Halt disappointing, maybe even a tad embarrassing. But AMC just doesn't have the long track record of successful shows that its bigger cable peers can boast; it hasn't had as long to train viewers to turn to it for something new every few months. Except for whatever show it might air behind The Walking Dead, AMC has to work hard to recruit viewers for its new stuff, harder than larger networks. AMC also lacks an advantage its peers boast: It doesn't have a huge roster of blockbuster recent movies or familiar, repeatable syndicated programming  (Law & Order, Two and a Half Men) in which to promote its new originals every day. It can spend millions to get people to check out a premiere, but after that, it lacks the same sort of consistent promotional platform as other nets. As so, unless AMC execs think a show is totally hopeless (sorry, Low Winter Sun), they wait. "We have a history of demonstrating patience through the early seasons of new shows, betting on talent and building audience over time," AMC president Charlie Collier said in the press release announcing the Halt pickup. "We see that opportunity here."
Beyond its status as a younger network in the original programming derby, AMC is also subject to other pressures, ones impacting all networks, broadcast and cable. The rise of DVRs and VOD, plus the never-ending expansion in the ranks of original-programming providers, has pushed down ratings everywhere, particularly for newer shows. Series that have been on a while — like Walking Dead or Big Bang — are doing fine. But ratings for new-show premieres keep getting smaller. FX's The Strain and TNT's The Last Ship are arguably this summer's biggest new hits on cable — and their ratings are notably lower than summer premieres from a couple of years ago (though DVR replays help close the gap). In an environment where everybody's making do with less, practicing patience makes more sense than ever. Sure, it's hardly a given that Halt will grow in season two or even three. For example, FX has been patient with The Americans, but so far, the numbers aren't moving (side note: what is wrong with you, America?). But networks like AMC and FX seem to be realizing that constantly churning their schedules, yanking every modest performer to chase the possibility that Something New will be that next big hit is a recipe for even lower ratings. Even broadcasters have gotten hip to the new reality: NBC is bringing back summer originals such as Welcome to Sweden, The Night Shift, and Undateable, despite their decidedly so-so ratings. It knows it's better to have a stable of semi-familiar shows with small, core fan bases than to try to start from scratch every few months. Networks such as NBC and AMC can also hope that audiences, overwhelmed by so many programming choices, will hear about these renewals and decide to catch up via reruns or online. More than anything, it's this new understanding of how we watch TV today that's giving Halt and Catch Fire a chance to live up to the second half of its title.