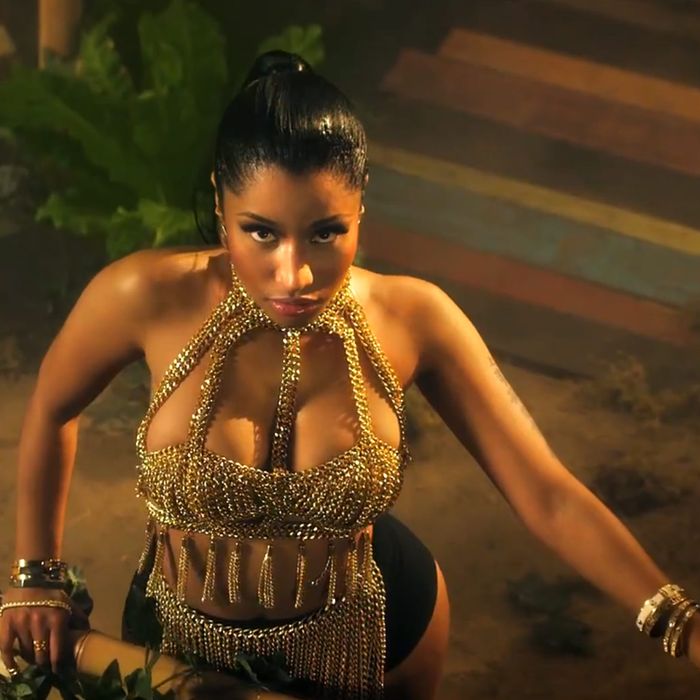 This morning, the internet took a needed break from arguing about Taylor Swift and moved on to chatting about Nicki Minaj's predictably bonkers "Anaconda" video — which is to say, Minaj's cunningly calculated plan for viral world domination is going exactly as planned. Ever since Minaj unveiled the single's controversial cover art last month, she's been doing everything in her power to help "Anaconda" become an unavoidable meme: She's gleefully retweeted all the most popular Photoshop jobs (Marge Simpson in a thong! HannahConda!) and effectively stirred the pot when the conversation revealed a racial double standard. "Anaconda" isn't one of her best singles, but you get the sense she'd be just as happy to see it top Billboard's Trending 140 if not the Hot 100. Before she unveiled the long-awaited clip last night, she Instagrammed her pride at the fact that #AnacondaVideoAtMidnight was trending. (Triumphing over #TimeForATacoBell, and during Fourth Meal, no less!)
Early reactions to the video seem only expressible in emoji, though some have dismissed it as pathetic and desperate — pure pandering to the male gaze. I'm still feeling a little conflicted about it myself, but I'd definitely push back against that last claim. One thing I find striking about the video is the complete lack of men in its surreal, bubblegum-Amazon world (except, of course, for Drake, who I'll get to in a minute). The song itself describes — and, arguably, objectifies — a series of male characters, but we don't see them in the video. Instead, it's just Nicki and her dancers, going about their day — you know, just making some fruit salad, doing some cardio — in this hallucinatory all-female universe. At one point she eyes the camera seductively like she's about to eat a banana, but instead chops it in half and chucks the peel away away with a diabolical smirk.
Plenty of people — prominent among them, Nicki Minaj — are happy to talk about Nicki Minaj's ass, but fewer want to confront a certain sense of unease that she creates in her most provocative videos, like the stark, black-and-white clip for the 2014 single "Lookin' Ass" (in which she quite literally guns down the male viewer) or her great 2012 collaboration with Cassie, "The Boys" (which plays out like a candy-store-hued pop-art Thelma & Louise). And it's there in "Anaconda" too. These videos enact a certain bait-and-switch violence toward the viewer who has the audacity to think Nicki is shaking her ass for him; they draw you in with their neon-bright, sexually charged imagery, and then they suddenly, unexpectedly turn confrontational. She plays this whole narrative out in miniature in the last part of "Anaconda," in which she gives her Twitter husband Drake a lap dance — that ends in a quick slap when he crosses the line and tries to touch her. The primary message of the scene is pretty obvious ("OH MY GOD, LOOK AT HER BUTT"), but it also seems intent on making Drizzy look a little ridiculous. "Anaconda" fades out on a shot of him looking like a chastised (and/or blue-balled) schoolboy sitting in the corner.
It all reminds me of (albeit a much more frantically paced version of) Rihanna's video for "Pour It Up," and also this smart analysis of it at the Hairpin, in which three female writers discussed the strange provocation of the "dude-free" strip club where the video takes place. In this sense, the over-the-top End of Men vibe makes the "Anaconda" video feel like a fitting coda for the summer of 2014, which at times felt like a hyper-feminized corrective to a 2013 dominated by the breezily cologne-drenched perspective of Robin Thicke, TI and Pharrell's "Blurred Lines," and a spring ruled by Chris Brown, Lil Wayne, and Tyga's annoyingly ubiquitous "Loyal." The biggest hits and most-discussed viral surprises of this summer were girl-on-girl collaborations — Iggy Azalea and Charli XCX's "Fancy"; Jessie J, Ariana Grande, and Nicki Minaj's "Bang Bang"; Beyoncé and Nicki's "Flawless" remix; and Ariana and Iggy's "Problem," on which Big Sean's voice is reduced to a superfluous whisper. The staying power of "Anaconda" might not outlast its viral moment, but while it's trending let's at least acknowledge its slyly confrontational power.