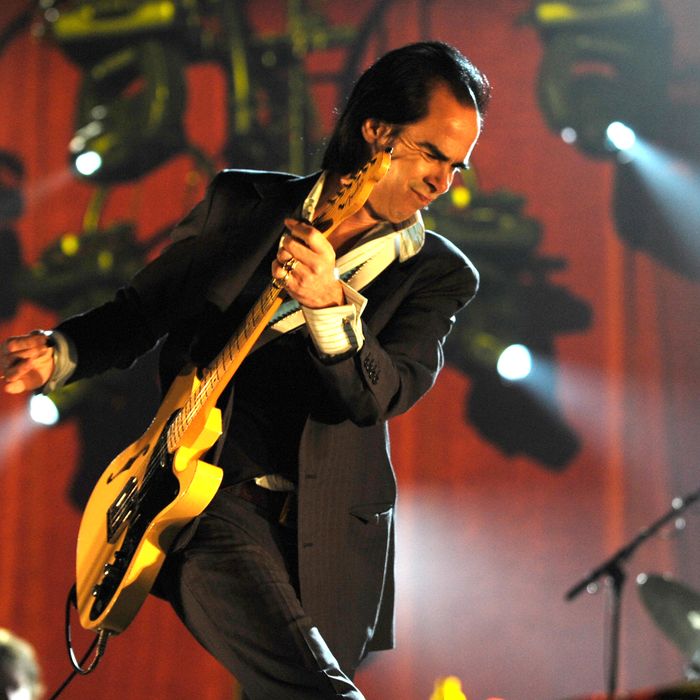 Par2621809
Photo: NIGEL TREBLIN/2009 AFP
Since bursting forth in the late '70s, Nick Cave has gone from a pretty post-punk junkie bandleader kicking around Australia to an internationally recognized musician, writer, and composer. Cave, 56, hasn't reinvented himself so much as he's simply evolved into his best self: not an angel, to be sure, but increasingly prolific and publicly polished since he called a reporter "scum-sucking shit" in an infamous NME interview from 1988.
A new film about Cave, 20,000 Days on Earth, is a strange fact/fiction hybrid wherein the multi-hyphenate navigates various scenarios over what's supposed to be a day in his life. He encounters old friends and bandmates for soul-baring talks, meets with a therapist (not his therapist, but a therapist who questions him about his life), and lets viewers peek at his archives of footage and photos. 20,000 Days on Earth will, at least temporarily, sate the appetite of lifelong Cave devotees, but it will also surely convert even more. Here's a quick crash course on Cave and his sprawling cultural imprint.
1. The Boys Next Door (1979)
Nick Cave's first band only released one album, Door, Door, but it held the DNA for all of his future projects, from creepy circus music to tales of loners and miscreants wandering the night in search of human contact. More important, it marked the first collaboration between Cave and bandmates Mick Harvey, Rowland Howard, and Tracy Pew, who stuck around as the Boys Next Door turned into the Birthday Party.
2. The Birthday Party (1980)
Cave, Harvey, Howard, Pew, and drummer Phill Calvert hit their screaming stride in this amazing, occasionally hair-raising ensemble. The Birthday Party's albums are sexy and feral, with odes to characters like "Zoo Music Girl" and "Nick the Stripper" sitting alongside Shakespeare ("Hamlet (Pow, Pow, Pow)") and intimations of Cave's growing obsession with southern gothic ("Deep in the Woods," "Sonny's Burning"). Recurring topics like murder, religion, and heroin were pretty goth, but the gyrating guitars and yelping vocals were filthy post-punk anarchy. The Birthday Party is also morbidly funny — one of their best and most famous songs, "Release the Bats," is, at face value, about a gal who seems to enjoy the company (and nibbles) of vampires bats "fluttering in [her] skirt." With lyrics like "Sex horror sex bat sex sex horror sex vampire / Sex bat horror vampire sex," one can only imagine the possibilities.
3. Nick Cave and the Bad Seeds (1984)
The Bad Seeds are where Cave has honed his alchemy for the past few decades, and, along with its leader, the band's sound has shifted and convulsed over the years. Their first album, From Her to Eternity, still has the rough edges of the Birthday Party, but the addition of Blixa Bargeld (Einstürzende Neubauten) on vocals and guitar helped refine their sound into something wilder, weirder, and more dynamic. The Bad Seeds incorporated a bluesy, villainous quality on Tender Prey, sent a demented and sexy valentine with Let Love In, and got downright croony on Murder Ballads before swerving back into dirty rock 'n' roll with 2008's Dig, Lazarus, Dig!! The Bad Seeds' vibe has flowed between the sleazy rock epitomized by Cave's lupine leers in "Loverman," Old Testament visions in "Red Right Hand," and surprisingly elegant songs like "Henry Lee" — a duet with PJ Harvey, with whom Cave had a brief affair. Cave's description of making the video for "Henry Lee" is intense; he told The Guardian, "That's a one-take video. Nothing is rehearsed at all except we sit on this 'love seat'. We didn't know each other well, and this thing happens while we're making the video. There's a certain awkwardness, and afterwards it's like, oh …" Oh, indeed.
4. Grinderman (2007)
Grinderman's eponymous 2007 debut is wickedly funny and lewd, kicking off with the boisterous call to action ("Get It On"), snarling through tracks like "No Pussy Blues" (a song in which Cave's wife didn't find the humor), and doesn't let up until "Love Bomb." The second album packed a little less of a wallop, if only because Grinderman was such a jolting surprise to begin with.
5. Wings of Desire and Wim Wenders (1987)
Legendary German filmmaker Wim Wenders was an early booster for Nick Cave and the Bad Seeds, and even went so far as to feature the band in a pivotal scene in Wings of Desire. For many Cave devotees, Wings of Desire was a gateway drug, and the line "I'm not gonna tell you about a girl" was the first hit. Wenders also featured the Bad Seeds on the soundtracks of his films Until the End of the World and Faraway, So Close!
6. And the Ass Saw the Angel (1989)
Cave's first novel is what you might call … challenging: The first page introduces our narrator, Euchrid Eucrow, as he's slowly being sucked into the mud and crows circle overhead waiting for him to die. It only goes downhill from there for poor Euchrid, who, as the town "mute," is ignored when he's not being abused; it's the sort of lurid southern nightmare that would give Flannery O'Connor the heebie-jeebies. The dialect and other eccentricities will alienate some readers, but those who stick with it are rewarded with a complex, rich Old Testament tale, to say nothing of the gratification of spotting the crossovers between Cave's lyrics and the novel's prose.
7. Lawless, The Proposition, and John Hillcoat
Cave and his Aussie compatriot John Hillcoat have long collaborated on various projects, from music videos to Cave's only starring movie role in Ghosts … of the Civil Dead, and Cave's screenplays for Hillcoat were The Proposition and Lawless, two gritty period pieces touching on such enduring Cave themes as outlaws, violence, revenge, and moonshine. Cave also composed the scores for The Proposition, The Road, and Lawless; he performed the latter with longtime Bad Seed Warren Ellis under the name the Bootleggers, along with a slew of awesome guests like Mark Lanegan, Emmylou Harris, and bluegrass maestro Ralph Stanley.
8. The Death of Bunny Munro (2009)
The loathsome title character of Cave's most recent novel is a traveling salesman who tries to schtup every woman who answers the door. Sometimes he actually succeeds, but you get the idea his theme song is more along the lines of "No Pussy Blues." After his miserable wife offs herself, Munro takes his admiring son Bunny Jr. on the road with him; the title suggests where the rest is headed. The novel began life as a script, and an adaptation is reportedly heading to the screen with Hillcoat directing and The Proposition co-star Ray Winstone attached as the leading man. "We're going to make it extreme," Winstone said in 2012, "It'll make Shame look like the Teletubbies."
9. Cameos and other bits
Nick Cave had a small part in Tom DiCillo's Johnny Suede as a weirdo nicknamed Freak Storm, who sports a white-blond pompadour and matching suit. Cave appears at the very end of 2007's The Assassination of Jesse James by the Coward Robert Ford, performing "The Ballad of Jesse James." (Cave and Warren Ellis also wrote and performed original music for the film). He also has a tiny, blink-and-you'll-miss-it part in Lawless alongside Shia LaBeouf.
10. Deep cuts
Even if you're not a member of the Church of Cave, chances are good that you've heard his indelible "Red Right Hand" in movies including Scream, Scream 2, and Dumb & Dumber, as well as in an episode of The X-Files. (If you listen carefully, you can even catch a snippet of the Birthday Party's "Release the Bats" in fellow Aussie Andrew Dominik's Chopper.) The creepy Bad Seeds song "Up Jumped the Devil" was even used in the equally intense video game Alan Wake. And in movies we'd like to see, Russell Crowe himself asked Cave to pen a sequel to Gladiator.