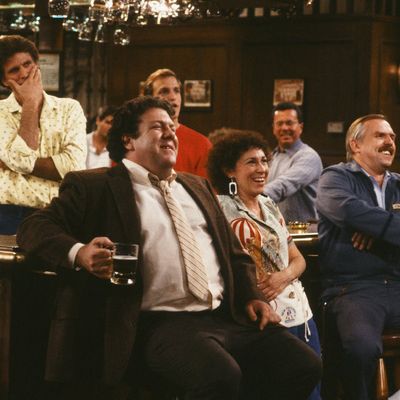 The '00s may be home to a new Golden Age of television, but while we're metaphorically knee-deep in non-sequiturs and cable-network antiheroes, we're often missing one major upside to watching weekly series on the small screen: Classic theme songs. '80s television might be nostalgia's most fertile ground, yet its various theme songs (from the synth-loaded and sax-heavy to the genuinely charming and weirdly moving) endure as hard-to-kill earworms that are almost impossible to stop humming once they wiggle their way into your brain. Come on, show me that smile again. Oh, show me that smile!
1. The Golden Girls
Andrew Gold's "Thank You for Being a Friend" was already a hit (reaching No. 25 on Billboard's Hot 100 listing in 1978) before it was rerecorded and repurposed to serve as the theme for the enduring NBC sitcom in 1985. When Cynthia Fee laid down her version for The Golden Girls, it instantly became part of the pop-culture lexicon — where it remains to this day for virtually anyone over the age of 30. The song was so essential to the series that when three of the eponymous girls moved over to CBS's ill-fated spinoff, The Golden Palace, the theme came along, too.
2. The Greatest American Hero
Joey Scarbury's soft-rock jam may have reached the top of the charts in 1981 thanks to Stephen J. Cannell's short-lived superhero-centric dramedy, but the song has continued to live on (quite improbably) in the annals of pop culture, thanks to a random assortment of other appearances. "Believe It or Not" has popped in such shows as Seinfeld (George's answering machine) and The Following (an apparent favorite of Joe's cult members), and was memorably included during a zippy montage in The 40-Year-Old Virgin.
3. The Cosby Show
There's no definitive version of "Kiss Me," the initially horns-heavy theme that Bill Cosby himself helped compose with the series' musical director, Stu Gardner, as seven different versions of the song were used during the show's eight-season run (presumably to allow for the creation of different thematic dance sequences). The most popular take on the material arrived during The Cosby Show's fourth season, when singer Bobby McFerrin put his own spin on the song, one that quite handily proves the inherent hummability of what seemed to be a purely instrumental outing.
4. Growing Pains
The ABC sitcom's heartwarming theme song went through its own changes (sure, feel free to calling them "growing pains") with nine different versions rolling out over the course of the series' seven seasons ("As Long As We've Got Each Other" even got the spooky treatment, thanks to a Halloween episode that aired in 1990). Still, season four does boast a Dusty Springfield–voiced version, as the soul songstress duetted with B.J. Thomas for only her second television theme song (she previously lent her pipes to a pair of very special Six Million Dollar Man episodes).
5. The Facts of Life
The Facts of Life's theme music had troubles of its own — talk about taking the good and the bad — thanks to lyric changes, vocalist switches, and the eventual jettisoning of the entire enterprise (by the time the show ended its run in 1988, the original version of the song had been shoved into playing over the show's end credits, before it was done away with altogether). Don't deny the jam's pedigree, however: It was penned by rival sitcom star Alan Thicke (who also wrote the theme for Diff'rent Strokes, which he also sang), along with Al Burton and Gloria Loring.
6. Miami Vice
Jan Hammer's simply named "Miami Vice Theme" proved to be so popular, both critically and popularly, that it not only hit No. 1 on the Billboard Hot 100 chart, it also won two Grammys (Best Instrumental Composition and Best Pop Instrumental Performance, naturally). Hammer's synth-heavy song is so enduring, in fact, that it held the distinction of being the last instrumental to reach Billboard's summit for almost 30 years, until Baauer's "Harlem Shake" succeeded it in 2013. That's more staying power than a popped collar.
7. Cheers
Gary Portnoy and Judy Hart Angelo's classic theme song goes down about as smoothly and soothingly as a large tumbler of rye, instantly setting up high levels of comfort and camaraderie before the show kicks into the wacky shenanigans of the mainstays at Boston's best-known fictional bar. "Where Everybody Knows Your Name" may be easy to take, but it wasn't so easy to actually make: The NBC brass roundly rejected Portnoy and Angelo's first two attempts before the duo penned an all-new song to accompany what would become one of television's most beloved series.
8. Knight Rider
When you're dealing with a talking car and David Hasselhoff — television's most dynamic duo? — a regular old theme just won't do. Composer Stu Phillips was a mainstay of the '70s and '80s TV theme scene (he also crafted opening songs for The Six Million Dollar Man, Battlestar Galactica, and The Fall Guy, among others), and his fantastically modern instrumental reflected the forward-thinking (and, yes, still silly) nature of the series.
9. The A-Team
This is a theme song that gets things done, much like the unexpected and unlikely heroes it helps to introduce. Mike Post and Pete Carpenter's instrumental was tasked with following two big and snappy elements: voice-over backstory (heavy on the unlawful imprisonment) and just a ton of gunfire. How do you even top that? Tones that scream adventure, guitars that proclaim badass, and a few well-placed smash-y noises (thanks, Mr. T). Alan Silvestri adapted the song for the 2010 film adaptation, but his straight-laced version just couldn't compete with the A-Team of A-Team themes.
10. The Dukes of Hazzard
Stick Waylon Jennings on your soundtrack, and you've got instant country credibility. Jennings really went whole-hog on this Hazzard thing, writing and recording "Good Ol' Boys" for the hit CBS sitcom, along with narrating the entire series. Jennings's Hazzard roots ran deep, as the credited "Balladeer" also narrated 1975's feature film Moonrunners, the Gy Waldron movie that was eventually reshaped into the series less than half a decade later.
11. Family Ties
After you inevitably spend the first half of the NBC sitcom's opening credits guffawing loudly at Michael Gross's hippie hair, the dulcet tones of Deneice Williams and Johnny Mathis (and, to be fair, Dennis Tufano and Mindy Sterling for the first ten episodes) inevitably wash over you in their soothing, indelible duet. This is the definitive family-friendly theme song, complete with that closing (and totally over-the-top) "sha-la-la-la" that sounds as if it should (and could) be sung by dads the world over.