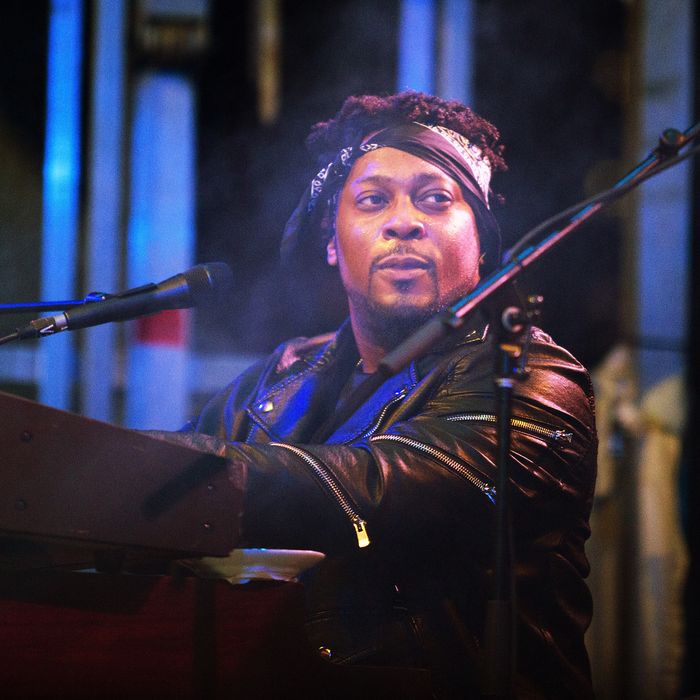 Photo: Roger Kisby/Getty Images
The eternally delayed comeback album has become a running joke in the music business, instantly evoked by the words Chinese Democracy (finally released to a tepid response 15 years after Guns N' Roses's previous album) and Detox (it's been 15 years and counting since 2001, and now Dr. Dre maybe isn't calling it Detox anymore). But there are actually quite a few artists who manage to return after a really long break with an excellent album. It's been a banner year for the comeback album: Electronic-music pioneer Aphex Twin released the widely acclaimed Syro, his first in 13 years. And now R&B hero D'Angelo has dropped his Christmas surprise, Black Messiah. In their honor, here are the 12 best studio albums by artists who were away for at least a decade. (A criterion that rules out favorites like Patti Smith's Gone Again, Dr. Dre's 2001, and Fiona Apple's The Idler Wheel …)
1. My Bloody Valentine, mbv (2013)
Gap between albums: 22 years

The follow-up to 1991's Loveless was the Chinese Democracy of its day, complete with rumors of in-studio meltdowns and vast (for the time) spending. In fact, fans had given up on ever hearing another album from the British shoegaze veterans until this surprise release appeared overnight last year. Traces of recording sessions from earlier eras show up in elements like the drum-and-bass beats on "Wonder 2," but the band's formula of dreamy/hyperaggressive guitars, swoony vocals, and dance-inflected beats is inimitable enough for mbv to sound, like Syro, as if it just emerged fully formed from a parallel musical dimension. Critics raved, and mbv is the rare comeback that may have actually gained the band a new set of listeners.
Gap between albums: 11 years

Practically the only trip-hop band to escape the '90s switched their sound up for Third while remaining instantly identifiable. As long as tortured singer Beth Gibbons is on vocals, Portishead will sound like Portishead, but on this album producer Geoff Barrow replaced lush strings and '70s funk beats with rugged krautrock and psychedelia. The result is the band's most uncomfortable, raw music to date. Third secured their timelessness, reminding us that Portishead creates a mood like no other.
Gap between albums: 11 years

The enigmatic Walker is the only artist on this list who managed not just one, but two decade-long gaps between solo releases (the first was between 1974's We Had It All and 1984's Climate of Hunter). Tilt is an experimental tour de force recorded entirely live in studio, and although its blend of experimental rock, modern classical, and opera was considered forbidding at the time, it's melodic and accessible compared to the increasingly brutal work that followed. Tilt kick-started the final phase of Walker's career (which began as a member of '60s teen idols the Walker Brothers) and put him on the path to living-legend status. His influence can be heard everywhere now, from industrial New Wavers Light Asylum to somber pop like Antony and the Johnsons.
4. D'Angelo, Black Messiah (2014)
Gap between albums: 14 years
Before Sunday night's surprise drop of D'Angelo's Black Messiah, it'd been nearly 15 full years since the release of his last LP, Voodoo. This triumph of wacked-out groove has begun seducing ears everywhere, and musicians and critics alike are losing their minds. It's a bold move to release a new album after so long, and even bolder to do it without warning, when most year-end best-of lists have already been published. But it worked for Beyoncé, and it'll probably work for D'Angelo, too. With it's a surprising mix of the personal and political and an endlessly eclectic mash-up of historical R&B and soul touch points (hitting on everything from Hendrix to Sly Stone to Prince), Black Messiah feels like a transcendent cap on the dark events of this year, giving us a hope for a better 2015. We won't be surprised to see it topping quite a few lists by the end of next year: Black Messiah will not soon be forgotten.
Gap between albums: 13 years
Richard James, as his mother named him, might as well be the patron saint of hyperintense electronic nerds. Long before Skrillex, Calvin Johnson, and Tiesto made something called EDM huge business in America, his complex and sometimes unnerving music was the yardstick for ambitious electronic music (back in the '90s they called it IDM). The chilled-out, mesmerizing Syro, which James said he was inspired to release after a fan paid $46,300 dollars at auction for a test pressing of his abruptly canceled 1994 album, Caustic Window, is a considerably easier listen than some of his more anxiety-producing work, and it might even help him reach a wider audience.
6. Gil Scott-Heron, I'm New Here (2010)
Gap between albums: 16 years
The extent of Scott-Heron's actual involvement in the 28-minutes-long I'm New Here is debatable: The singer himself said "This is Richard's record," referring to the British producer Richard Russell, who surrounded Scott-Heron's raw vocals with hip-hop beats and minimal, industrial noises. The album is decidedly modern and tells stories of personal pains and triumphs (Scott-Heron was a longtime cocaine addict) abandoning the political messages that defined most of his career. I'm New Here reverberated widely through contemporary music: The Jamie xx remixes were practically omnipresent (including on the title track of Drake's Take Care), while the beat from "New York Is Killing Me" is prominent on what might be fiery young rapper Angel Haze's best song, "New York."
7. Dinosaur Jr., Beyond (2007)

Gap between albums: 10 years

"Think about the future/Let the past unwind," J Mascis sings on Beyond, the first album to feature Dinosaur Jr.'s original lineup since 1988. The record is so relaxed, it sounds like they're barely trying, yet there are no missteps. Beyond epitomizes what Dinosaur Jr. were all about: feeling things, without getting too worked up about it. Whether you're a Gen Xer who grew up with them or a millennial whose cool uncle put a song of theirs on a Spotify mix, the album continues their project flawlessly.
8. Swans, My Father Will Guide Me Up a Rope to the Sky (2010)
Gap between albums: 14 years
This return album launched a major upswing for epically gloomy experimentalists Swans. Front man Michael Gira broke up the band in 1996, frustrated with fans who didn't accept growth beyond their aggressive roots. The break paid off: My Father demonstrated that Gira had more in mind than the grim rage of their '80s incarnation, and in their following work he's fully delivered on that promise. Released in 2012, The Seer, which technically was the album after the comeback, has been lauded as one of the best albums of the band's three-decade career, and their gruelingly gorgeous live sets continue to decimate international audiences to equal aplomb.
9. David Bowie, The Next Day (2013)
Gap between albums: 10 years

David Bowie didn't really need to make another album. Most fans believed he was retired (or even dying) in the years that followed 2003's Reality, and Bowie went to great pains to keep the recording of The Next Day a secret until the last possible moment. It's an album that knows its context: The frustratingly minimalist cover art is a stuck-out tongue to those who consider the past sacred or untouchable, but the music is undeniably Bowie, drawing on his decades of musical innovations to produce a few lightly satisfying tracks that tell dark stories of war and heartbreak. It might be impossible to live up to your own legend, but on The Next Day Bowie doesn't seem to care.
10. Cibo Matto, Hotel Valentine (2014)
Gap between albums: 15 years
"Yes, there is a ghost girl, a hotel, housekeeping ladies, and things happen," Japanese duo Cibo Matto said of this concept album. "But they are elusive in nature." This vague story, if anything, just makes the themes of Hotel Valentine even more obscure, but it's hardly the point of this energetic, self-aware comeback; the songs themselves are a kaleidoscope of global and temporal influences that evoke everything from Serge Gainsbourg to Die Antwoord. Hotel Valentine picks up right where the cult '90s New York duo left off, stitching together diverse genres into quirky pop that works despite itself.
11. Steely Dan, Two Against Nature (2000)

Gap between albums: 20 years

The cool kids at the turn of the millennium hated Steely Dan. "Remember, this glossy bop-pop was the indifferent aristocracy to punk rock's stone-throwing in the late 70's," a fledgling Pitchfork put it. "People fought and died so our generation could listen to something better." How times have changed. High production values and complex songwriting are back in, and Pitchfork puts Drake singles on the top of its year-end lists. Indifferent to the micro-drama are the Dan, the nerdy funk gods who returned to deliver more of their studiously well-composed, perfectly produced tunes — music for you and your dad to get down to together. Two Against Nature may not have had the killer singles to match their 1970s work, but it proved Steely Dan didn't lose much along the way.
Gap between albums: 12 years
Relatively mild and contemplative in comparison to her '80s albums, Aerial featured odes to Elvis, Bush's son, and pi (though, according to Wikipedia, she sings "117 digits of the number … but misses 22 digits from the 80th to the 101st place"). The second half of the double album is one continuous track, charting the seasons and one full day, employing birdsong samples and minimal instrumentation. Though it's a mixed bag with as many moments of self-indulgence as transcendence, Aerial sent the message that Bush would put out the music she wanted, when she wanted, and reminded the world that her fan base is one of music's most passionate.