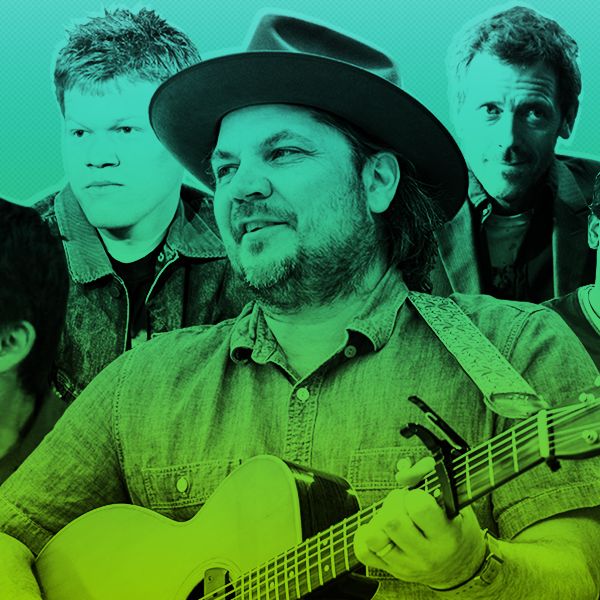 When we call Jeff Tweedy and Wilco "dad rock," we're speaking both literally — Tweedy's new album Sukierae features his son Spencer on drums — and figuratively. The music of Wilco has long been the reigning sound of "maturity" in pop culture, soundtracking the moments when countless fictional children and man-children had to learn to grow up and embrace responsibility. 
Mason Sr. (Ethan Hawke), Boyhood
Wilco song: "Hate It Here"

Life before Wilco song: Hawke's shameless drifter is an enthusiastic if slightly unreliable part-time father, dropping in and out of his children's lives long enough to give them rambling discourses about life, love, and Wilco, whose music he praises during a 2008 camping trip.
Life after Wilco song: When he returns to the film a few years later, Mason Sr.'s cleaned up, with a new wife, a new baby, and a new minivan, which he paid for by selling the vintage Pontiac GTO his son expected to inherit. He's painfully aware that he's gone square, telling Mason Jr. to save up for his own car and "be cool like I used to be."
Ted Mosby (Josh Radnor), How I Met Your Mother
Wilco song: "How to Fight Loneliness"
Life before Wilco song: Through eight seasons of HIMYM, this whimsical New York City architect was obsessed with finding his soul mate through a series of rain dances, one-minute dates, and other grand romantic gestures.
Life after Wilco song: In the penultimate episode of HIMYM's penultimate season, Wilco soundtracked Ted's moment of clarity: The universe didn't particularly care which girl he ended up marrying. As he told Robin, who was suffering from cold feet before her wedding to Barney: "Do you know how many signs I've gotten that I should or shouldn't be with someone … and where has it gotten me? Maybe there aren't any signs." Of course, the show then spent its final season undercutting this very message, so it's hard to say what the lesson really was.
Landry Clarke (Jesse Plemons), Friday Night Lights
Wilco song: "Muzzle of Bees"
Life before Wilco song: Landry was primarily comic relief in FNL's first season, playing sidekick to Dillon High's QB 1, singing in a Christian metal band and nursing a crush on Tyra, a pretty blonde from the wrong side of the tracks.
Life after Wilco song: Landry got his first dramatic story line in FNL's second-season premiere, and boy, was it a doozy. In an infamous plot twist, Landry killed Tyra's stalker in a moment of rage; the buzzing guitar of "Muzzle of Bees" accompanied the pair's decision to dump the body in a river. Landry would lose his virginity to Tyra in the next episode, but the moment he covered up his first murder was the moment he became a man.
Dr. Gregory House (Hugh Laurie), House
Wilco song: "Black Moon"
Life before Wilco song: On a medical procedural, patients and supporting characters come and go, but the personality of the lead is constant. Through bureaucratic skirmishes, hospital hookups, and many misdiagnoses of lupus, Dr. House was never less than stubborn and irascible.
Life after Wilco song: At the end of season eight's "Body and Soul," House received two nasty surprises: his fake green card wife had left him, and his best friend Wilson had cancer. It was enough to make him reconsider his trademark selfishness — slightly.
Sarah (Lizzy Caplan), Save the Date
Wilco song: "Heavy Metal Drummer"
Life before Wilco song: Well, more like "during." As the Wilco-soundtracked opening credits fade out, Caplan's aimless character is sketched out in telling detail: She's packing up a box full of dirty dishes to move in with a boyfriend she only sort of likes.
Life after Wilco song: Caplan dumps the boyfriend shortly thereafter during an excruciating public proposal and spends the rest of the movie falling in love with a soft-spoken nerd. She doesn't ever get it quite together, but at the end of the film, she's slightly more okay with stability. Though the movie's ambiguous final scene doesn't let us know for sure, she's at least considering the possibility of starting a family.
Drew Holt (Miles Helzer), Parenthood
Wilco song: "Whole Love"
Life before Wilco song: We wouldn't call Drew "boring," exactly, but Sarah Braverman's teenage son was definitely the least compelling member of the extended Parenthood clan in the show's early seasons. While his older sister got the exciting plotlines, Drew mostly lurked in the background, his lack of a father figure his main defining characteristic.
Life after Wilco song: Wilco soundtracked Drew's budding flirtation with a girl named Amy. After Amy got pregnant and had an abortion, Drew got a dramatic crying scene, which, in the world of Parenthood, meant he was finally an adult.
Jason Fryman (Adam Scott), Friends With Kids
Wilco songs: "A Shot in the Arm," "Solitaire"
Life before Wilco songs: In this 2012 indie comedy, Scott plays an adman who tries to Have It All, which, in this case, means raising a child with platonic friend Jennifer Westfeldt while also sleeping with Megan Fox.
Life after Wilco songs: After an emotional journey that features multiple Wilco songs, Scott comes to realize he actually does love Westfeldt after all. All he really needed was a shot in the arm!
Ed Stevens (Tom Cavanagh), Ed
Wilco song: "I'm Always in Love"
Life before Wilco song: NBC's Ed told the story of a hotshot big-city lawyer who reluctantly moves back to his hometown of Stuckeyville, Ohio. To pass the time, he buys a bowling alley and moons over his high-school crush, Carol (played by Julie Bowen).
Life after Wilco song: In the first-season episode "Home Is Where the Ducks Are," Ed finds new reserves of civic pride as he concocts a plan to convince Carol not to move to New York. He invents a Festival of Ducks, and with the help of some Wilco on the soundtrack, the plan works: In the show's series finale, Ed and Carol get married — at the bowling alley, of course.
Ira Wright (Seth Rogen), Funny People
Wilco song: "Jesus, Etc."
Life before Wilco song: In the last of his long line of Apatovian man-children, Rogen plays a struggling stand-up comic who awkwardly tries to woo Aubrey Plaza with Wilco tickets, then unleashes a slut-shame-y rant after she sleeps with his roommate.
Life After Wilco song: Accompanying Adam Sandler on an ill-fated mission to win back his ex-girlfriend teaches Rogen some harsh lessons about adulthood, and his newfound maturity gives him a second chance with Plaza: They kiss above the Hollywood sign while listening to "Jesus, Etc."
Pete (Paul Rudd) and Debbie (Leslie Mann), This Is 40
Wilco song: "I Got You (at the End of the Century)"
Life before Wilco: As you may have guessed, Judd Apatow is a huge Wilco fan, and even got the band to re-record live favorite "I Got You" for this story of a stressed-out couple dealing with bankruptcy, parenting, and their ever-increasing hate for each other. 
Life after Wilco: This time Apatow saved Wilco for the closing credits, by which time Rudd and Man have reconciled after learning she's pregnant with a third child. In the cinematic worlds soundtracked by Wilco, more kids are always the answer.
Will Burton (Gaelan Connell), Bandslam
Wilco song: "What Light"
Life before Wilco: Connell plays the type of music nerd who occupies himself by writing long fan letters to David Bowie — popularity seems an even greater challenge than getting Ziggy Stardust to write him back. And yet! Through the power of ska (it was 2009, just go with it), Connell carves himself out a place in the unforgiving high-school hierarchy.
Life after Wilco: HUGE Bandslam spoilers follow! Though his group may not win the film's climactic battle of the bands, Connell gets an even better reward: During a Wilco-backed montage, he earns both the love of Vanessa Hudgens and a response from David Bowie, who invites the kids to sign on to his new indie label.
Jamie Randall (Jake Gyllenhaal), Love and Other Drugs
Wilco song: "Way Over Yonder in the Minor Key"
Life before Wilco: Gyllenhaal put his broad smile to good use in this rom-dram, playing an unrepentant man-slut who earns a living getting Americans to sign up for prescription drugs they don't need.
Life after Wilco: Like many romantic rascals, Gyllenhaal is redeemed by the love of a good woman, played here by Anne Hathaway. Wilco, Natalie Merchant, and Billy Bragg's Woody Guthrie cover scores yet another montage as Gyllenhaal experiences the simple pleasures of being together — but will Hathaway's early-onset Parkinson's tear them apart?
Guy Trilby (Jason Bateman), Bad Words
Wilco song: "Feed of Man"
Life before Wilco: Bateman's character is a 40-year-old middle-school dropout who, thanks to a loophole, competes in spelling bees meant for children. He is, as you might expect, fairly unpleasant.
Life after Wilco: Wilco and Billy Bragg's "Feed of Man" plays while Bateman arrives at the Golden Quill Spelling Bee, an event that will let him humiliate his estranged father, the spelling bee organizer, and introduce one of his young competitors to the pleasures of booze, bad food, and prostitutes. Growing up is a relative term.