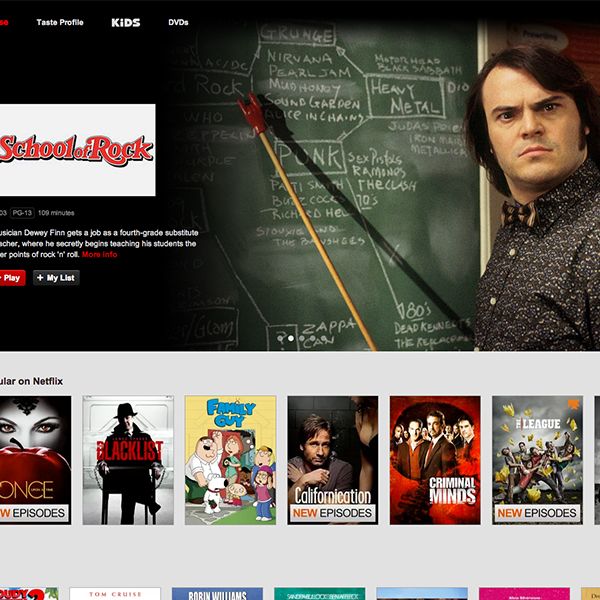 Netflix has changed the way we rent movies, making a large library of films and television series available at the touch of a button. But are you getting the most out of your Netflix subscription? With this collection of Netflix hacks — from beginner to advanced levels — we'll make sure that you squeeze every bit of binge-watching goodness out of the streaming service.
1. Rate Everything for Better Recommendations
No matter what you watch, the site's five-star rating system will help Netflix's algorithm narrow down the best suggestions for your unique tastes. Aside from ranking individual titles, you can go to the Taste Profile tab, which offers a Taste Preferences survey that lets you rank your interest in everything from tone (Absurd? Deadpan? Heartfelt?) to genre, qualities (classic, cult, experimental), story lines, and so much more. You can further refine tastes by breaking out different profiles for each member of your household.
2. Add Trailers, Rotten Tomatoes, and IMDb Ratings
In Netflix's typical layout, you are offered a standard star ranking based on user-submitted ratings. But do you demand more, including critic's rankings? Then you'll want to take advantage of the free Chrome extension Netflix Enhancer. The recently revised tool allows you to see a film's Rotten Tomatoes score as well as its IMDb rating. This quick and easy download also allows you to easily access trailers and provides links to IMDb content.
3. Search for the Very Best of Netflix
If the Chrome hack doesn't appeal, you can get more out of your Netflix experience by modifying the way you browse with A Better Queue. This site ranks all of Netflix's content by its Rotten Tomatoes scores. Its controls allow you to select genre, year of release, and Freshness rating. Then it simply sifts through the entirety of Netflix's catalogue. It's a great way to narrow the field while browsing, and each poster contains a link to the title's Netflix page.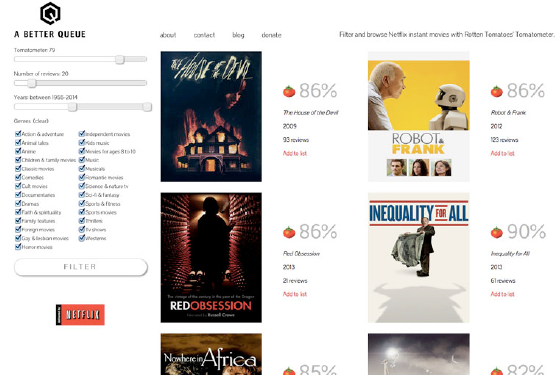 4. Watch in HD
The cost of a Netflix plan that allows for high-definition viewing is $7.99 per month — the same as a Standard Def subscription. But are you utilizing yours? Be sure to do so by going to Your Account page. Select Playback Settings, and under Data Usage, select High. Then click Save. But be warned: Streaming in HD will devour mobile data, so we suggest you only use this option on Wi-Fi.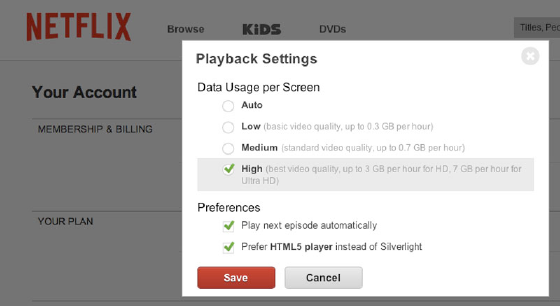 5. Kill Buffering on Your Computer
Buffering might as well be a four-letter word in the world of streaming video, but with this handy hack, you can stop it. If you're watching on your computer and experience a lag, press Shift + Alt + Left Mouse Click if you're a PC user, or Shift + Option + Click if you're a Mac user. A diagnostic window called Stream Manager will appear, and you can manually select the buffering rate you want. Note: Wherever you click in the window is where the box pops up; higher in the screen allows for better visibility.
6. Kill Buffering on Your TV
If you're experiencing buffering issues through your Smart TV, Blu-ray Player, or game console, a different hack is required. In these instances, you need to reset your Netflix application. To do so, launch Netflix, and on your controller or remote, press this cheat code: Up, Up, Down, Down, Left, Right, Left, Right, Up, Up, Up, Up. This brings up a page of your general info, along with the option to deactivate. Deactivate. Then relaunch the app. Voilà!
7. Keep Up on the Latest Additions to Netflix
There are plenty of sites and apps dedicated to reporting the newest additions to Netflix's ever-changing library. (For starters, we offer a series of selections based on genre.) However, the site Instant Watcher provides a streamlined and current list of the latest titles to hit Netflix. Plus, it includes buttons that allow you to easily add any movie listed to your queue.

8. Turn Your Phone Into a Remote for the PS3
First, be sure your smartphone and PS3 are logged into the same Wi-Fi network. Now log into Netflix on both. As you can see in the video, selecting a title should give you an option to play it on your phone or your PS3. Selecting the latter will start the title on your TV. This should also work with iPad and iPod Touch as a remote, as long as they are running iOS 5 or higher. (The Kindle Fire and Nook need Android 2.3 [Gingerbread] or higher, and Android's tablet demands 3.0 [Honeycomb] or higher for this hack.)
9. Get the Most Out of Your Apple TV Remote
Some bonus features come into play with the Apple TV version of Netflix. Hitting the Up arrow twice on its remote while watching streaming content will bring up a banner that displays a thumbnail image, description, and rating. Pressing the remote's down arrow will bring up a progress bar, notched with chapters. Hitting the right or left arrow from here will leap 2–6 minutes forward or back depending on the length of the title. (Bonus: These cues also work for iTunes on Apple TV — screen grab via Tech of the Hub)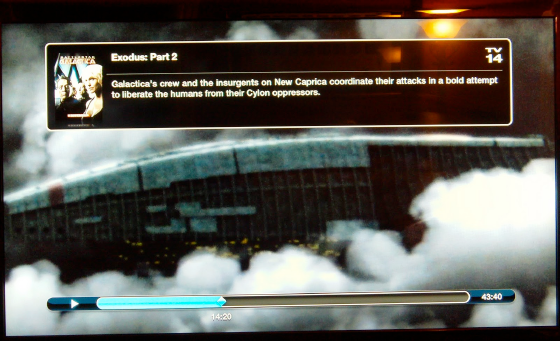 10. Use Keystroke Shortcuts
These will make watching Netflix on your computer a breeze:
• The Spacebar and Enter keys function as a pause/play button.
• PgDn pauses, while PgUp plays.
• F will take you to full screen; Esc will take you out of it.
• Shift+Left Arrow will rewind, while Shift+Right Arrow will fast forward.
• Up and Down Arrows should impact volume levels.
• M is a toggle for mute.
11. Don't Be Limited by Your Region
Netflix has multiple regions, with different international licensing plans for content. Especially savvy Netflix users can swap regions at will to get the best access to titles possible. The script Hola Unblocker allows you to select a different region, offering up access to a whole new library of titles. Follow this simple installation tutorial, unblock Netflix content, and binge-watch to your heart's content. Two limitations, though: It only works on computers and if your subscription plan is streaming only. (via Digiwonk)
12. Watch Netflix in Any Country: Laptop Edition
While traveling abroad, you may have noticed your Netflix subscription can't come with you. But Media Hint has changed that. It's a browser extension for Firefox and Chrome that routes your media only through U.S.–based proxies so region blocks won't impact your desire to tear through your Netflix queue, or even your Hulu account. Best yet, it's free! The video below offers a simple tutorial.
13. Watch Netflix in Any Country: Apple TV Edition
To get around stingy region limitations, Apple users can change their DNS settings and relaunch their Netflix app. This will allow you to trick your system into believing you are based elsewhere. For instance, to watch American Netflix from Canada, go into your Apple TV Settings, go to General, then Network. Select your Network Name, then select Configure DNS, and Manual. From there, enter this sequence of numbers: 109.123.111.024. Now restart your Netflix app.
These codes are subject to change. But Netflix Fixer post updates about valid codes, while tech blogger Byron Schmidt offers variants on this hack for Wii and iOS devices.
14. Clear Your Viewing History
The best way to keep the world from knowing your guilty-pleasure viewing habits is by utilizing the multiple profiles Netflix allows for. Set up one of the available five for your reality-TV binges, and delete the entire profile at will. However, this won't work with your main profile account. To delete its embarrassing viewing log, the only failsafe way remains to delete your Netflix account completely and create a new one free of every episode of Toddlers and Tiaras.
15. Make Subtitles More Legible
The default subtitles on Netflix are yellow with a black background in a sans-serif font. If you prefer an alternative, go to Your Account. Then, under Your Profile, select Subtitle Appearance. In the pop-up box, change and preview until you're satisfied.