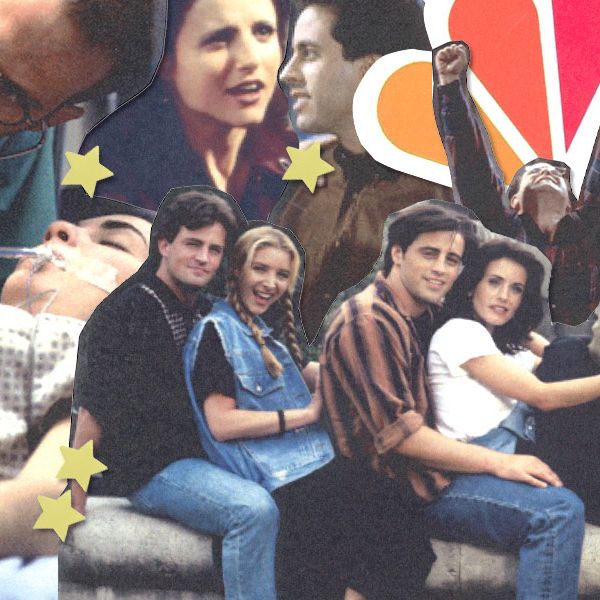 NBC's storied "Must-See TV" Thursday lineup has seen various iterations over the decades. While the network's marketing execs didn't actually coin the phrase until 1993, sitcom triumphs from the 1980s — The Cosby Show, Cheers, Family Ties — have retroactively become part of the Peacock pantheon. Likewise, although 21st-century Thursday shows such as The Office, 30 Rock, Parks and Recreation, and Community never reached a broad audience in the way their predecessors did, they'll very likely be remembered in the same paragraph (if not the same sentence) as their ancestors. And then there is that one NBC Thursday lineup from the past three decades that stands apart— the One Must-See TV Lineup to Rule Them All. It's the schedule NBC birthed in the fall of 1994, when established blockbuster Seinfeld was married with newcomers Friends and ER. Almost literally overnight, the TV world changed: Superstars were born, network fortunes changed. NBC, which had established a tradition of both qualitative and commercial success a decade earlier, transformed into an unstoppable Thursday juggernaut. It became immune, at least on one night, to whatever rivals threw at it. And after finishing in third place the season before, it suddenly found itself challenging ABC for the overall Nielsen crown, particular with younger viewers.
Things are much different for NBC on Thursday nights now, of course. The Peacock long ago surrendered its ratings crown to CBS, which has dominated the night in recent years with mass-appeal half-hours such as Two and a Half Men, The Big Bang Theory, Young Sheldon, and Mom. At one point five years ago, the situation on the yuks front grew so dire that NBC began the fall season without a single returning comedy on Thursday night, the first time that had happened in three decades. NBC's Thursday fortunes have improved since then. Superstore launched in 2015, with The Good Place following a year later. Neither show is a ratings smash, but they're both critical hits with solid core audiences, particularly among younger viewers. While NBC doesn't use Must-See TV in its marketing anymore — the new branding is "Comedy Starts Here" — the network is still leaning in to the idea that Thursday is the home of some of its best shows, particularly comedies.
That's because the halo of that 1994 schedule still hangs over the network. When this story was first published back in 2014, ahead of the 20th anniversary of the debuts of Friends and ER, Vulture decided to find out how that most epic of Thursday schedules came together. When did NBC execs know Friends and ER might be worthy of Thursday berths? How did they make the gutsy decision to shift two very successful Thursday comedies, Frasier and Wings, to Tuesdays in order to make room for the newcomers? And why did they decide to make another big move just a year later? For the answers, we got together with former NBC Entertainment president Warren Littlefield (who had just won an Emmy for his role as exec producer of FX's Fargo and would go on to produce Hulu's The Handmaid's Tale) and former Peacock scheduling guru Preston Beckman (who was then at Fox Networks Group and is now a consultant). Ahead of the 25th anniversary of that storied NBC lineup, here's a look back at the edited and annotated transcript of our nearly 90-minute conversation with the two men.
The Road to Thursday
Before they were megahits, Friends and ER started out like most TV shows back then (and even now): one of a couple dozen projects lucky enough to film pilot episodes in consideration for a spot on a network's schedule. Of the two, ER had the bigger auspices: It was based on a novel by superstar author Michael Crichton (Jurassic Park), and Steven Spielberg was attached as a producer. The creators of Friends, meanwhile, were best known for their work on HBO's Dream On (at a time when pay-cable shows didn't have the same cachet they do now). 
How early in the development process did you start thinking Friends and ER might be worth scheduling on Thursday?
Warren Littlefield: I would say that both of them were targeted to go into Thursday night. With Friends, as we went through the casting process, we got more and more excited. Not because there were any household, super-well-known star names. We just thought, Man, this is a fun, attractive cast. And then Jimmy Burrows signed on [to direct]. Going into screenings, there was a certain patina, a hope to it. There was a feeling that if we did it right, this belonged on Thursday night. That was very much kind of a goal, and a target.
Preston Beckman: But honestly, before we even considered Friends for Thursday, we had a bigger decision, which was whether to split up Thursday. I don't think the the big focus, at least in terms of the comedies, was on Friends. It was — you know, are we gonna make this move?
Right. You were heading into fall 1994 with a 10 p.m. opening, since L.A. Law was wrapping its run. But your Thursday comedy block was working pretty much perfectly: Mad About You, Wings, Seinfeld, Frasier. 
Littlefield: That's your Must-See TV lineup.
Exactly. Anyone looking at that schedule now, or even then, would say …
Littlefield: Don't mess with this.
Beckman: We started off believing that that's what we were gonna do. Just leave Thursday night — at least the comedies — as is.
Littlefield: But the feeling was, this is how we become the No. 1 network. That if we don't get into Tuesday night, then we're gonna get blocked out. The only comedy competition on Tuesday night was from ABC. And so that's why we took that risk.
Once you opened up two comedy slots on Thursday, it then came down to whether Friends should fill one of those two holes, and if so, whether it should air at 8:30 p.m. behind Mad About You, or at 9:30 p.m. behind Seinfeld. You also had Dabney Coleman returning to TV in Madman of the People, and also headed to Thursday. How did you decide which show went where?
Beckman: The reality was, Friends was a mediocre-testing pilot.
Littlefield: It was a "high weak" in the testing.  Seinfeld was absolutely disastrous. Weak, weak on all levels. But Friends was a high weak, because there was a bubbling young-adult 18-to-34-year-old audience that got its sensibility. And so, it wasn't considered, like, a full-on 18-to-49 show. They found it moderately funny, [with an] attractive, young cast. But it was really — it wasn't overly emotionally involving. And there wasn't a single star that jumped out. It was, by definition, what we set out to do: an ensemble. Madman just felt a little more adult. We thought, Well, it'll play a little older, and we'll put it a little later. And Friends will play younger. And, you know, being sandwiched between Mad About You and Seinfeld, that was a pretty great opportunity.
Beckman: Madman of the People was a higher-testing pilot. It's that simple. It's really that simple. We liked Friends. Friends was actually liked more [by NBC execs] than the testing indicated. But, you know, in the real world, we don't know what we have a lot of the time. We didn't know what we had with Friends. We didn't know what we had with Seinfeld. You don't know. If we knew, we would probably be gazillionaires now, and Warren would not be freezing his ass up in Calgary.
Was it an easier call to schedule ER at 10 p.m. on Thursday?
Littlefield: We didn't have many choices.
L.A. Law was over, and you had to find something to replace it.
Littlefield: You know, Steven [Bochco, executive producer of L.A. Law] said to me, "Hey, I can give you another half-season." But I just thought it was time.
What were the possibilities for the slot?
Littlefield: We had done an experiment with a Robin Williams episode of Homicide and played that on Thursday. And as powerful and as wonderful as that was, it didn't seem like Homicide was destined to be the show that could hold up on Thursday. And we had probably placed a Law & Order there a couple times. But Law & Order was doing very, very nicely, holding up our Wednesday.
Beckman: Law & Order was also a show we didn't feel was really a young-appealing show. It was more 25-to-54.
So that left ER.
Beckman: ER just — you know, it had an attractive cast. It had George Clooney about to explode. It just felt younger.
Littlefield: And it was more exciting.
Beckman: Also, I will say this. With ER, I think we knew what we had. ER was like — we gotta be out of our minds not to put this Thursday at 10.
Littlefield: That's true.
Waiting to Launch
By mid-May, just before NBC officially unveiled its new lineup to advertisers, industry trades were already reporting its bold scheduling ploys. "In what would be a stunning move … Peacock web officials have talked about shifting Frasier to Tuesday opposite Roseanne — a development that would surely bring howls of protest from the show's supplier, Paramount Network TV," Variety reported at the time. "Several observers questioned the merit of putting a year-old hit against one of TV's most resilient sitcoms." NBC also made it known that it would schedule ER in the L.A. Law time slot, even though there had already been buzz, CBS was eyeing Thursdays at 10 for Chicago Hope. Initially, ABC and CBS didn't react to NBC's shuffle: The Alphabet announced a new schedule with Roseanne still on Tuesdays, while the Eye went ahead and put Hope against ER. And then came the four-month wait until September.
After you saw your competitors' schedules, did you worry at all about whether you had made the right moves? Any second thoughts over the summer, particularly when ABC decided to replace Roseanne with Home Improvement on Tuesdays opposite Frasier?
Littlefield: We were confident. We were very confident. [With ER], we had a research document that confirmed our greatest hopes and dreams — five legitimate series stars in this pilot, record-breaking testing versus most every drama that was tested previously. We ran a 60-second spot in the finale of LA Law, and the reaction from the audience, because we were monitoring them — the reaction to that spot was basically, Get the fuck out of my way. When can I see this show? I can't wait. I mean, it was that powerful.
And so we looked at Chicago Hope, and we said, "You know, that's not a bad show. However, it ain't ER."  We just had such great confidence as we lived with the decision. And each week, the intent-to-view data that was coming in continued to give us more confidence.
Beckman: I remember sitting next to you at the TV Critics Association press tour, when John Wells and the group did their TCA session. And I turned to you after the end of the session and I said, "I've never heard a producer or a showrunner talk like that." I mean, I was so impressed with him.
Littlefield: Yes. Yes.
Beckman: Just how he envisioned the show. I mean, all the years I'd been in the business, if there was ever a slam dunk … God could have done a talk show [opposite ER]. It didn't matter. I remember showing Chicago Hope and ER to my wife. She didn't know which network they were on. Afterwards, I said, "Well, which one would you watch?" And she didn't even say. She looked at me and she said, "Are you even kidding me?" One show was these young, idealistic doctors in a struggling inner-city hospital, with multiple stories going on in that pilot. Then the other was this pristine, squeaky-clean hospital with these high-paid doctors separating conjoined twins. Come on. What are people gonna watch?
Littlefield: The other thing that came out of test audiences is, they perceived ER to be an action hour. That's what they called it. Because of the camera work. I mean, the density to the storytelling, the active use of the camera. It was very, very innovative — and the audience gobbled it up. They were saying, "Well, it's not really a medical drama. It's an action hour." And we just kind of smiled: Okay.
What were you thinking about Friends over the summer? As you noted, the pilot hadn't tested all that well. And there were some other Gen X–targeted sitcoms announced by the other networks: Wild Oats, The Boys Are Back …
Beckman: Friends and Wild Oats kind of got lumped together during the summer: "Gee, these two networks made the same show." They weren't going head to head, but it was kind of like ER [and] Chicago Hope.
Littlefield: They put Wild Oats on Sunday night, after Married With Children. It was, you know — not a very good pilot. And it died quickly.
Friends definitely suffered from being lumped in with those other youth comedies. USA Today's Matt Roush was particularly harsh: "NBC's Friends and Fox's sex-crazed Wild Oats pander to Generation X singles. Reality Bites with gingivitis." So the buzz headed into fall wasn't great, certainly not compared to how quickly the show exploded with audiences.
Littlefield: It wasn't a perfect pilot. It was a young cast. They needed more time together to jell. But I would say first, for us, internally, six scripts in, we were like, "Wow. This is really absolutely heartfelt, emotional, compelling. And, by the way, it's pretty funny." And then, as we started to shoot those episodes, we said, "You know, this thing is bubbling. We could feel that."
Beckman: By episode two or three, it was like, Wow. This is funny. It very quickly topped the pilot. Very quickly.
Littlefield: It's what most pilots are supposed to be. Potential — when you get in business with the right people, that potential is realized. ER, The Cosby Show, Golden Girls — they were anomalies. They were fully realized in a pilot. It's just so rare in a broadcast life that that kind of quality is achieved in a pilot. Mostly, you're saying, "Where does the series go? Who am I in business with? What is the potential, and do we bet on this?" And with Friends, the execution of the series was the fulfillment of that bet.
The Rollout
As much confidence as Littlefield and Beckman had in their new lineup, and whatever the advance word from critics, both shows still had to face the judgement of viewers. While ER would end up spending its entire 15-year run in the 10 p.m. Thursday slot, the show's very first episode actually aired on Monday, September 19 as a two-hour NBC movie. Four days later, on September 22, Friends finally premiered at 8:30 p.m Thursday, along with the second installment of ER.
Why did you choose to run the ER pilot on a Monday rather than Thursday?
Littlefield: It was a two-hour premiere. And we [in the entertainment division] were not allowed to play anything on Thursday night that would cut into the comedies, even repeats of the comedies. Finance wouldn't let us.
Beckman: And it was premiere week. It would have preempted the premiere of Seinfeld.
Littlefield: That would have been financially painful. But we still had a Monday movie, so ER went in against a unbelievable [Lions versus Cowboys] Monday Night Football game. I had seen the ER pilot probably 26 times. And that night, I'm going back and forth between ER and the NFL. And I'm like, "We're screwed. We're dead. This is — this is Dallas, America's team. It's a nail-biting game. It's going right down to the final seconds. With my luck, it'll go to overtime. So it doesn't matter what time zone you're in. We're screwed." And we woke up the next day, and it was like, "These look like they're pretty good numbers."
Beckman: It did really well. And you know, we had a regular Monday movie then. So it wasn't like we put this on Monday night without a history of having solid numbers, even against Monday Night Football, with female-oriented movies.
It was a logical place for it.
Beckman: Oh, yeah.
Then came Thursday. Back then, network execs and journalists would call in to a ratings hotline for numbers early in the day. That Friday morning, how did you find out how Friends and ER did?
Beckman: When I came out [to Los Angeles] in '91, things weren't going all that well. So I kind of stayed in the habit of not looking at ratings until I got to the office. Because I was always afraid if I called up for them, I'd go back to bed and just not want to go work. So I got to the office. And I remember — it looked like I was opening up a deck of cards. I'd just go down the column. And Friends did okay. I think it did better than we expected; it did fine. Seinfeld was freaking huge. Madman dropped off some kind of acceptable number. But the key number, really, for me, wasn't Friends. It was ER versus Chicago Hope.
Littlefield: Unlike Preston, I couldn't wait. I got the numbers at 6 a.m. Mad About You continued to be everything we wanted it to be. Friends was glass-half-full. We expected that there would be a little drop-off; there was some drop-off. It wasn't terrible. It wasn't great. It was in the range of acceptability — but by no means [did we] jump for joy. Seinfeld was, yet again, a resounding tower of strength. Madman of the People was okay. And then ER was very satisfying. It was, Okay. You know what? We hoped and believed we would win this. We felt strongly that we would.
Beckman: And we beat Chicago Hope. There were a lot of people who didn't think we could beat Chicago Hope.
What happened the next week?
Beckman: They both shot in different directions. Chicago Hope took a big dip. And we just blew 'em out of the water. It was like, Holy shit.
Littlefield: The second week, literally chills went up my spine.
Beckman: The gap between the two shows was scary. And scary good for us. I remember looking at that number …
Littlefield: … and it was over for them.
Making Friends and Influencing Ratings
After ER crushed Hope in their second week opposite each other, CBS execs threw in the towel. As late New York Newsday TV columnist Marvin Kittman colorfully described the fallout, Hope, which "looked like it was run over by a truck" was "now in ICU." After just two scalpel-to-scalpel showdowns, CBS shifted Hope back an hour to 9 p.m. Thursday, subbing in Connie Chung's Eye to Eye news mag (and thus making it even easier for ER to gain momentum.) Hope didn't float opposite Seinfeld, either, and was pulled in the middle of the November sweeps, returning in a new time slot — Mondays at 10 — in January 1995. (It ended up lasting six seasons and won multiple Emmys.)
With Hope gone, ER built up even more momentum at 10 p.m, regularly attracting more than 40 percent of all TV viewers by the end of its first season. There was nothing left to do but enjoy the ratings, the acclaim, and the huge profits. Friends, too, was picking up steam at 8:30 p.m. After initially losing a bit of its Mad About You lead-in, it started building upon the 8 p.m. show. Beckman and Littlefield saw an opportunity. Friends seemed destined not just to be a hit, but an anchor.
While you never again moved ER from 10 p.m. Thursday, you obviously shifted Friends. And not just to 8 p.m., where we all remember it. In February of 1995, it got the 9:30 p.m. slot behind Seinfeld. 
Beckman: When we were at TCA in January, we had already decided we were gonna do it. Our scheduling grids reflected that. I remember at the TCA party, somebody introduced me to Courteney Cox. She knew who I was, and of course, she immediately started in with me. She said, "Oh, you know, you should put us behind Seinfeld." And I said to her, "Well, that's what we're gonna do." She kind of looked at me like she thought I was bullshitting her. And I'll never forget, I looked at her — she was there with her boyfriend then, Michael Keaton — and I innocently said, "Well, if you wanna come to my car, I'll show you the grids." As soon as I said it, I looked at her and I said, "I'm sorry, I really — I really didn't mean [it like] that."
What was the thinking behind the shift to 9:30? 
Littlefield: We had seen the episodes. We had so much belief in Friends: The more we shot, the more we watched, the more we believed. And we knew that the future for the show was it was gonna go to Thursday at 8. It was gonna be that kind of cornerstone — Thursday at 8. Seinfeld would be 9 o'clock, ER at 10. That was the future we were looking at. And therefore, it was like, So, what's the greatest thing you can now do to ensure as great a number of people come to Friends as we're planting it for next season? Sandwich it between Seinfeld and ER. I don't think we had many debates about that one, Pres. We were like, "Undeniable. Let's do it."
Beckman: Warren's right. Remember, this was the era of our imperialist march through the schedule with comedy. [Laughs.] And I think we had also already decided we were gonna move Mad About You to Sunday night the next fall.
Littlefield: Yes, we did. Sunday at 8.
Was putting Friends behind Seinfeld a way to be doubly certain the show had the goods before you put it in a lead-off slot the next season?
Beckman: No. We knew.
Littlefield: There was no second guessing.
Even if Friends made sense at 8 p.m., it was still pretty ballsy that you were even thinking about moving Mad About You off the night. You had just airlifted Frasier and Wings from Thursday to Tuesday, and it worked. You then more than made up for it on Thursdays with Friends and ER. You wanted to shake things up again? 
Beckman: We were like, "We're just gonna conquer!" We were just gonna conquer the schedule with comedy.
So replacing seaQuest, which had been airing Sundays at 8, with Mad About You gave you another sitcom block. 
Littlefield: We got up to 18 comedies. And we were a business. We were not a nonprofit company. We wanted to use that asset [Mad] to help open up and build another front and become a destination for advertisers as well. The older the show gets, the less you're able to move it. There was still real strength left in Mad About You. We may have accelerated its decline by the move. But comedies help keep the schedule young. They repeat well. And the highest-viewed hour in television was Sunday night at 8. Mad About You had the strength to go over into one of the most competitive time periods in network television, in that era and still today. It went in, turned on the lights, and established a strong young-adult presence for us. We also thought Friends had the strength to go into 8 o'clock and stay there. And on that guess we were right. It never moved again.
And you would dominate on Thursdays well into the next decade.
Littlefield: These three pillars were in place on the night that guaranteed — no matter how bad we could screw up in the 8:30 or 9:30 time period, those three shows were bulletproof. Regardless of what a local station was doing leading in [at 7:30 p.m.], Friends was a destination. Regardless of what was happening at 8:30, Seinfeld was a destination. The same for ER. And so, through the height of the Must-See years, 75 million Americans were watching at least some of Thursday night on NBC. If you didn't, you absolutely felt left out. You just didn't want to show up at work the next day if you couldn't talk about what was on NBC the night before. It was the place to be in the television universe. And it just was the last time that one network had the best of the best, and everybody wanted to be there.
* This article previously stated that The Cosby Show debuted in 1994. It debuted in 1984.
Per Nielsen, the ER movie averaged a 17.6 rating, or percentage of TV homes; the football game, which did in fact go into overtime and thus aired at least a portion of ER on both the East and West Coasts, did a 19.6. For the week, Monday Night Football ranked fourth overall, while the ER special came in at No. 7. And FYI, for ratings completists, the night before ER bowed, a Sunday Chicago Hope preview on CBS notched a 16 rating.
NBC's Monday-movie franchise ended the 1994–95 season as TV's No. 19 show overall; football was No. 5.
Here's how NBC's five Thursday shows did that first week of the season: Mad About You averaged a 15.6 household rating. Friends dipped a tad to a 14.7. Seinfeld surged, notching a 21.9 rating, while Madman of the People fell to a 16.0. At 10 p.m., ER scored a 16.3 in its first Thursday outing, easily defeating Chicago Hope (11.1). For the night, NBC's Must-See lineup dominated with an average 16.8 rating, far ahead of second-place CBS (11.3) and equal to the combined ratings for ABC (8.7) and Fox (8.1). Littlefield couldn't contain his excitement that first week: "If we keep this up, we'll have to add staff to count the money," he told the New York Times' Bill Carter.)
Week two, ER climbed to a 17.6, while Hope collapsed to a 9.6, also finishing behind ABC's 9.9 rating for PrimeTime Live.