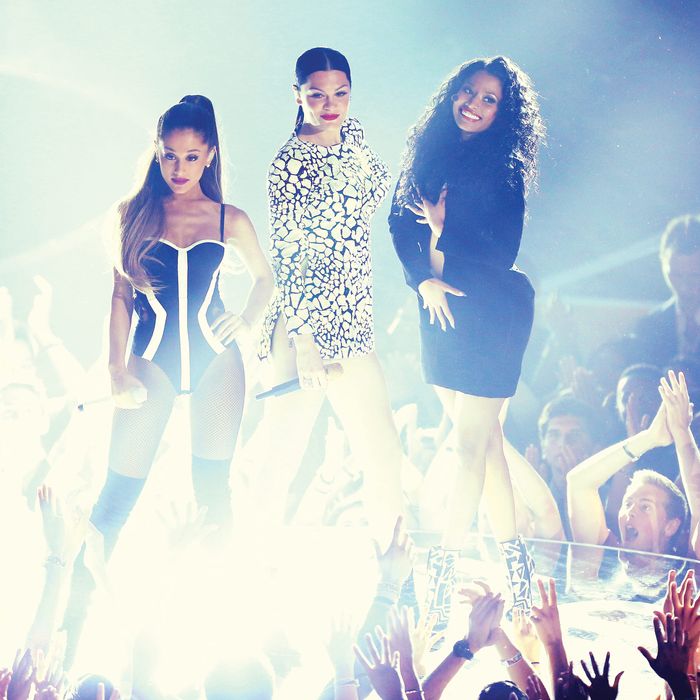 Shortly before 11 p.m. on the first Saturday in August, Beyoncé and Nicki Minaj released a remix of Beyoncé's "Flawless" — a surprise they'd been plotting for months but that they uploaded that night with the conspiratorial, inside-jokey air of a Vine recorded at a slumber party still in progress. Beyoncé reportedly tapped the Queens-bred rapper to write a verse shortly before kicking off her recent tour, then, when it came time to record, visited a studio in New York to serve as Minaj's ringside trainer (Nicki recalls Bey's advice: "Do your thing! Don't hold back! Go in!"). This brought out the best in Minaj; her "Flawless" verse contains some of the fiercest bars she's spit since her star-making cameo on Kanye West's 2010 track "Monster"—on which she famously upstaged West, Rick Ross, and, perhaps most obviously, Beyoncé's husband.
To collaborate with Minaj is to risk being outshone on your own song, which means this tale of unequivocal encouragement and female camaraderie does not jibe with the ideas a lot of people have about Beyoncé — or, for that matter, Minaj. Although both are self-proclaimed feminists, both have been plagued by assumptions that they cannot share the spotlight with other women (Beyoncé with her revolving-door bandmates in Destiny's Child, Minaj with her diss-track sparring partner Lil' Kim or her former American Idol co-host Mariah Carey). Enough of all that, says the "Flawless" remix — watch the Queen of Rap and Queen Bey reign side by side. Menacingly chummy, the track is a corrective to the idea that when two powerful, gloriously egotistical women stand next to each other, they are simply a catfight waiting to happen; Bey and Nicki flash their diamond fangs not at each other but at anyone who fails to recognize that together they are even more flawless than the sum of their already flawless parts. The surprise Saturday-night drop worked for Beyoncé once again, and the "Flawless" remix was all anybody could tweet about the rest of the weekend. When Nicki called in to Hot 97 that Monday morning to debrief, she was asked a pressing but loaded question: "Why do you think it took so long for two of the biggest female artists in the game to be on a track together?"
It's something I'd been wondering for a while, too. We live in a culture that gives us far too few images of genuine, uncompetitive female friendship, and just as the female buddy comedy has been a rare bird in Hollywood, the female buddy anthem had until recently been all but extinct from the airwaves. There was a time in the late '90s and early aughts — that one last hyper-hetero cultural moment before Gaga and gay marriage — when there seemed to be an unspoken rule that two women could be on a track together only if (a) they were having a "The Boy Is Mine"–style sing-off over some dude; or (b) they made it seem like they were always one exaggeratedly sultry breath away from making out. (Bonus points if they were making out to impress the dude.)
Over the past few years, female artists like Katy Perry, Rihanna, and Taylor Swift have conquered the charts, but by and large, their songs have communicated a sense of singularity, sometimes even isolation. The preferred pronoun is I rather than we; self-empowerment is held as a higher virtue than solidarity; the most blissful fantasy is the one where you feel like the only girl in the world. It's not that members of this generation of female pop stars have never recorded together, but their collaborations have usually been footnotes in their discographies — they're the bombed singles (Beyoncé and Lady Gaga's "Video Phone"; Madonna, M.I.A., and Nicki Minaj's "Give Me All Your Luvin' ") and semi-obscure remixes (Britney Spears, Ke$ha, and Minaj's apocalyptically awesome "Till the World Ends"). You got the sense the world wasn't ready.
Mark 2014 down as the moment everything changed, so quickly and definitively that we've barely had a moment to make sense of it. Scan the radio dial right now and you are very likely to hit on a collaboration between two or more young female artists: There's Iggy Azalea and Charli XCX's "Fancy" (the popular choice for Song of the Summer); Demi Lovato and Cher Lloyd's "Really Don't Care" (the Teen Choice Award winner for Song of the Summer); Ariana Grande and Azalea's "Problem" (which reduces the track's sole male voice, Big Sean, to a nagging, repetitive whisper); Azalea and Rita Ora's "Black Widow" (a creeping revenge ode with a Kill Bill–inspired video); and Jessie J, Ariana Grande, and Nicki Minaj's "Bang Bang" (a brassy, over-the-top walk-off that scans as an update of "Lady Marmalade 2004" with slightly more naturally hued eye shadow). Almost all of these artists performed at this year's MTV Video Music Awards (of the 13 artists who took the stage that night, nine were female), and suddenly pop's overnight shift toward girl-on-girl collaboration was impossible to ignore. (One relevant factor: Azalea's recent popularity marks the first time in over a decade, since the mutual reign of Eve and Missy Elliott, that there's been more than one commercially successful female rapper.)
Many have been quick to reheat the term "Girl Power!" to make sense of the current pop landscape, but however well intentioned, this phrase already feels like a relic — insufficient to explain how this new generation's vision of female strength differs from that of the girl groups they grew up with. What's striking to me is the way these women-driven summer hits and award-show performances rejected hierarchical structures (the girl "group" with an obvious leader and a few poorly miked backup singers) or identities that insist they squeeze their femininities into given roles ("She's the Sporty One, but I'm the Baby"). Last year, on New York's the Cut, Ann Friedman wrote about what she dubbed "shine theory," the idea that women shouldn't feel threatened by intimidatingly cool/talented/powerful women but befriend them instead. Friedman cites her best friend's advice as inspiration, I don't shine if you don't shine, and this new generation of female pop stars seem to operate by this mantra, too.
Still, good politics don't always make good pop songs, and 2014's crop of female-driven anthems is a mixed bag. A buddy track is only as good as the chemistry between its buddies, and — while I can easily imagine Azalea and Charli XCX trashing the same hotel room — that's probably why the stilted "Bang Bang" leaves me cold. Something about Jessie J's tireless attempts to outsing and outdiva her collaborators on the track just feels outdated. As one person very aptly wondered on Twitter recently, "Have Nicki and Jessie and Ariana ever actually spoken to one another?"
It's worth asking, though, if universal female solidarity is always a good thing — isn't this just another impossible expectation we hold for women and not men? Should Minaj's feminist card be revoked because she questions the authorship of Azalea's rhymes or because she beefs with Lil' Kim? For better or worse, pop's new version of female camaraderie strikes me as less "Yes All Women" and more "Yes, This Woman" — exploring female strength through individual bonds rather than wholesale "sisterhood." But even these more localized images of one-on-one solidarity can have powerful ripple effects. Taylor Swift has recently spoken about how her highly publicized friendship with Lena Dunham has helped her embrace feminism — a shift in thinking that just might alter the songwriting perspective of her forthcoming album, 1989.
Though it's more of a viral sensation than a bona fide hit, none of these songs capture the gushy, un-"ladylike," and potentially revolutionary spirit of female friendship — I don't shine if you don't shine — like the "Flawless" remix. Nicki and Bey effectively bring out the best (and the weirdest) in each other throughout, but what really seals the deal for me is when, a few bars into Nicki's verse, Beyoncé photo-bombs the frame to do her "Monster" impression: "Them bitches thirsty / I'm Hung-ar-i-an." It's a genuine but still too rare moment — one unapologetically powerful woman bowing down to the unhinged genius of another.
*This article appears in the September 8, 2014 issue of New York Magazine.
VULTURE'S 18-SONG PLAYLIST
SOME NOTES ON THE METHODOLOGY:
• This is not meant to be a complete list of every all-female pop collaboration ever made, merely a sampling of some of my favorites (along with all of the 2014 songs I mention in the piece) …
• … except for the "Flawless" remix, which Beyoncé has made hilariously difficult to access anywhere but her own website. Thus marking the 11,000th time I have wondered whether or not Beyoncé's lawyer has mob ties.
• I wanted to keep things upbeat, so I avoided ballads (what do you think this is, the Prince of Egypt soundtrack?), but if you are so inclined, this one is obviously pretty good.
• Is "It Isn't, It Wasn't, It Ain't Never Gonna Be" the best Aretha song? It is not. Is it the best Whitney song? Hell to the no. Is it so fun to hear these two on a track together that it barely matters? Hell to the yes.
• Tragically not on Spotify: Lil' Kim, Left Eye, Angie Martinez, Da Brat, and Missy Elliott's "Ladies Nite," which you should just listen to right now anyway.
• Nicki Minaj and Cassie's glorious, bubblegum machine-gun of a duet "The Boys" very much deserves to be on this playlist, but Spotify only has the edited version, which means that Nicki's razor-sharp verses end up sounding like unused Mad Libs. (Though, curiously unbleeped: the word testicle.) I'd highly recommend checking it out via YouTube anyway, because the video is great.
• By my count, how many of these 18 songs that past the Bechdel Test: 8
• I avoided girl groups for the most part because the piece focuses on solo artists, except (a) I couldn't not include "Whatta Man"; (b) to my ears, no recent pop song captures the spirit of unconditional female friendship quite like Icona Pop's transcendently corny Tupac rework "Girlfriend."
• You may now call your girlfriend, assess the contents of the minibar, and crank this shit up.