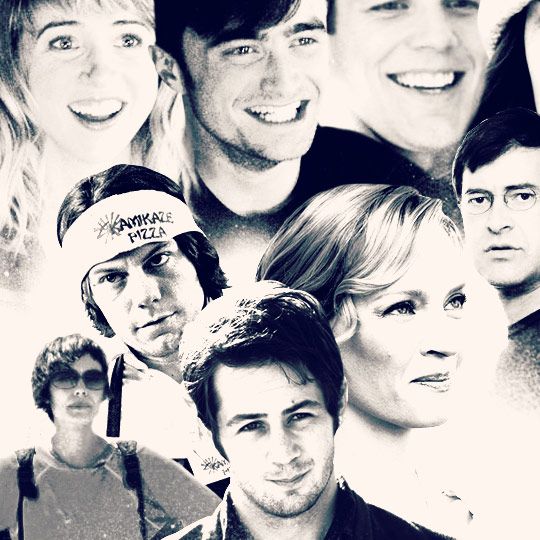 This post originally ran in November 2014. We are rerunning it with Valentine's Day coming up.
"The romantic comedy is dead" is a narrative we've come to accept. I'm not here to argue that this isn't true, but rather to say that the romantic comedy is not dead, it just went underground, and the genre is better for it. Here is a list of 27 great indie romantic-comedies from the last ten years. (Quick logistical side note: I didn't include movies that made over $15 million, as I presumed they were not in need of singling out. Sorry, Enough Said, Silver Linings Playbook, 500 Days of Summer, Adventureland, and Moonrise Kingdom. I also didn't include foreign films or films from Vulture's best mumblecore rom-com list.) Some were not marketed as romantic comedies, but I believe all of these can be viewed as such. Hopefully you have a decent tolerance for twee! Prepare to meet-cute this list.
Celeste and Jesse Forever (2012)
Many romantic comedies, especially on this list, are about the relationships that aren't "the one," but the one you need to get past to meet the one. Celeste and Jesse Forever is explicitly about that, telling the story of two best friends (Rashida Jones and Andy Samberg) who decide to get divorced. The movie is primarily about Jones's journey to move on, and she is terrific in the film, which she also co-wrote. (You'll notice a lot of actor-writers on the list.)
Ceremony (2011)
Ceremony is what it would look like if Wes Anderson made Wedding Crashers. Written and directed by Max Winkler (Henry's son), it tells the story of a young children's-book author (Michael Angarano) who crashes the wedding weekend of an older woman (Uma Thurman) he's had an intimate letter-writing relationship with. Charming, quick, and at times very funny (thanks to great performances by Jake Johnson, as Thurman's very drunk brother, and Lee Pace, as her pompous betrothed), Ceremony ends up painting a surprisingly complicated picture of why people decide to get married.
Available to stream on Amazon.
Good Dick (2009)
This is easily the darkest film on the list. Written, directed, and starring Marianna Palka, the film follows an employee at a video store (Jason Ritter) who tries to woo a recluse (Palka) by bringing porn to her apartment. Their dynamic is not unlike the rom-com trope of one person starting off hating the other, but here, it is a lot more intense and uncomfortable due to her deep-seated issues. Underneath all of this is a cute movie about some fucked-up people.
Available on to stream on Hulu. 
Greenberg (2010)
Noah Baumbach's Greenberg is right in my wheelhouse, as I'm a sucker for any movie in which a comedian is sad. Thanks to the title and the star (Ben Stiller), Greenberg was presented as a character portrait, but story-wise, it's a romantic comedy (as The New Yorker's Richard Brody pointed out when it was released). Greta Gerwig perfectly plays a Greta Gerwig type, a romantic but somewhat-spacey young woman just trying to figure out what she should do with her life. She and Stiller make an unusual and at times unlikeable pair. But unlikeable people need love, too.
Available to stream on Netflix.
In a World … (2013)
Like Greenberg, In a World … is a romantic comedy by way of a hero's journey. Though the movie is about Lake Bell trying to make it in the male-dominated field of voice-over artists, there is a cute, awkward courtship between her and Demetri Martin. Bell also directed the film and wrote the super-funny script that won her the Best Screenplay honor at the 2013 Sundance Film Festival.
Available to stream on Netflix.
Ira & Abby (2006)
Through many solid indie-film performances, Chris Messina had some practice for his romantic-comedy lead role on The Mindy Project. Here he plays Ira, a neurotic Ph.D. candidate who meets Abby (Jennifer Westfeldt, who also wrote the movie), an intuitive, free-spirited receptionist at the gym Messina signs up for. Within hours, Abby proposes. By starting with them married, the film is able to look at the relationship between marriage and love.
Available to stream on Netflix. 

Lars and the Real Girl (2007)
A man with some issues starts dating an unusual woman, which his family and friends don't approve of at first. Eventually, they come around when they see how much the man has grown as a result of the relationship. The only problem is that the woman in this scenario is not real. She's a doll. (And not like, she's cute, she's a doll. No, an actual doll.) Lars and the Real Girl, which features what I still consider to be Ryan Gosling's best performance, is an honest, sweet movie, which plays Lars's love — well — real.
Available to stream on Netflix.
Liberal Arts (2012)
On How I Met Your Mother, Ted Mosby always seemed like the type of guy who thought himself a rom-com protagonist, so Josh Radnor was more than prepared to star in Liberal Arts (which he also wrote and directed). In it, Radnor plays a character who returns to his old college and falls for a wise-beyond-her-years 19-year-old student, played by the exceedingly charming Elizabeth Olsen. (Her character's name, sadly, is Zibby.) Before you get into a huff about their age difference, the grossness of it is the whole point. Liberal Arts is a romantic comedy about growing up, those unwilling to do so, and those trying to do so too quickly.
Available to stream on Netflix. 
Life After Beth (2014)
There have been several great indie romantic-comedies this year. They just happen to be packaged unusually. Case in point: Life After Beth, a quirky rom-com about young love in which one of the parties is a zombie. It stars Dane DeHaan and Aubrey Plaza, the latter of which is particularly dynamic as the zombie. Ironically, she seems more alive in this role than any she's yet played.
Me and You and Everyone We Know (2005)
In the brain of Miranda July (who writes, directs, and stars in the movie), this is what a romantic comedy looks like. Comprised of several interwoven story lines about love (or at least about connection), the film has a unique blend of sweetness and creepiness. These are characters that you don't normally see movies about, interacting in ways you definitely don't normally see characters interacting. Most famously, there's the story of the young boy who meets an (presumably) adult woman in a chat room by proposing they poop into each other's butts forever.
Available to stream on Netflix. 
My Girlfriend's Boyfriend (2013)
Not to be confused with Alyssa Milano's 2010 movie, I'm talking about Mike Birbiglia's Netflix special, which I previously picked for Vulture as the best stand-up special of last year. My Girlfriend's Boyfriend is a one-man show about Birbiglia's own relationship to love and marriage, set against the backdrop of his meeting his now-wife. So, yes, this is not a romantic comedy in the strictest sense, but it has all the narrative expectations and humor you'd hope for in one.
Available to stream on Netflix.
Obvious Child (2014)
It's a romantic comedy about abortion! Though the irreverence of the concept is enough to get at least some attention on its own, Obvious Child is also a terrific freaking movie. Thanks to Jenny Slate being one of the most hilarious people around, Obvious Child is arguably the funniest film on this list. Written and directed by Gillian Robespierre, it represents the best of what the indie rom-com can offer: beats and characters that feel similar to the genre, but with a specificity and complexity that would never fly in a major studio release.
Safety Not Guaranteed (2012)
There is a lot going on in Safety Not Guaranteed, but it's all built on a pretty rom-com-y arc between Aubrey Plaza and Mark Duplass. (Jake Johnson also has his own terrific mini-rom-com as a B plot.) Duplass plays a guys who puts an ad in the paper searching for a partner to help him travel back in time. Plaza attempts to be that partner, while trying to actually write a story about him for said newspaper. But then the rom-com powers take hold, and she starts believing him and falling for him, and there is some kissing, and so on, and so on.
The Baxter (2005)
Michael Showalter was always curious about the romantic comedy, even before he co-wrote this year's rom-com parody They Came Together. Ever the semiotics major, with The Baxter, Showalter (who wrote, directed, and starred) explored the tropes of the genre a bit more earnestly. Specifically, it's about what he calls "the Baxter," which are those perfectly fine guys in romantic comedies, like Bill Pullman in Sleepless in Seattle, whom the female protagonist leaves to be with the actual male protagonist. This is a romantic comedy about the Pullmans.
The First Time (2012)
You cannot underestimate chemistry, and man, do Dylan O'Brien and Britt Robertson have it here. Have you ever had a moment while watching a movie when two actors come into frame together and you just want to shout at the screen for them to start kissing already? The film's first scene, which features the two of them meeting outside a high-school party they both hate, is exactly that. (The two actually have been dating since shooting the movie.) On its surface, The First Time is a teenage coming-of-age, losing-your-virginity sex comedy, but in actuality, it's an arrestingly cute, realistic look at young love.
The Four-Faced Liar (2010)
There is a lot going on here concerning the nature of monogamy, friendships, gender, and sexuality, and it's all done pretty effortlessly. The movie is about a group of friends, in which Molly (Emily Peck) cheats on her boyfriend with Bridget (Marja Lewis Ryan, who also wrote the movie). Drama ensues!
Available to stream on Netflix.
The Giant Mechanical Man (2012)
Chris Messina's back! Now he's romancing Jenna Fischer. They both play losers in Chicago who bond over a mutual misery. Messina has a secret (classic rom-com!): He's a street artist who dresses like a giant mechanical man (not classic rom-com!). It's great for fans of Messina's dancing ability and Fischer's ability to be hilariously sullen.
Available to stream on Netflix.
The One I Love (2014)
I don't want to spoil too much of the premise because the film is all about a central mystery. But through this central mystery, the movie's couple, Sophie (Elisabeth Moss) and Ethan (Mark Duplass), explore the issues of their marriage. Both Moss and Duplass give especially nuanced performances, considering the premise, which, again, I can't spoil. Still, despite how high the concept is, the decisions their characters have to make are still rooted in something genuine.
Available to stream on Netflix. 
TiMER (2009)
Speaking of high-concept! TiMER is a science-fiction rom-com about a world where people can choose to have a device embedded into their wrists that will count down to the moment when you meet your soul mate. Already pretty cool, right? Writer-director Jac Schaeffer uses this premise to examine the pressure some put on every relationship to be "the one." The film does a good job of pulling off its satire without getting weighed down.
Available to stream on Netflix.
2 Days In Paris (2007); 2 Days in New York (2012)
Who doesn't love Julie Delpy? In the 2 Days movies, which she wrote, directed, and starred in, she is at her Delpiest. In Paris, Marion (Delpy) is bringing her Adam Goldberg–type boyfriend (played flawlessly by Adam Goldberg) to meet her very silly French family (notably, her real-life dad, Albert, plays her insane father). In the slightly better New York, her silly French family comes to visit her and her new boyfriend (played by Chris Rock, in his best acting performance to date). Both movies are super funny and French.
Paris is available to rent on Amazon; New York is available on Netflix.
Two Night Stand (2014)
What if that one-night stand you had lasted two nights? As premises go, it is easily the simplest on the list. What makes it work are the performances by its stars — Analeigh Tipton and Miles Teller — and the film's willingness to go broad. There is a surprising amount of action for a movie about two people trapped in a snowstorm.
Wristcutters: A Love Story (2006)
Based on an Etgar Keret short story, Wristcutters is vaguely like the sadly forgotten Paul Rudd–Reese Witherspoon road-trip rom-com Overnight Delivery, in that it's about the budding romance between a guy and a girl driving to get the guy back with his girlfriend. But it's 10 million times darker. See, Wristcutters is set in an afterlife-limbo space, inhabited only by people who committed suicide (I told you it was dark). Despite the fact that no one shows emotions, Zia (Patrick Fugit) and Mikal (Shannyn Sossamon) make it work.
Zoe Kazan's oeuvre: Ruby Sparks (2012); In Your Eyes (2014); The Pretty One (2014); What If (2014)
These last few years, Zoe Kazan (just seen in HBO's Olive Kitteridge) got on a roll getting indie romantic-comedy gigs. They are all good enough to make it on this list. Ruby Sparks, which Kazan also wrote, is about a young novelist (Paul Dano) who writes about the girl of his dreams, only to have her come to life. Written by Joss Whedon, In Your Eyes is about two strangers who are able to sense each other's feelings telepathically. The Pretty One is about two identical twins (Zoe Kazan and Zoe Kazan) who get into a car accident. The weird one survives, but everyone thinks she is the cool, put-together, "pretty one." The weird one tries to live the pretty one's life and ends up meeting and falling for Jake Johnson's bearded character, whom the pretty one originally hated, and it's the cutest. What If is the most straightforward of the bunch, co-starring Daniel Radcliffe as a guy who befriends a woman (Kazan) despite her having a boyfriend, and the rest is rom-com (albeit convention-breaking) history. If you like romantic comedies, they are all fantastic options. In an interview with Vulture promoting What If, Kazan said she "probably won't make another one for a long time," so enjoy these.
Ruby Sparks and The Pretty One are available to rent on Amazon. In Your Eyes is available to stream on Netflix. What If is available to rent on Amazon.
* Originally, the post incorrectly stated that The Giant Mechanical Man  was set in Chicago.