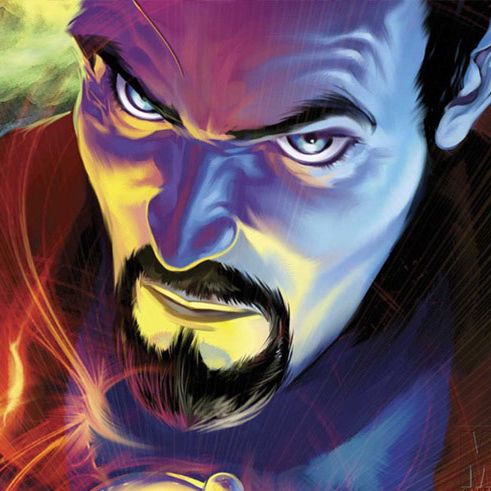 Let's wave farewell to this summer superhero season as it fades from view and enjoy the brief respite, for next year's batch will be upon us soon enough. Yet even if it feels as if Hollywood has managed to make every superhero movie it's wanted to in recent years, that's not actually true. Many projects have disintegrated (as if blasted with a cosmic ray) before reaching the screen, including ones led up by some surprising names. As we prepare for a deluge of superhero movies over the next few years, console yourself with the knowledge that the following films thankfully got away.
1. Dazzler (1980)
In 2014, we think of Marvel Studios as the go-to name for quality superhero movies, but things could have easily turned out differently had the publisher's original plans for its first motion-picture venture taken off. At one point, Marvel was actually trying to make a movie featuring the then-brand-new character Dazzler — a disco diva who turns sound into light while fighting crime in roller-boots — with none other than Bo Derek attached to star. Unfortunately, Derek's insistence that her husband direct the project prevented the movie from ever happening. The whole story can be found here, but suffice it to say, we all owe the movie studios of the late 1970s many thanks for passing on this one.
2. Doctor Strange (1986)
In hindsight, a supernatural comedy about the most powerful sorcerer on the planet written by one of the men responsible for Back to the Future seems like a no-brainer. Try telling that to movie executives back in the mid-1980s, though, when even screenwriter Bob Gale wasn't enough to get a movie version of Doctor Strange — now in development again for a 2016 release — off the ground. When Gale's script fell out of favor, producers brought in Repo Man's Alex Cox to write a second draft … which proved just as unsuccessful as Gale's original. If this nonstarter means we were robbed of the chance to see Harry Dean Stanton play the Ancient One, it can only be called a true cinematic crime.
3. Watchmen (1991)
Years before Zack Snyder finally managed to bring Alan Moore and Dave Gibbons's beloved series to the big screen in 2010, The Matrix producer Joel Silver had the great idea to bring on Terry Gilliam to do the same thing. That it didn't happen came down to a number of reasons, not least of which being that Gilliam himself believed the movie unfilmable — this from a man who has spent more than a decade trying to bring a Don Quixote movie to the screen. Instead, the project fell into a hibernation so deep that it took nearly two decades and numerous other directors to eventually get it into theaters.
4. Spider-Man (1992)
By 1992, James Cameron was on a roll, thanks to the massive success of the previous year's Terminator 2. The idea of his taking on Marvel Comics' iconic wall-crawler would have seemed like an easy fit, but thanks to a lack of funding and a legal fight over the rights to make the movie in the first place, the project sank. Its demise was a good thing, too: Cameron's "scriptment" (a combination script/treatment) for the movie had more in common with Julie Taymor's tumultuous Spider-Man: Turn Off the Dark musical than the traditional comic-book version of the character, featuring Peter Parker taking on radioactive villains who tried to tempt him into ruling over humanity as part of a new master race. You know, the kind of thing friendly neighborhood heroes usually do.
5. Elektra: Assassin (1992)
Frank Miller's Elektra: Assassin series is an over-the-top satire of a number of things, including right-wing politics, violent media, and any number of comic-book clichés — which makes the idea of Oliver Stone bringing the project to life on the big screen both fitting and genuinely exciting. Reportedly, Stone wanted Gabrielle Reece to play the Greek killing machine as she faced off against her former ninja masters, an organization known simply as the Hand, but Marvel unceremoniously yanked away the movie rights to the character at the last minute, in keeping with its Daredevil deal with 20th Century Fox, and the movie never happened. Instead, Stone went on to make Natural Born Killers — another over-the-top satire of right-wing politics and violent media.
6. Warcop (1993)
Warcop, unlike most would-be movies on this list, was never actually a comic book (although creator Grant Morrison has said in recent years that he wants to change that). Thanks to an introduction from Spawn creator Todd McFarlane, Morrison wrote up a treatment at the behest of none other than Madonna, who, following the success of Batman (and failure of Dick Tracy), wanted to star in a superhero movie of her own. Once the treatment was delivered, however, the pop idol lost interest, forever robbing the world of Madge in what was once described as "a cross between Judge Dredd and Demolition Man."
7. Plastic Man (1995)
As the Wachowskis have talked about the potential for this movie to happen as recently as 2012, Plastic Man is less a project that never happened and more one that hasn't — yet. Back in the mid-90s, the siblings responsible for The Matrix, Speed Racer, and Cloud Atlas wrote a screenplay based on DC Entertainment's thief turned shape-changing superhero (and star of his own 1970s Saturday-morning cartoon) that turned him into a distraught ecowarrior who cried when his urine was no longer biodegradable. Maybe some movies deserve to stay in development hell.
8. Catwoman (1995)
To those who fell in love with Michelle Pfieffer's Catwoman in Batman Returns only to have their hearts broken by Halle Berry's disastrous solo movie years later: Prepare to feel even worse. For a brief, shining moment, Tim Burton and Daniel Waters had planned to team up again on a direct sequel to Returns, with Michelle Pfeiffer set to return in the role. Described by Waters in the 1995 journal Film Review as "definitely not a fun-for-the-whole-family [film]," the project ended up getting caught up in studio politics for years — first for not being tonally consistent with Joel Schumacher's Batman movies, then for being linked to the franchise after Batman and Robin bombed — before eventually becoming the Catwoman movie we all wish we'd never seen.
9. Batman Triumphant (1996)
Speaking of Batman and Robin, that 1997 George Clooney/Chris O'Donnell vehicle bombed so hard that its failure managed to kill an in-development sequel almost immediately. Intended as George Clooney's second Batfilm, Batman Triumphant would have featured the Caped Crusader's face-off against the Scarecrow, whose fear gas would have prompted hallucinations that would have allowed Jack Nicholson's Joker, vanquished back in 1989 in Michael Keaton's Batman, to return. When Batman and Robin failed to out-gross its predecessors upon release in 1997, however, the movie was dropped. The Scarecrow managed to find his way into Christopher Nolan's Batman Begins years later, as did the Joker's return, despite — much to Nicholson's dismay — the latter being portrayed by the late Heath Ledger instead.
10. Sandman (1996)
In an attempt to translate Neil Gaiman's ethereal fantasy classic into a movie, Warner Bros. turned to an unusual screenwriting team: Ted Elliott and Terry Rossio — known at that time for their script for Disney's Aladdin — and director Roger Avery, who'd worked with Quentin Tarantino as a writer on Reservoir Dogs, Pulp Fiction, and True Romance. Problems with producers, who reportedly would have preferred the movie be more superhero-esque than the comic ever was, meant that ultimately, the project hit a dead end.
11. Superman Lives (1998)
Superman Lives was the end result of a long development process to adapt the best-selling "Death of Superman" story line from earlier that decade, and even would have broken with the tradition of casting relative unknowns like Christopher Reeve and Kirk Alyn by boasting a genuine movie star in the bright-red briefs: Nic Cage. With a script by Kevin Smith and with Tim Burton attached as director, it's hard to imagine things going wrong, but they definitely did — so much so that someone's trying to make a movie about it. This isn't a bad thing, though, as your mental image of Nic Cage in a Superman outfit might suggest. (You're welcome for that, by the way.)
12. Batman: Year One (2000)
File under "If Only We Could Have Had This": Toward the close of the millennium, while casting around for ideas on how to get past the failure of Batman and Robin, executives approached Darren Aronofsky to reboot the Batman movie franchise. Aronofsky decided to pitch an adaptation of Frank Miller's Batman: Year One comic book, with Miller himself writing the script. After a couple of years of script revisions, dealing with nervous executives, and false starts in terms of production, the project went from back-burner to the grave as everyone involved moved on to other things.
13. Batman Beyond (2000)
Around the same time Aronofsky and Miller were developing Year One, Warner was also considering bringing the animated, future-Gotham series to the big screen, with the cartoon's creators, Paul Dini and Alan Burnett, attached to write. Now You See Me director Boaz Yakin was attached to direct, but after the first draft of the screenplay, the project quietly fell apart. "Basically everybody decided it was better, rather than spend a lot of time on this, [to] table it," Dini later said in an interview.
14. Batman vs. Superman (2001)
More than a decade before Warner announced 2016's Batman v. Superman: Dawn of Justice, the studio planned to jumpstart the then-stalled Superman and Batman movie franchises with a similar slugfest penned by Oscar-winning screenwriter Akiva Goldsman. Problem was, his script attempted to broaden the appeal of both characters, and, in doing so, more or less misses the point: The whole appeal of a head-to-head movie is watching them duke it out. Did anyone really want to see Superman and Lois Lane divorce, or see the Joker killing Batman's true love just to give him even more motivation to stop the bad guy? Now, if you'd had Superman accidentally kill Lois and Batman set out to stop his overreaction afterwards, then you have a best-selling video game, but that's another story.
15. Superman: Flyby (2002)
In another attempt to bring Krypton's Favorite Son back to cinematic life, J.J. Abrams and Brett Ratner developed a reboot that drastically changed a number of circumstances in the Superman mythology: In their version, not only was Krypton not destroyed, but Lex Luthor is now a government agent, and Jor-El visits Earth before he sends his son here, just to hang out with the Kents and, you know, get to know them as people. The screenplay was famously torn apart by (the then-highly influential) Ain't It Cool News in a review that, according to urban myth, was pretty much singlehandedly responsible for the project crashing and burning at Warner.
16. Fantastic Four (2003)
Nowadays, Peyton Reed is the poor bastard responsible for trying to keep Marvel Studios' Ant-Man from being the car crash that many expect it to be when it's released next year. In 2003, though, he was slated to be the first director on Fox's Fantastic Four, with Buffy the Vampire Slayer alumnus Doug Petrie writing a screenplay he likened to the Beatles' movie A Hard Day's Night. "There's a tremendous amount of pressure to get this movie made, and to get it right," Petrie said at the time. Enough pressure, apparently, to get both Petrie and Reed dumped by Fox a couple years later, in favor of a less comedic, more straight-laced adventure take from Barbershop writer Tim Story.
17. Green Hornet (2004)
Jersey Girl killed more than just the movie careers of Ben Affleck and Jennifer Lopez; when it collapsed at the box office, it also turned Kevin Smith's next project, a revival of the little-known pulp hero the Green Hornet, from a definite thing into a distant memory. Like the careers of Affleck and Lopez, however, Hornet had an unexpected second life: Not only did a movie version of the character finally make it to the screen in 2011 with Seth Rogen and Stephen Chow in starring roles, but a year before the film's release, Smith's screenplay was adapted into a comic book by Dynamite Entertainment.
18. Green Lantern (2004)
As bad as Ryan Reynolds was as DC's space cop Hal Jordan in the 2011 Green Lantern movie, it could have been worse: Before Reynolds, Jack Black was in the running to play the character in a comedy written by SNL vet Robert Smigel. Smigel would summarize it years later as "basically, just the premise that the wrong guy gets the ring and can do all kinds of goofy visual jokes." Sound weird? It gets better: "This was at the time of all of the controversy of the Patriot Act and the way we were responding to terrorism in the mid-zeros," he said. Suddenly, Mark Strong and a giant cloud of fear alien is looking just a little better, isn't it?
19. Super Max/Green Arrow: Escape From Super Max (2004)
Not content with his own CW show and co-starring in the latter years of Smallville, SuperMax also had a movie in development for a number of years. In David Goyer's script, the superheroic Robin Hood wannabe is trapped in the ultimate maximum-security prison with one mission: Get out alive. "To escape from SuperMax, they have got to go through the most elaborate heist we've ever seen [that] involves superpowers. Because the prison itself kind of has superpowers," explained co-writer Justin Marks, helpfully.
20. Wonder Woman (2007)
Arguably the most well-known One That Got Away, Joss Whedon described his screenplay for DC's Amazon Princess as being about her coming to terms with mortality — but not her mortality, though. Perennial love interest Steve Rogers was there "teaching her humanity and [she was] saying, okay, great, but we can still do better," Whedon would later tell Rookie magazine. The project fell apart, in Whedon's words, because "we just saw different movies, and at the price range this kind of movie hangs in, that's never gonna work." The success of Whedon's Avengers probably made Warner regret that decision.
21. Justice League/Justice League: Mortal (2007)
Surprising as it seems nowadays, Warner almost beat Marvel to the superhero team movie — and, even more surprising, with a movie written and directed by the man behind Mad Max. Justice League — in which industrialist turned megalomaniac Maxwell Lord almost defeats the World's Greatest Super-Heroes™ by using Batman's super-secret guidebook on how to defeat his best buddies — had a screenplay, a cast, and a director, and was almost ready to shoot before the WGA writers' strike of 2007/2008 brought everything to a halt. By the time it was over, everyone was busy doing other things, and the moment had passed.
22. Spider-Man 4 (2008)
In some strange, terrible parallel world, Sam Raimi and Tobey Maguire didn't end Sony's Spider-Man franchise after 2007's Spider-Man 3, and the work that went into developing a fourth installment in the franchise came to fruition. In the world we live in, Spider-Man 4 remains but a bullet dodged, even though it did gift a villain to the 2012 Amazing Spider-Man reboot (the Lizard) and let Anne Hathaway play Catwoman in 2012's The Dark Knight Rises instead of wasting her as another feline supervillain (the Black Cat) years prior.
23. Lobo (2009)
Proving either that DC Entertainment has a deep library of intellectual property or that Warner Bros. has no real plan for its superhero movie rollout, director Guy Ritchie was being lined up, as recently as 2009, for a movie centering around one-time joke character Lobo in a story that would have seen the interstellar bounty hunter, hair-metal icon, and self-styled "main man" land on Earth and team up with a teenage girl to stop an alien invasion. Unsurprisingly, Ritchie came to his senses a year later and abandoned the project to make the second Sherlock Holmes movie, consigning Lobo to eternal limbo.
24. X-Men Origins: Magneto (2009)
Before X-Men: First Class revealed the origins of Charles Xavier and Magneto's relationship, an entirely different movie was planning to do the same thing — with drastically different results. Origins: Magneto, developed with the intention that The Dark Knight writer David Goyer would write and direct, would have hewn far closer to the comic book histories of both characters, placing both Magneto and Xavier in World War II, during which the former has been interred in a concentration camp and is subsequently rescued by the latter. Whether it was the lure of the swinging '60s or the realization that, chronologically speaking, that would have put Magneto and Xavier in their '90s today that led to the First Class version of events is unclear, but let's call it a good thing nonetheless.
25. Hawkman (2011)
Just three years ago, the also-ran DC Entertainment hero almost got a place in the big leagues with the announcement that he'd be getting a movie. Described as "part Indiana Jones/Da Vinci Code, part Ghost," the promised flick centered around the character's tendency to die and get reincarnated in search of his true love throughout history. With no news about it since the first reports of the project being set up, though, it's safe to assume this movie is, for the time being, awaiting a resurrection of its own.