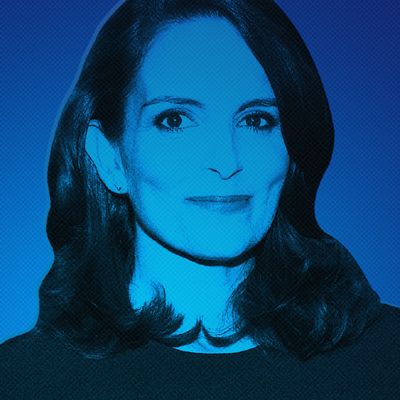 Photo: Maya Robinson and Photo by Michael Buckner/Getty Images
The movies need Tina Fey more than she needs the movies, but when it comes to big-screen projects, Hollywood hasn't given the Emmy-winning 30 Rock star much to work with. Last year, as her sitcom went off the air, Fey starred in the wan romantic comedy Admission, and she followed that up this spring with a Russian-baddie turn in the underperforming Muppets sequel. On paper, her participation in this weekend's star-studded family dramedy This Is Where I Leave You might have seemed like a better bet; in actuality, though, the poorly reviewed film is getting clobbered on Rotten Tomatoes by a YA adaptation and the latest Liam Neeson action movie. Why hasn't Tina Fey's transition to the big screen gone as well as it could (and should)? Here are five tips for Fey that might turn her movie career around.
Write your own projects
In television, you've got women like Lena Dunham and Mindy Kaling who write their own star vehicles, but the movies can't boast nearly as many female actor-auteurs. If Fey threw her hat in the ring and started writing her own big-screen vehicles, we might finally have a female heir to Albert Brooks and Woody Allen. Fey's already written one all-time classic, the 2004 comedy Mean Girls, and while she's been busy working in television ever since, it seems insane that such a promising movie debut has received no follow-up.
I couldn't help but think of Fey a few weeks ago when another Saturday Night Live alum, Chris Rock, took the Toronto Film Festival by storm with a movie he'd written, directed, and starred in, Top Five. Rock scored the biggest sale of Toronto with the film, which went to Paramount for a whopping $12.5 million, and while Top Five is full of raucous energy, Rock's screenplay is often sloppy, ludicrous, and filled with female and gay stereotypes. If Paramount was willing to pay Rock that much for his comedy, they ought to be sending Brinks trucks full of cash to Fey, who gave the studio Mean Girls a decade ago and can provide a progressive and funny female perspective that's still sorely needed on the big screen.
Rewrite other people's projects
When a studio woos someone like Adam Sandler to topline its comedy, it's expected that the studio will also bring aboard his personal team of writers, who will tweak and polish the script to better suit the star. This isn't always a good thing — take Bewitched, where the addition of Will Ferrell (and his writer, Adam McKay) turned a Nora Ephron–directed romantic comedy starring Nicole Kidman into something neither fish nor fowl — but you can understand the thinking behind it, at least: The star knows what his audience wants to see him doing, and he's determined to deliver his specific sense of humor in spades.
If they can do it, why can't Tina Fey? After watching Fey deliver witty, well-crafted jokes on 30 Rock for years, it's frustrating to see her struggle with the subpar punch lines of Admission and This Is Where I Leave You. Who would have complained if Fey had made her participation as an actor contingent on a script polish? Adam Sandler's movies might get dumber after he Sandler-izes them, but with the projects Fey's been picking, there's nowhere to go but up.
Appeal to your base
This Is Where I Leave You is stocked with actors from hip TV projects like 30 Rock, Arrested Development, and Girls, but it isn't aimed at the young, highbrow audience who watches those shows. No, this utterly conventional movie is pitched squarely at your mother, who may have already sent you an email asking, "This Is Leaving You: any good? I'd see it with your father, but you know how he still feels about Jane Fonda."
This film, then, was not exactly made for the Tina Fey fan base of young women and gay men. Yes, you heard me: young women and gay men.
"But, wait," you may be protesting. "I'm a straight man and I like Tina Fey! I've seen every episode of 30 Rock!" That's nice, but you're still not stanning for Tina like her target demos. While your girlfriend and your gay buddy are tweeting about Mean Girls and quoting Jenna Maroney on the daily, your online obeisance was limited to that comment you posted on an A.V. Club article once, the one where you talked about 30 Rock having a weak pilot. It's not the same, okay? (And you were wrong, the 30 Rock pilot was good!)
Fortunately, Fey seems to have figured this one out on her own: She's just finished shooting The Nest, a comedy where she and Amy Poehler play sisters who decide to throw one last house party before their parents sell their childhood home. It's directed by Pitch Perfect helmer Jason Moore and co-stars people like Maya Rudolph, Ike Barinholtz, and Kate McKinnon. Fan base activated.
Work with better directors
Between This Is Where I Leave You and Date Night, Tina Fey has somehow become the go-to muse for director Shawn Levy, the middlebrow mind behind The Internship and the Night at the Museum movies. We want better for you, Tina — or at least smarter! Next time Levy comes calling, politely decline his project and instead shoot an email to Nicole Holofcener, who so ably directed Julia Louis-Dreyfus in the lovely Enough Said. That's who you should be working with.
Make that movie with Meryl
Back in 2010, Sony picked up Mommy & Me, a mother-daughter comedy with Meryl Streep and Tina Fey set to star. We'll pause, so the pleasure centers of your brain can have all the time they need to react to that sentence. Yes, there once was a hot project that had two of your favorite actresses attached, but according to Fey, they never got a satisfactory screenplay. "The script went through a lot of permutations and almost got made, and then didn't," she told EW in 2012. "[It] didn't really come together."
Tina Fey. Tina Fey! Are you listening right now? If you've got the chance to work with Meryl Streep, but the studio writers aren't turning in good material, then you wrest that project from their hands and write the thing yourself! At the very least, Fey could consider scripting a new movie for her and Streep to star in, and she'd be wise to keep aiming that high instead of diluting her brand in lesser comic vehicles. Fey was able to attract top-tier film stars to 30 Rock for years because they loved her point of view and were eager to play in her sandbox. Now that she's making movies alongside them, it's time for her to pull all those talented people together for a self-generated project that's as smart and sparkling as she deserves.