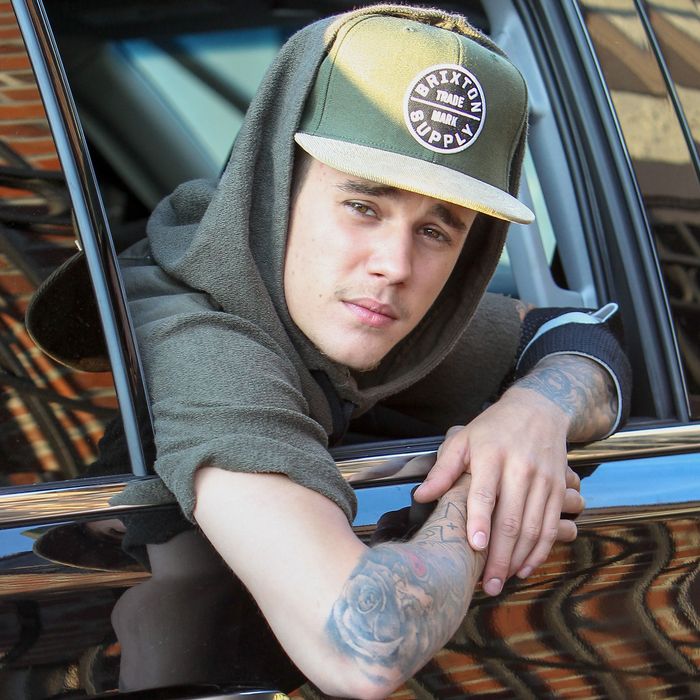 Photo: Bauer-Griffin/Getty Images
After his ATV arrest last week, it's starting to seem like Justin Bieber is committed to only the most unexpected, creative forms of legal trouble. He gets charged in the most exotic situations: clubbing in Ibiza, drag racing in Miami … date night at Dave & Buster's. It's all very random. In honor of his most recent scuffle, here are the seven most random places Biebs has allegedly run into trouble this year.
Where: California Batting Cage
What Happened: Stole the Phone of Some Lady (Who Was Taking Photos of Him) 
A San Fernando woman claims she played a little phone Tug of War with Biebs at a local batting cage after he caught her taking a photo of him.
Charge: None.
Overall Randomness: Eh, teens get into trouble at batting cages from time to time.
Where: Canada Border Control
What Happened: Bribed Police to Get His Crew Into the Country
"It's unclear when the alleged bribes went down," but at some point, Bieber paid border control police $10,000 to let his friends hang out with him in his home country. But money wasn't enough: "Bieber's camp reportedly gave a female officer at the Niagara Falls border thousands of dollars in backstage passes."
Charge: The border control cops were fired.
Overall Randomness: The backstage passes are somewhat unconventional, but this one makes sense. (Bieber is Canadian.)
Where: Dave & Buster's
What Happened: Stole the Phone of Some Guy (Who Was Taking Photos of Him)
Can't a really famous dude take his equally famous girlfriend on a date to a pizza place? There aren't enough tickets in the joint to keep Biebs from snatching an onlooker's phone after the fan allegedly snapped an unwanted photo.
Charge: Attempted robbery.
Overall Randomness: He takes phones all the time. Dave & Buster's is new, though!
Where: Miami
What Happened: Got Caught Drag Racing
Not only did Biebs get caught for a DUI, his crew was also blocking off traffic so he could drag race a rented yellow Lamborghini in Miami Beach at around 4 a.m. ("Why the fuck are you doing this?!" he yelled as he was asked to get out of the car.)
Charge: A 12-hour anger-management course and a $50,000 charitable donation.
Overall randomness: Moderately random. (Who rents a yellow Lamborghini?)

Where: Calabasas
What Happened: Egged a Neighbor's House
It's unclear why, but Justin Bieber decided to egg his neighbor's home with "no less than 20 eggs."
Charge: Misdemeanor vandalism and, according to TMZ, received two years of probation.
Overall randomness: Pretty random! Also: If Justin Bieber is trying to shed his teenage-misfit image, why is Justin Bieber egging houses?
Where: Ontario
What Happened: Crashed His ATV Into a Paparazzi and Then Fought Him
Just this past week, Biebs collided with a paparazzo while driving an ATV in Ontario. He then proceeded to fight said photog. He was arrested and then released, promising to appear in a Stratford court at a later date.
Charge: TBD, man. TBD.
Overall randomness: At this point, nothing's random. But yes, this is pretty random.

Where: Ibiza
What happened: Fought Orlando Bloom
It's still weird to think about, but during that week in July when every celebrity seemed to be in Ibiza, Justin Bieber and Orlando Bloom got into a fistfight. Supposedly, Bieber hooked up with Bloom's ex, model Miranda Kerr — and Bloom hooked up with Bieber's maybe-ex, Selena Gomez. (But who really knows!) Reports vary, but sources say that Leonardo DiCaprio cheered when Bloom hit Bieber.
Charge: Nothing legal, just the public disdain of Leonardo DiCaprio.
Randomness: Celebrities in Ibiza? Not so random. A feud between Bieber and Bloom? Very random.