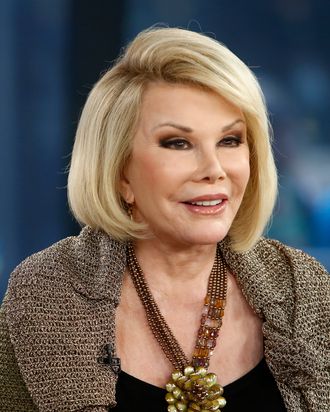 Photo: Peter Kramer/NBC/NBC NewsWire
She started on The Tonight Show, hosted her own late-night and daytime shows, and invented red-carpet fashion coverage as we know it. In honor of Joan Rivers, who died Thursday at 81, here is a look back at some of her most memorable jokes and public appearances.
With Johnny Carson (in 1966)
Rivers began her ascent to stardom as a guest on The Tonight Show, where she became a stand-up staple in the 1960s. Here she is with Carson in an early appearance.
With Johnny Carson (in 1986)
By 1983, Rivers would be Carson's permanent guest host. Their relationship soured, however, when Rivers got a show of her own in the late 1980s.
With Miss Piggy
Nothing is funnier than watching Joan give Miss Piggy a manic makeover in 1984's The Muppets Take Manhattan: "Cheekbones! That's what you need, Piggy. I mean, your face is a little round, no offense."
With Lisa Rinna's Boobs
Rivers became notorious for some of her red-carpet antics. Here she is talking about stars wearing underwear, among other things.
With Cake
This time, Miss Piggy does the makeup.
With David Lee Roth and Pee-wee Herman 
On her own show, which Fox canceled after two seasons, Rivers nabbed some interesting guests — and, as one commenter notes, pioneered an early form of Lie Witness News.
With Eva Gabor (And a Pooping Pig) 
We're not sure what it was with Rivers and pigs, but at the end of this clip from Rivers's daytime show, Gabor makes an astute observation, and the crowd loves it. Rivers won a Daytime Emmy in 1990 for her work on this show.
With a Heckler
"You are so stupid. Comedy is to make everybody laugh at everything and deal with things, you idiot. My mother is deaf, you stupid son of a bitch!" Owned. This clip comes from her 2010 documentary Joan Rivers: A Piece of Work.
With the End
(An excerpt from I Hate Everyone. … Starting With Me.)