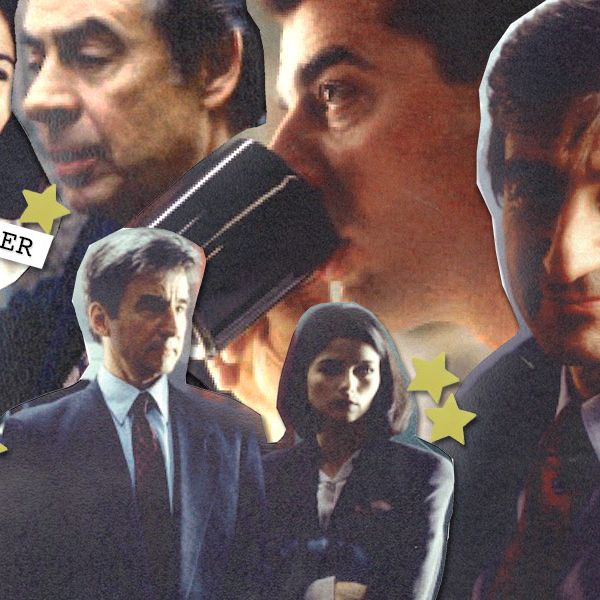 As part of my epic, foolish project to list the 100 best episodes of the '94–'95 TV season as part of Vulture's weeklong look back at that magical year, I spent a lot of time revisiting old favorites. And it was a real treat! Particularly fun was revisiting season five of Law & Order because I went through an actual spiritual shift that I never could have predicted. For as long as I can remember, Ben Stone was my favorite D.A. I like his whininess! But rewatching some of the '94–95 episodes — which are definitely among the series' best — I've been swayed. I am now Team Jack McCoy. And that makes the '94–'95 lineup My Ultimate Law & Order Cast.
For the cop lineup, I'm Briscoe or bust; I live in a Jerry Orbach–or-Nothing world, as should you. I prefer Mike Logan (Chris Noth), though I can understand people who like Rey Curtis (Benjamin Bratt) and Ed Green (Jesse L. Martin). On the lawyer side, Claire Kincaid (Jill Hennessy) is by far the best A.D.A., though I suppose Abbie Carmichael (Angie Harmon) also had her moments. Kincaid is only on seasons four, five, and six, and Logan and Briscoe are together only for seasons three, four, and five — so I'm down to seasons four or five as the only possible contenders. When I was pro–Ben Stone, that made season four my dream lineup. But rewatching season five, Jack McCoy's wide-eyed theatrics charmed me like never before because he had a new context to me: the other shows of the time.
The '94–'95 season had some terrific cop and lawyer shows, particularly NYPD Blue, Homicide, and Picket Fences. The X Files isn't really a cop show, but it's often an investigative procedural, and they have guns and badges and stuff, so it's at least cop-adjacent. The Commish, Diagnosis Murder, Under Suspicion, Matlock, and Murder, She Wrote were still on, even. All of these shows, the good and the bad, have clear, boldly defined characters, some bordering on the gimmicky. Much as I love Lenny Briscoe, he doesn't have the same pop of intensity as, say, Homicide's Frank Pembleton (Andre Braugher). Claire Kincaid has the brunette bob of my '90s dreams — sorry, Valerie on 90210! — but she doesn't get to be as exasperated or explosive as John Littleton (Don Cheadle) on Picket Fences. Mike Logan may be boyishly charming, but NYPD Blue's Bobby Simone (Jimmy Smits) is mannishly charming.
Law & Order is such a syndication staple that it's almost unstuck in time — any given afternoon could provide an A.D.A. Robinette episode or an A.D.A. Ross one. The show exists outside the idea of having contemporaries. But it did have contemporaries, and in 1994, the show needed a little jolt to keep up. That jolt was McCoy, all mega facial expressions and court-room shouting. Stone's big weapon is his rhetoric. McCoy's is his eyebrows.