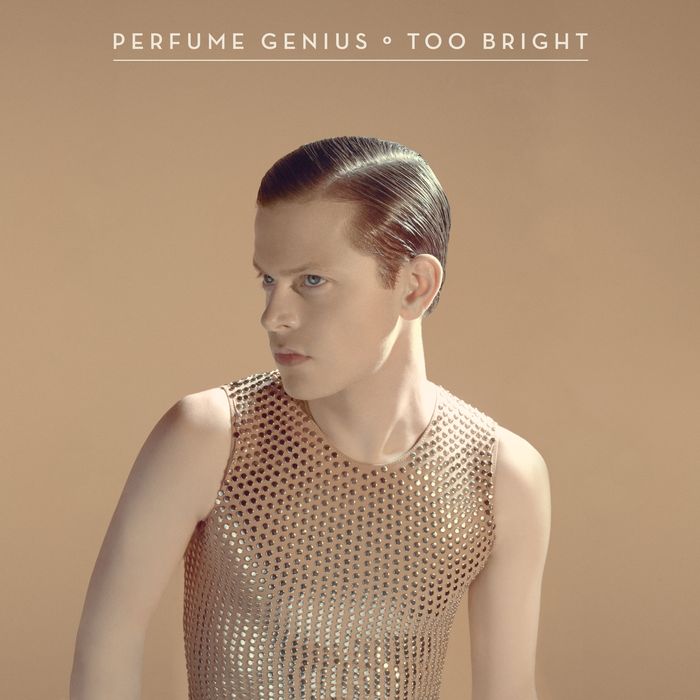 On the surface, "Hood," — the best-known song off of Perfume Genius's 2012 album Put Your Back N 2 It — sounds like it could have been a Top 40 hit in 1963. It's got a cleanly gorgeous melody, elegant pop structure, and lyrics that, on the page, at least, conjure the ghosts of girl groups: "You would never call me baby if you knew me true /Oh, but I waited so long for you." Driven by sparse piano chords and Seattle-based singer Mike Hadreas's soulful vocals, it sounds like an idea you might have overheard taking shape as you wandered the halls of the Brill Building, an uptick in momentum about halfway through as if the songwriter is suddenly realizing, Hey, I think I'm onto something here. But if you listen a little closer, it's clear that "Hood" is fueled by a creeping sense of dread, so macabre that even the Shangri-Las probably would have steered clear of this one: "Underneath this hood you kiss, I tick like a bomb." It's a song about the terror of letting someone in and things kept hidden from even the people you love. I don't think I fully appreciated the depths of its darkness until, earlier this year, I saw Hadreas play it at a show in an old church; his tremulous voice lifted to the rafters and the unspoken secret at the heart of the song loomed as big as original sin.
Much of Hadreas's music as Perfume Genius is driven by a tension between appearance and internal reality — the hood that cloaks the body and the heart that ticks irregularly and slimily underneath. On Put Your Back N 2 It, he explored these themes through hushed piano and acoustic-guitar-driven ballads, but his fantastic new album Too Bright is full of sounds nobody would have ever associated with Perfume Genius: droning, industrial synths; eerily pitch-shifted vocals; even a couple bloodcurdling screams. In part, this new aesthetic is Hadreas's reaction against being pigeonholed, in life as much as in his music. "I've met people that laugh at EVERYTHING I say," he said recently in a thoughtful interview about the "weird politics" of being a gay musician. "I could be talking about OJ or Munchausen Syndrome or bloody stool — I am still just the cutest thing. Here only to enrich [other peoples'] lives, not to have one of my own." But that's not to say that Too Bright is some kind of blunt, muddled, off-putting-on-purpose statement against pop structure (ahem, Julian Casablancas). It's instead something much more rare and difficult to achieve: a succinct and sustained expression of repressed anger and finely controlled intensity. It is more epic than records double its length, more punk than music ten times as loud.
Something I love about Hadreas's music is that the utterance and the echo feel equally important — the chord struck is just as devastating as the vibrations left in its wake. Take the first single, "Queen": It sounds like a T. Rex song on which the lead guitar (and most of the drum kit) has been muted. This is music haunted by absence and cavernous empty spaces, which create a strange, dreamlike atmosphere: Crystalline synths and disembodied chain-gang "huh!"s float through the track's surreal gravity. Hadreas has said the song and its video are about what he calls "gay panic," ("Sometimes I see faces of blank fear when I walk by …") and its chorus powerfully reimagines supposed "effeminacy" as a kind of glorious menace: "No family is safe when I sashay."
As he did on "Hood," Hadreas has found a way to work within the pop idiom while at the same time subtly subverting it — cracking it open to let the ghosts fly free. "Fool" begins as a straightforwardly melodic, mid-tempo electro-pop tune (complete with finger-snaps) but then very suddenly ascends its mortal frame and loses itself for a minute and a half in a falsetto-helmed, atmospheric reverie … before drifting back down to Earth for the last verse. The title track reveals a similarly luminous surprise when the forlorn piano ballad suddenly explodes into a kind of sonic aurora borealis. But for all these flourishes, Hadreas's music has enough confidence to be comfortable in the negative spaces. One of the most stirring songs on the album is also the shortest and simplest, "I Decline." "I can see for miles," he begins, as though he's trying on a solemn reverence for rock history, grand statements, and blistering volume. He realizes just as quickly that shoe doesn't fit: "No, thanks / I decline."
Hadreas experiments with vocal manipulation on some of Too Bright's darkest tracks: His milky coo turns into molasses on the spooky, Knife-like "I'm a Mother" and a muffled, heavy-breathing horror villain during the second half of "My Body." These songs might sound like a far cry from the album's more traditional moments, but in context, they make perfect sense: Too Bright is a record about occasionally wanting to stretch and warp and crawl out of your own skin — if only out of frustration with the simplified, one-dimensional story it tells to people who pass you on the street and don't bother to see something deeper than a stereotype. But these songs — some of the most bracing I've heard this year so far — triumph over the supposed limitations of identity, and by giving voice to the contradictions, complexities, and even hidden darkness that lay under the hood.