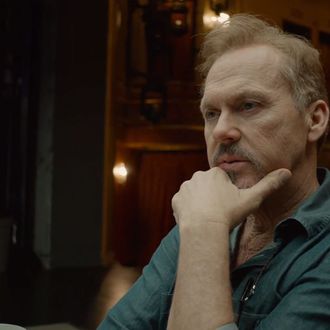 In 1989, Michael Keaton became a star after playing the title role in Tim Burton's Batman and Batman Returns. He has continued to act in the two decades since, but none of those roles have been as big as the one under the cowl. When it was time to make Birdman, his dark comedy about a former superhero actor who tries to make a play for respectability by putting on a Broadway play, director Alejandro González Iñárritu knew that Keaton was the one, the guy who could "bring the authority, a kind of a meta-dialogue to the film." Birdman played the Telluride Film Festival this past weekend following its world premiere in Venice. John Horn, host of The Frame — a new daily arts and entertainment show that Southern California Public Radio's KPCC will be launching soon — was there and spoke with Iñárritu about choosing his star.
"I always have considered Michael Keaton to be a phenomenal actor because he navigates drama and comedy. He has been the bad guy, the funny guy, and I needed somebody who can really navigate those two genres, and I think few actors can do that. What he did is extraordinarily difficult."
You can listen to the full 17-minute interview at The Frame's show page or subscribe over at iTunes here.
(Also, Alejandro, we feel you: "Everybody has a Birdman, no matter how small is your bird or vulture that you have inside.")