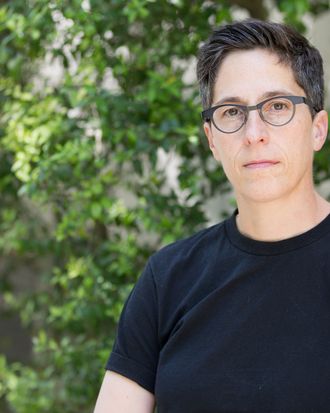 Photo: Alice Keeney/The Washington Post
On Wednesday, Alison Bechdel became only the second graphic book writer to win a MacArthur "Genius" grant — worth $625,000 and a lifetime of bragging. Her graphic memoirs, Fun Home and Are You My Mother?, turned her tortured family history — she had OCD and liked girls, her mother showed little affection, her closeted father likely killed himself — into multidimensional art. Erudite and beautiful, they demonstrated just how intelligent and uncompromising comics (and coming-out memoirs) could be. We caught up with her via Skype yesterday in Italy, where she's on a six-week artist's residency, to talk about the big prize, her next work, and the irresistible charms of Orange Is the New Black.
How will this grant affect your life?
I have been traveling so much in recent years and I can't really work on the road, so one of the great things about winning this is I can get more work done. I tend to get paid more to go out and talk about my work than I get paid to actually do my work.
You've turned huge swaths of your life into comics. Are you going to draw yourself winning this while staying in a 15th-century Italian castle?
I probably will, but I have to process it. I do have some anxiety as a memoirist. It kicks me out of the league of just being an everyday schlub, which is kind of my shtick. What do I do now that I've succeeded? In the early '80s, I started writing a comic strip about lesbians. I can't think of a less likely career path in winning a MacArthur fellowship. Maybe being a bank robber. It was that outsiderness that drove me, and it's a little unmooring to find myself an insider.
You're working on something slightly less personal now — a memoir about your relationship to exercise.
The Secret to Superhuman Strength. In some ways, it feels like a pretty straightforward book about physical fitness trends — almost a cultural history of different fads, and why at different times they've captured the popular imagination. But also I'm interested just in the body. I've done a lot of internal writing and exploring about the psyche and my family's deep, dark secrets. So I'm looking forward to doing something lighter, more physical.
In fact, you've been doing charcoal drawings of yourself in yoga poses. Are you going to sell them?
It's more of an exercise than a product. The point is not to have a finished picture of me doing a yoga pose, but to draw something exactly as large as I am. That process is really freeing and exciting for me. I don't draw enough for fun.
Have you seen Hilaria Baldwin's glamour yoga poses on Instagram?
No, I haven't. I will definitely check it out now! I've just been introduced to Instagram. I tried it a while ago and I got all bogged down in the passwords, but some nice young people here gave me a little tutorial. It's interesting.
Are you keeping up with pop culture these days?
I watch TV. I think I was one of the last lesbians in the U.S. to watch Orange Is the New Black, which I was enthralled by.
Do you think it's a fair representation of gay culture?
Yes, I mean, we can't have too many scruples, or we wouldn't be able to watch anything. Of course it's glamorized, but it was just so great to see all those different characters investigated so thoroughly. Gay people get to be more three-dimensional, to be negative or problematic characters. We went through a long period of having these exemplary gay people, and so now there can be bad gay characters, but in a more progressive way.
What you're best known for are three questions in your old comic strip, "Dykes to Watch Out For," meant to determine whether a given movie takes women seriously. Do you ever get tired of being asked about the "Bechdel Test"?
Honestly, I'm not terribly interested. I guess I'm not a big movie person, so it's hard for me to speak intelligently about it. But if something of mine did have to "go viral," I'm very pleased it's that. It encapsulates what my work has really been about which is creating women characters as whole subjects.
Now that comics are getting "Genius" grants, do you ever worry that this outlaw medium has gone too mainstream?
It's interesting to me how much the shift in attitude towards comics has paralleled the shift towards LGBT people. Both of those things have gained a lot of respectability, and that's great. Maybe around 2000, every newspaper would have the headline, "Comics: They're Not Just for kKds." That got a little tedious.
But you aren't thinking about moving into other media?
So far, I'm not interested in doing anything but autobiographical comics. I feel like I still have a lot of stuff to explore. My family won't be happy to hear this, but I do want to write more about them.
You've already focused on your father and your mother. What's next — siblings?
You'll see. One day.
More dark secrets?
Yeah. Sort of.
Your mother died last year, which was only a year after Are You My Mother? was published. Do you now wish you'd just waited until she was gone before writing about her?
I have mixed feelings about that. It would have been a different book. She had cancer while I was writing it, and she outlived her prognosis. It was unclear for a while whether I was writing the book she wouldn't see or the kind of book she would see.
Did you rush to get it done because of her illness?
In fact, if anything, I unconsciously dragged my feet. I had a hard time writing it in part because I had to grapple with the fact that she might die before seeing it.
As portrayed in your memoirs, she wasn't given to overpraising you. How would she have reacted to this latest piece of news?
She would have been ecstatic. We actually had a wonderful moment a couple of years ago when I won a Guggenheim fellowship. I gave her that news and she was really excited. But she said, "I would nominate you for a MacArthur."