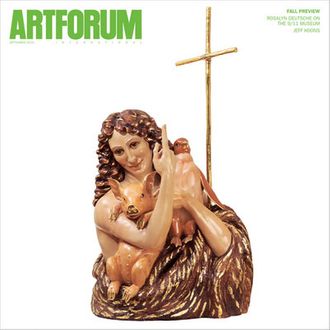 Photo: Courtesy of ArtForum
Every September, I conduct a semi-sick ritual upon returning to the high school with money that we call the art world. I manically study the thick September issue of Artforum to see what the new season of shows and openings holds. With my social reflexes shot and anxieties running high, the September Artforum provides an abstract preview for the faithful, the frightened, and the shy.
What did I find this time? I'm pleasantly surprised to see a Jeff Koons on the September cover. Not because we need more Koons, but for the last decade or so, with notable exceptions, Artforum has been so theory-prone, it hasn't paid much attention to this freak of artistic nature. Of course, Artforum being Artforum, it sends a coded message about Koons in a pitch so high that only we art-world dogs will pick it up. The picture is of a 1988 work. "Ah, yes," we surmise, "the early work is okay, but stay away from anything too large and shiny." A good Koons essay and a batch of great artist-commentaries on Koons run alongside the usual abstruse articles telling us that cinema and performance and photography are now very, very, important to art, eight pages on Richard Serra's latest man-of-steel slabs in the Qatar desert, the requisite review of a big international biennial, pages and pages about a silent film from 1930, and reviews where convoluted jargon makes it hard to know what the critic thinks of the work. (Note to critics: Can you at least get to the subject within the first four or five paragraphs?!)
But, in a sense, more important than the articles are the advertisements — the porn of the art world. This is where the art world does its peacocking, more out in the open than anywhere else. Inside the glossy 410 pages (shininess is fine for magazines), there are the ads. Lots of them. By my count, there are 287 full pages of ads in all. That's 70 percent of the magazine. A whopping 73 of these are from New York galleries — a greater percentage than in previous recent seasons. The rates for these pages vary, are based on different things, and presumably slide for different galleries. (The person long in charge of all this is Artforum co-publisher Knight Landesman, one of the smartest, most nimble, and stylish people in the art world. Landesman mystically seats this fancy dinner party within every issue — cliques, hierarchies, and pecking orders on full view.) Full-page, four-color ads run around $5,000 or $6,000. If the ad falls within the first 20 percent of the mag, the rate can go up to $7,000 or $8,000. I love that a magazine is doing well. But with advertising costing so much, it must be hell these days for small and midsize gallerists to pay as much or more than my annual salary for a year's worth of art ads. And this is only for one issue of one magazine.
I know that trying to ascertain anything from these ads is doomed to be skewed by the galleries who advertise here. The same exercise with the Brooklyn Rail would yield a totally different view. But as Artforum is still the art world's unofficial official magazine, I peruse the New York ads with butterflies of anticipation and anxiety. And studying the New York ads, I notice two trends — one vexing, the other awful.
First, of the more than 70 pages of New York ads, well over half are for older, well-established, famous, or dead artists. Now, I love 30-year careers and don't just want 30-month ones. I love art dealers; almost every one of them is an idealist and dreamer. (Even the annoying ones who can't stop doing their sales pitches on you while you're trying to look at art in their gallery — stop it!) But I get a queasy feeling from this glut of well-known artists — the suspicion that while New York is still the main trading floor for the art world, what's being traded here is more and more guided by trade itself. Good or bad, these shows are so safe. A half-dozen September shows are of artists who've represented their countries in the Venice Biennale. Many more have had museum retrospectives around the world. Indicative shows at Gagosian and Mnuchin of Helen Frankenthaler and Morris Louis are obvious ploys to capitalize on these excellent, deceased artists as progenitors for much of the look-alike crapstraction that now dominates the market. It doesn't hurt that the prices for these artists suggest that there's room for much growth.
Drilling down deeper into these 73 New York ads, however, reveals something far more disturbing. And familiar. (And it's worse in other cities.) Only 11 of these 73 ads are for solo shows by women, about 15 percent. This isn't an anomaly. In last September's Artforum, only 13 percent of the 81 New York ads were for solo shows by women. Again, it's important to remember that these full-page ads are not representative of the entire art world. A quick perusal of nearly 100 Lower East Side galleries reveals that more than 25 percent of the shows are solos by women. That's not great, but it's still twice as good as the image of the art-world Establishment we see in Artforum. The magazine is telling us that the top two-thirds of the art world are mired in self-perpetuating, self-replicating sexism: More art by men is shown and sold in large galleries because more art by men has been shown and sold in large galleries. And the result is not just about what gets shown, but what that teaches us about what is worth showing: the art world as seen in these ads is much more comfortable digesting strange, weird, surprising, and even insane work from men, but gets squeamish whenever women try to show at all. They're not even allowed to fail in the boringly generic ways so many men are these days. Nearly a half-century on from feminism, simply being a woman artist is still a revolutionary act. And getting one's work shown continues to be met by enormous inbuilt resistance. Like I said, this ritual is "semi-sick."