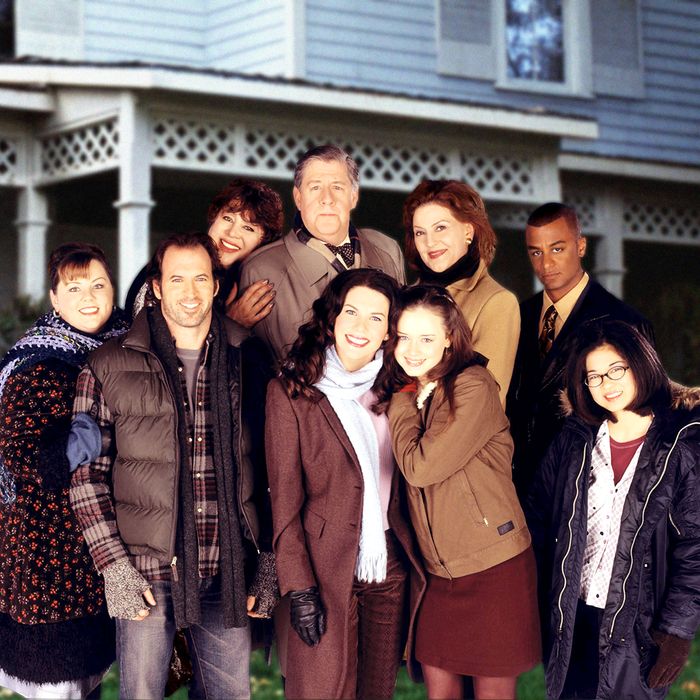 TCDGIGI EC001
Photo: Warner Bros/Courtesy Everett Collection
This post originally ran on September 26, 2014. We are re-running it in advance of the new season of Gilmore Girls.
It's hard to believe the Gilmore Girls reboot is almost here. Are you ready for all the feelings and coffee and boot-cut jeans? To head into the new series on a high note, let's consider each character at his or her peak. Here are the best episodes for our major Stars Hollowans.
The Best Lorelai Episode Is "I Can't Get Started" (Season 2, Episode 22)
It's Sookie and Jackson's wedding, and everyone's in a tizzy, particularly Lorelai: She sleeps with Christopher — who has arrived in Stars Hollow just overflowing with charm and shared history and at long last perfect timing. She even tells her mother that she thinks she and Christopher are going to get back together for-real-for-real, and in that moment both Lorelai and Emily look so thrilled that you know it can't last. Here comes the phone call from Chris's almost-ex, Sherry: She's pregnant, and Christopher doesn't want to abandon another pregnant girlfriend. He tells Lorelai, and we see her heart just shatter. As Christopher walks away, she calls after him. "Congratulations," she says, choking back tears a little bit. It's part of the Lauren Graham highlight reel for sure, and it might be my favorite moment in the whole series. There's just so much going on.
The Best Rory Episode Is "Raincoats and Recipes" (Season 4, Episode 22)
It's the one where Rory loses her virginity to Dean — who is married, and even more egregiously has a horrible haircut at the time. Rory laments to Lane that she didn't appreciate Dean enough when they dated in high school, and then later at the Dragonfly Inn they flirt it up like crazy. But the really resonant Rory moment is when Lorelai catches them just after the act — her JBF hair is hilarious, and she tries to joke around ("all those Trojan man jokes worked") and act like this was an ideal situation, even as Lorelai looks at her in judgement. "I hate you for ruining this for me," Rory says, in tears. Aagh, so good.
The Best Emily Episode Is "Wedding Bell Blues" (Season 5, Episode 13)
She gets drunk at her impromptu bachelorette party, and a drunk Emily is a wonderful Emily. The sweetest moment, though, is Emily gazing at Richard as he gives a toast to her at their vow renewal, and then they dance. One of the great tragedies of Gilmore Girls is that it did not include more of Kelly Bishop dancing.
The Best Richard Episode Is "Star-Crossed Lovers and Other Strangers" (Season 1, Episode 6)
The best Richard moments are when he goes all soft and gooey, and this is the greatest of those: Lorelai calls him Daddy, and he just about melts. Aaawww.
The Best Lane Episode Is "A Deep-Fried Korean Thanksgiving" (Season 3, Episode 9)
First kiss! Dave Rygalski was such a keeper.
The Best Paris Episode Is "The Big One" (Season 3, Episode 16)
Rory and Paris are supposed to give a joint speech for Chilton's bicentennial, and for some reason it's supposed to be broadcast on C-SPAN. But Paris has a complete meltdown and shows up with ratty hair, in sweatpants, and basically catatonic. She didn't get into Harvard, she announces to everyone. It's punishment for having had sex. Any time Paris gets thrown off her game, we're in for a treat, but this breakdown was particularly glorious.
The Best Luke Episode Is "Last Week Fights, This Week Tights" (Season 4, Episode 21)
Luke finally asks Lorelai out, though she's not sure if that's what's happening. The overwhelming charm of this episode is how much Luke is busting ass to have a good time at his sister's wedding, how hard he's working to make himself seem worthy and fun for Lorelai — not just this ordinary gruff guy, but someone who'd dance with her and laugh at her jokes.
The Best Sookie Episode Is "Norman Mailer, I'm Pregnant" (Season 5, Episode 6)
Sookie's bubbly nature is a bonus in every episode, plus she makes insanely elaborate cakes surprisingly often. (Though it'd be nice if Lorelai could be a little more effusive.) The slightly more stressed-out, upset Sookie then stands out, and is usually an indication that something really major is happening, and when she gets straight-up confrontational, the heavens part and a choir of angels sing out, especially if that outburst is directed at Norman Mailer.