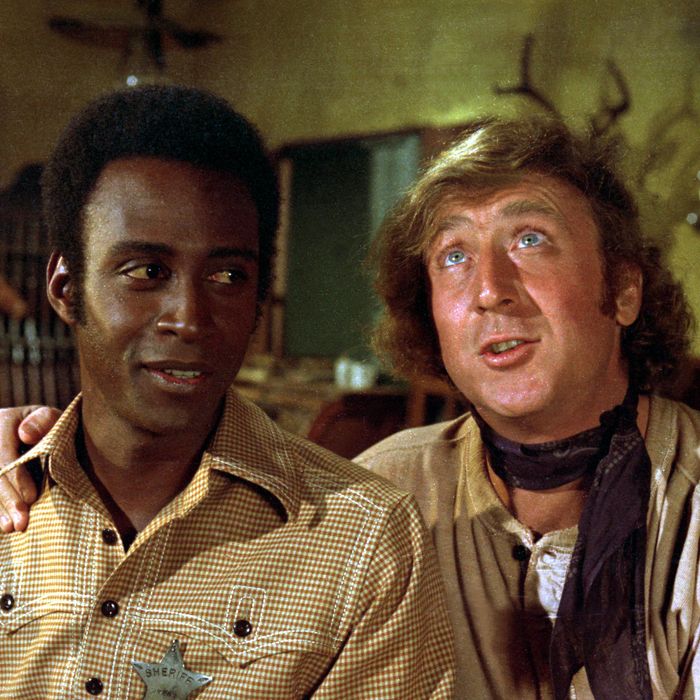 Blazing Saddles.
Photo: Warner Brothers
This list was updated May 4, 2017, to reflect Netflix's current offerings.
The abundance of Netflix streaming options can be so overwhelming that even picking the right genre to fit a mood can be an all-night affair. Sometimes you just want to cut to the chase and watch a great film. That's why we've sorted through thousands of possibilities to present you with the best movies on Netflix. Critical consensus, general popularity, legendary status — if a movie could be considered great (and it's on Netflix), you'll find it below, broken down by each genre. As always, feel free to note in the comments anything we've left out. We'll update this list as titles are added and removed.
DRAMA
Atonement (2007)
Joe Wright earned plaudits for his dazzlingly elaborate five-minute tracking shot along the war-torn ruins of Dunkirk beach, but that same ambition and painterly visual grace persists through the rest of the film. A moment's indiscretion and a young girl's jealous imagination send a family into crisis during this handsomely wrought historical epic, featuring a star-making turn from a young Saoirse Ronan.
Moonrise Kingdom (2012)
Could this yellowed postcard, a cherished recollection of a childhood summer romance during the late '60s, be Wes Anderson's finest film? The avowed aesthetic fetishist is in top form as he turns the island of New Penzance into a cozy little world unto itself. Emotional cores don't get much more poignant than the innocent courtship between quote-unquote "troubled" Suzy and orphaned Sam. Don't like it? I love you, but you don't know what you're talking about.
Schindler's List (1993)
Steven Spielberg came of age with this unshakable depiction of the Holocaust's horrors. The half-valiant, half-opportunistic efforts of Oskar Schindler (Liam Neeson, seldom better) to save as many Jews as possible provide the film with a plot, but Spielberg's stark monochrome re-creations of the inhumanity stand on their own. While Ralph Fiennes and Ben Kinglsey turn in equally bruising performances through diametrically opposite roles, the terrible weight of history bears down on the viewer with full force.
Chicago (2002)
Rob Marshall gave 'em the ol' razzle-dazzle with his flashy adaptation of the long-running Broadway musical about a pair of sexy, slinky murderesses (Renée Zellweger and Catherine Zeta-Jones) in the Jazz Age–era Windy City. Come for the songs, the steps, the style — and stay for the toothy critique of the ongoing circle-jerk between the sensationalist press and the criminals who give them their headlines.
To Kill a Mockingbird (1962)
Return to ninth-grade English class with this timeless adaptation of Harper Lee's seminal coming-of-age novel. We can see now that Gregory Peck was the quintessential hot dad as gun-toting, wisdom-dispensing, pipe-smoking patriarch Atticus Finch, but the film's true powers are transportive; one viewing and suddenly you're a little kid again, confronting the darkness of the world for the very first time.
No Country for Old Men (2007), Barton Fink (1991), O Brother Where Art Thou? (2001), Burn After Reading (2008)
There's plenty of Coen to go around, whether you're in the mood for a stone-faced neo-Western, a Hollywood satire rich with allusive meaning, a musical jaunt through the Depression-era South, or a harebrained espionage thriller. It's pretty much impossible to go wrong with the films of Joel and Ethan Coen, and Netflix's small selection of their filmography is a testament to their range as artists, too.
Nymphomaniac (2013)
Lars Von Trier's five-hour epic of sex, romance, and self-loathing is not a date movie; it's a depressive-spiral movie. Over the course of one long, rambling conversation, Joe (Charlotte Gainsbourg, putting herself through the wringer) recounts a lifetime of erotic degradation all in the service of numbing herself to a deep, abiding emptiness. Watching the whole thing is a draining experience, but more than worth it.
Boyhood (2014)
Richard Linklater wowed the world when he unveiled his 12-years-in-the-making magnum opus, a coming-of-age story that follows Mason (Ellar Coltrane) as he gets older in real time. With nothing less than the dimension of time as his canvas, Linklater captures all the excitement, frustration, confusion, insecurity, and tedium of growing up. Patricia Arquette delivers the film's emotional climax as Mason's long-suffering mother and brought home an Oscar for her trouble.
Clouds of Sils Maria (2014)
Direct anyone still under the impression that Kristen Stewart's a sullen lip-biter to this beguiling character piece from France's Olivier Assayas, in which she stars as the personal assistant to Juliette Binoche's movie idol. Layers of subtext pile up between the two of them and Binoche's latest stage partner, a teen starlet portrayed by Chloë Grace-Moretz, as they hole up in the Alps to prepare to mount a play that closely mirrors their situation. A marvel of writing, acting, and directing, it's a career peak for both Stewart and Grace-Moretz.
Hugo (2011)
In a French train station, a young street urchin attempts to connect with his deceased father by repairing the primitive automaton he left behind. More than merely Scorsese 4 Kidz, this big-screen take on Brian Selznick's novel serves as Marty's passionate love letter to the silent cinema that he grew up on, and an urgent call-to-action regarding the absolute necessity of film history preservation. Perfect for young cinephiles.
Mulholland Dr. (2001)
Part L.A. noir, part melodrama, and part surrealist puzzle box, David Lynch's logic-defying masterwork sees fantasies and nightmares freely intermingle. A starry-eyed ingenue hops off the bus in Hollywood and meets an enigmatic woman with amnesia, only to get chewed up and spat out by the industry. A mysterious object warps their circumstances, leaving the viewer either to piece together what's happening or accept the unknowable.
Antichrist (2009)
After the loss of a child, a couple (Willem Dafoe and Charlotte Gainsbourg) head to a cabin in the woods to mourn and come back to life. The beginning of a horror film? Basically, but in Lars von Trier's hands, the prompt conjures up carnal desire, emasculating violence, and a talking fox.
The Longest Day (1962)
It took three directors, five writers, megaproducer Darryl F. Zanuck, and an elite cast (including John Wayne, Henry Fonda, Robert Mitchum, and Sean Connery, to name a few) to mount this defining war film. If Spielberg dropped us into D-Day with Saving Private Ryan, The Longest Day is the classically styled companion.
COMEDY
Blazing Saddles (1974)
Mel Brooks's antic spoof of the Western is a riotous contradiction, both gleefully un-p.c. while also critical of the racism inherent to cowboys-and-indians pictures. Cleavon Little plays the new sheriff in town, while the dearly departed Gene Wiler rides at his heels as the Waco Kid. From the immortal one-liners ("Where the white women at?") to the grand finale that sees the cast literally bust through the fourth wall onto the studio backlot, the laughs come fast and furious.
Tropic Thunder (2008)
Seldom does Hollywood self-efface this viciously, or hysterically. A group of pampered prima-donna actors (director-writer Ben Stiller, Jack Black, and Robert Downey Jr.) land in the jungles of Southeast Asia to shoot a war movie that turns real without their realizing it. An exquisite puncturing of Tinseltown ego full to bursting with note-perfect cameos — yes, that's Tom Cruise under there — and surprisingly competent action scenes, it's the finest showbiz satire of the new millennium.
The Big Short (2015)
Comedy heavyweight Adam McKay puts on a relatively straighter face for this incisive satire of the collapse of America's housing economy, but the humor is never far behind. The film takes a wicked amusement in the assorted ironies of macroeconomics, where middle-class saps screw themselves out of their life savings while oily traders huff coke and bed models on Vegas vacations. Hold onto your wallet.
Superbad (2007)
Michael Cera and Jonah Hill broke out as a pair of bored, breeze-shooting high-school seniors on a rambling odyssey to score booze and make it to a house party hosted by Hill's crush (a newcomer named Emma Stone). Seldom has a buddy comedy captured the tedium and terror of small-town teenagerdom with such deadly accuracy. Chockablock with hysterical comic tangents and endlessly quotable, this film briefly turned "McLovin" into a cultural touchstone.
Midnight in Paris (2011)
One of the finest hits of Woody Allen's hit-or-miss twilight years was a work of Lost Generation literary fan fiction too witty and vivacious to deny. A glum screenwriter heads to the City of Lights in search of inspiration, but doesn't expect to find it by inadvertently time-traveling to the Jazz Age and befriending F. Scott Fitzgerald and Ernest Hemingway. Boozy revels and bon mots abound, but this sweet confection still has a melancholy edge.
Frank (2014)
Every band has a gimmick, but that's not why Frank, the lead singer of prog-rock outfit Soronprfbs, wears an oversize papier-mâché head at all times. The coordinators of music festival South by Southwest mistake his unusual coping method for kooky showmanship and book the band a prime showcase, cuing up a mental breakdown for the rock-and-roll record books. Even from under the mask, Michael Fassbender gives a performance of mania and fragility.
Super (2010)
Before he graduated to blockbusters with Guardians of the Galaxy, director James Gunn got his feet wet in the superhero genre with this black comedy. The Office's Rainn Wilson starred as a mentally unstable loner who moonlights as "The Crimson Bolt," a wrench-wielding masked crime fighter. He gets in over his head when he attempts to "rescue" his ex from her new beau, a drug-slinging strip club owner played by Kevin Bacon. Low-level no-goodniks cower in fear at the utterance of his signature catchphrase: "Shut up, crime!"
Adventureland (2009)
Look up chemistry in the dictionary, and under all the scientific diagrams you'll also find a photo of Jesse Eisenberg and Kristen Stewart in this one-magic-summer romcom. As co-workers at a ramshackle amusement park, they find respite from the wage-slave drudgery with the easy, irony-tinged rapport that flowers between the two of them. Throw in a Replacements-heavy soundtrack and there's a bona fide teen classic in the making.
Wet Hot American Summer (2001)
The alumni of hallowed sketch comedy institution the State (along with then-unknowns Amy Poehler and Bradley Cooper) inflated the summer camp comedies of the '80s to ludicrous highs in this rightly beloved cult classic. A climactic softball game gets called on account of cliché, the nice guy gets curved hard by the girl next door, and, in the climactic sequence, a falling satellite threatens to obliterate the camp-wide talent show. To a certain strain of comedy lover, it's a holy grail.
Heathers (1989)
"Fuck me gently with a chainsaw." "I love my dead gay son!" "Dear diary, my teen angst bullshit has a body count." A list of contextless soundbites would be more than enough of a testament to the acidic brilliance of this high-school satire, but we'd be remiss to forget Winona Ryder and Christian Slater's virtuoso sarcasm in the lead roles. Pitilessly funny and clear-eyed about just how cruel teens can be, consider this movie core curriculum.
THRILLER
The Babadook (2014)
This Australian horror import transmutes the anxieties and frustrations of motherhood into a bloodcurdling bedtime story with a bugaboo for the ages. In her debut feature, Jennifer Kent looses a top-hatted monster (think Slender Man, but creepier) on a widow whose hyperactive son has driven her to her wit's end. The metaphor's simple, but potent: Who among us can honestly say we've never fantasized about throttling our kids when they're misbehaving?
Nightcrawler (2014)
Jake Gyllenhaal had played a rangy guy obsessively chasing a lofty goal before, but never with such chilling, absolute gusto. The morally bankrupt stringer he portrays in this L.A.-after-dark psychothriller has a ratings meter where his conscience should be, willing to do pretty much whatever it takes to get a scoop. His highly unethical fight to the fore of the on-site-crime-reporting game is the most pessimistic commentary on mass media since Ace in the Hole.
SCI-FI/HORROR
Upstream Color (2013)
It took Primer director Shane Carruth nine years to crank out a follow-up. Even a quick taste of Upstream Color's dense, sci-fi goulash justifies the gestation period. A romance entangled in botanical harvesting, pig behavioral science, godly manipulation, and Thoreau's transcendental musings, Carruth's sprawling, DIY epic is a much-needed alternative to a genre full of bombast.
Metropolis (1927)
At the time, Fritz Lang's technological dystopia was the most expensive movie ever made. It looks like it. Refracted through the pillared shadows of German expressionists, Lang's turn-of-the-century special effects and blunt social commentary evoke a sci-fi Wizard of Oz.
Honeymoon (2014)
If you're thinking about having your romantic honeymoon in a cabin in a very secluded forest, perhaps it's time to rethink a beach or city setting. Take it from Bea (Rose Leslie) and Paul (Harry Treadaway), who's seemingly delightful rustic getaway turns into an increasingly erratic and mysterious series of events, including encounters with bright lights, animal bites, and worm-like creatures. And death, lots of death.
E.T. (1982)
So much of Spielberg's paean to childhood has been enshrined in motion picture history — the Reese's Pieces, baby-faced Drew Barrymore's reaction to our intergalactic visitor, "E.T. phone home" — and yet a viewer can still find new pleasures every time. The generous empathy that Spielberg has for his little adventurers still warms the ol' heart, and if you want to read it as a Christ allegory, hey, knock yourself out.
The Shining (1980)
Whaddaya want, it's The Shining! Stanley Kubrick's glowering, intense adaptation of Stephen King's novel is in a class of its own, a minimalist slasher film where sanity itself might as well be the first casualty. Jack Nicholson turned "Here's Johnny!" and "All work and no plays makes Jack a dull boy" into pop-culture shibboleths as the axe-swinging villain, even as he himself falls casualty to the formless malevolence of the Overlook Hotel. Kubrick is peerless, and with this film, he turned in one of the finest horror films ever.
It Follows (2014)
David Robert Mitchell's inventive ghost story has emerged as one of the high points in American cinema's recent horror renaissance. An unseen force pursues teenagers in a dead-end Detroit neighborhood after they engage in sexual activities — insert subtext here — and Mitchell delivers the goods with reined-in, precise direction. The 360-degree pan that begins the film ranks as an all-time opener.
World of Tomorrow (2015)
Over the course of 16 mind-expanding minutes, a clone travels from the future to inform her original self of surreal events to come, including future love affairs with a rock and an alien as well as the eventual heat-death of Earth. What sounds like a bunch of gobbledygook in broad strokes is a boundlessly profound meditation on death and the meaning of life in practice. Guaranteed to be the most emotionally affecting stick-figure drawings you'll find online.
ACTION
The Host (2006)
Not to be confused with Stephenie Meyer's unfortunate body-snatcher romance of the same name, this South Korean monster movie fromSnowpiercer director Bong Joon-ho is a wallop of kaiju destruction and social commentary. Godzilla would be proud.
Big Trouble in Little China (1986)
John Carpenter mashes up early video gaming, kung fu flicks, and comic-book lore for this ridiculously fun jaunt through the criminal underground of San Francisco's Chinatown. Kurt Russell radiates machismo as lunkhead leading man Jack Burton, but the real hero is his more capable sidekick Wang Chi, played by martial arts master Dennis Dun. Together, they kick, punch, and bite their way through a colorful criminal enclave, complete with fantastical monsters and a nefarious wizard.
Once Upon a Time in the West (1968)
By 1968, spaghetti Western godfather Sergio Leone had enough industry clout to get Paramount to shell out for Peter Fonda and Charles Bronson in a nearly three-hour saga of grudges, revenge, and pistol dueling. Leone pushed himself to do more with less, often eschewing dialogue for long stretches that luxuriate in the sweeping natural vistas, the very epitome of "man of few words" masculinity.
INDIE
The Duke of Burgundy (2014)
Every day, two women enact a series of sadomasochistic sexual role-plays — but could there be a foundation of tender, earnest affection beneath the degradation? And beyond that, could love be a domination-submission game all its own? Brit helmer Peter Strickland uses wildly unorthodox visual methods (one exhilarating shot gets entirely eaten up by fluttering moths) to relate a singular romance of obsession and self-sacrifice, where there's no truer token of devotion than constantly chugging water so you'll have enough urine saved up for when your partner gets, uh, in the mood.
Queen of Earth (2015)
Mad Men grad Elisabeth Moss and breakout star Katherine Waterston do a lethal pas de deux in this stylized psychothriller nodding to such arty freakouts as Persona and 3 Women. They play childhood friends on a weekend retreat to a lake house, where they both realize they've got more issues to work out than they had initially presumed. A vicious battle of wills breaks out, and director Alex Ross Perry captures it all on gorgeously grainy 16mm film.
The Forbidden Room (2015)
Like a particularly freaky dream or powerful acid trip, Guy Maddin's latest feature can't be fully conveyed with mere words. Suffice it to say that the Canadian experimentalist pulls out all the stops for this one, nesting narratives within narratives within narratives (within some more narratives). A submarine crew sucks the oxygen out of flapjacks, a flamboyant old man extols the virtues of baths, and a group of restless natives make a sacrifice to their volcano god — just three of the many weirdo vignettes crammed into the run time.
Memento (2000)
A dizzyingly high-concept deconstruction of genre anchored by a smarty-pants script and ruthless, exacting direction, Christopher Nolan's second film sees him weave two concurrent chronologies into a briskly paced neo-noir mystery about one unlucky amnesiac. Guy Pearce is up to the challenge of a lead role that keeps resetting itself, but it was Nolan who emerged as the talent to watch.
Meek's Cutoff (2011)
It's 1845, and tensions are high in the unsettled West. A band of frontier cultivators fear that their guide has no idea what he's doing, food and water are in short supply, and they can't fully trust the Cayuse man they capture to guide them to resources either. Indie cinema cornerstone Kelly Reichardt whittles the Western down to its base components in this dusty, classicist drama, featuring the indelible image of a bonnet-clad, musket-brandishing Michelle Williams.
Entertainment (2015)
Starting from the wry title, everything about this postmodern cringe comedy plays it deadpan. The king of all hack comics (played by Neil Hamburger, sporting a heinous, perpetually greasy comb-over) goes on a surreal stand-up tour through the desert, telling horrendous jokes about E.T. guzzling reproductive fluid to baffled, unsuspecting audiences. Director Rick Alverson takes some Beckettian back channels into a piercing portrait of loneliness, isolation, and desperation to connect.
FOREIGN
Y Tu Mama Tambien (2001)
Before he moved on to insanely ambitious sci-fi and the wizarding world of Harry Potter, Alfonso Cuarón tore a swath through his native Mexico with this rollicking, randy road movie. A pair of teenage bros entice a comely older woman to join them on a sojourn to a secluded spot of beach, unravelling their entire sexual histories along the way. Rich with homoerotic tension and freewheeling eroticism, it's a pointier-than-average love triangle.
Cosmos (2015)
Fifteen years after the last film from Polish virtuoso Andrzej Zulawski, his final, posthumous release is bound through with the frenetic energy of a filmmaker with several lives left in him. In what the man himself branded a "metaphysical noir thriller," a pair of friends get terrorized by enigmatic signs that pop up around the mansion where they're vacationing, but that barely scratches the surface of Zulawski's off-the-wall formal gambits. It's as if for his last act he wanted to trace the outermost limits of cinema itself.
Phoenix (2014)
In the great beyond, Hitchcock is probably kicking himself for not coming up with this one first. Unrecognizable due to facial scarring and reconstructive surgery, a Holocaust survivor (Nina Hoss, setting a new bar for "tour de force") returns to Berlin to surreptitiously investigate rumors that her husband sold her out to the Nazis. The suspense is nerve-wracking from the start, and director Christian Petzold keeps turning up the heat until it culminates in the jaw-dropping finale.
A Pigeon Sat on a Branch Reflecting on Existence (2014)
At last, a sketch-comedy film for those of us who prefer our jokes with a side of boundless existential despair. Completing his trilogy of bleakly humorous vignettes, Swedish absurdist Roy Andersson trained his sights on a man who dies in line at a cafeteria, a pair of stone-faced gag salesmen, and a brief, surreal visit from King Charles XII at a modern-day pub. You won't be able to tell your weeping apart from the laughing.
Tokyo Tribe (2014)
Nothing to see here, just your usual run-of-the-mill Warriors-influenced martial-arts soft-porn hip-hop opera. Sion Sono, Japan's most gloriously unhinged filmmaker, went all in on this delirious rap musical, constructing gargantuan sets and shooting in swooning long takes. Friction has increased between the five gangs of Tokyo and all-out war is on the horizon, with our unaffiliated heroes caught in the middle. The songs may not be easily remembered, but the movie is unforgettable.
The Tribe (2014)
And now for something completely different: a searing portrait of cruelty and suffering, told entirely through Ukrainian sign language. A school for the deaf provides the unlikely backdrop for this devastating curio, where a rigidly stratified system of youth gangs peddles drugs and prostitutes. The film is the polar opposite of a good time (and that's before the one-shot abortion scene), but the sheer originality is more than worth the emotional ruin it causes.
Hard to Be a God (2013)
After nearly six years of shooting and as many more in post-production, Russia's Aleksei German completed this fully realized vision of another world shortly before his death. In crisp black-and-white, a group of modern scientists travel to an alien world that offers a glimpse at how Earth would have gone had humanity never progressed out of the Dark Ages. Spittle, muck, and filth's myriad other forms fill this momentous monument to human stupidity, violence, and flatulence.
Force Majeure (2013)
Say you're at a posh ski resort with your wife and two darling children. You're eating lunch, and out of nowhere an avalanche comes roaring down a nearby hill. Do you a) protect your family by any means necessary, or b) grab your cell phone off the table and beat a hasty retreat, every-man-for-himself style? If you chose that second one, then you're ready for Ruben Ostlund's unsparing (and riotously funny) dissection of male insecurity, cowardice, and fragility.
Two Days, One Night (2014)
Marion Cotillard gave everything she had to the role of Sandra, a factory worker facing a tricky predicament: She'll lose her job unless she can convince more than half of her co-workers to forgo a $1,000 bonus for rendering her position redundant. Her search for a little bit of empathy from her fellow human beings takes her through the full gauntlet of emotion, from misery to compassion to a bitterly won hope.
After the Wedding (2006)
Hannibal star Mads Mikkelsen stars in this low-key, high-impact drama about an Indian orphanage manager who thinks he's traveling back to Denmark to secure funding only to attend a wedding for the daughter he never knew he had. Shot in the austere Dogme 95 style, After the Wedding delivers a pure Mikkelsen performance that's guaranteed to break up your insides. In a good way!
Amélie (2001)
Jean-Pierre Jeunet's romantic drama is the definition of French whimsy. Audrey Tautou's compassionate, curious love detective is designed to sweep up anyone with their shields down. The director's version of Paris has the same effect, eccentric, mysterious, and radiating positive vibes. It's okay to feel warm and fuzzy, we promise.
Blue Is the Warmest Color (2013)
Now that controversy is behind it, Blue Is the Warmest Color can settle in as one of the finest young love movies ever made. Come for the ferocious, pot-stirring, six-minute-long sex scene, stay for the shockingly intimate relationship Adèle Exarchopoulos and Léa Seydoux are able to forge onscreen.
Carlos (2010)
There are two ways to enjoy Olivier Assayas's sprawling profile of 1970s Venezuelan terrorist Ilich Ramírez Sánchez, a.k.a. Carlos the Jackal: The two-hour, 45-minute feature version, or the original five-plus-hour, divided miniseries style. In this case, more of a crazed Goodfellas-meets–James Bond epic is better.
Oldboy (2003)
Those reeling from Spike Lee's recent remake will want to discover Park Chan-wook's Korean-language original, a sadistic, stylish mystery. There's nothing in the Americanized version that tops Choi Min-sik eating a live octopus — and that's the tip of this movie's iceberg.
DOCUMENTARIES
Man on Wire (2008)
Philippe Petit's 1974 high-wire walk between the Twin Towers was the pinnacle of anti-Establishment circus tricks. The crowds below loved it, the New York City authorities loathed it. James Marsh captures all the grandeur of the act. As he traces a line through Petit's history, the walk feels inevitable. Why build the Towers if they weren't meant to be tethered together for a death-defying stunt?
Exit Through the Gift Shop (2010)
Is "Mr. Brainwash" a premier street artist? A total sham? An elaborate prank? As Banksy's provocative examination of art and commerce unspools, its star, Thierry Guetta, amounts to all three. Following the vintage clothing retailer turned visual artist as he mounts stunts to put him on the map, Banksy challenges the ideas behind his own work and the patrons that keep him in business.
The Thin Blue Line (1988)
Because of weird marketing rules, Errol Morris's true-crime documentary was ineligible for the Oscars. It didn't really need the gold; A year after The Thin Blue Line exposed the shoddy police work that put Randall Dale Adams in jail for a murder he didn't convict, the state of Texas released Morris's subject from prison. Yes, the film's that good.
Virunga (2014)
This look at the in-peril Congolese national park is part conservationist muckrake, part investigative expose, and part in-the-trenches war documentary. What's lost when the last African mountain gorillas go extinct? Peace, perhaps, sacrificed for a wealth of oil bubbling underneath Virunga's soil. Juxtaposing stunning nature photography with vérité violence, documentarian Orlando von Einsiedel trumps Avatar, with an environmentally-conscious action piece that's urgent and grave.
The Look of Silence (2014)
Joshua Oppenheimer returned to the jungles of Indonesia for this companion piece to The Act of Killing, his brutal look into the lingering effects of the 1965–1966 genocides. This film shifted focus from the surviving perpetrators of the horrific murders to a relative of one of the slain as he tries to hold the now-ancient killers accountable for their crimes. To get a close look at the face of human evil is a rare thing; Oppenheimer does it without blinking.
Paris Is Burning (1990)
The National Film Registry recognized this snapshot of New York's late-'80s drag-ball culture as "culturally, historically, or aesthetically relevant" in 2016, but all it takes is a look around to recognize its massive influence. The seeds for RuPaul's Drag Race were planted here, but the film's willingness to speak frankly about matters of race, gender, and sexuality was the real breakthrough.
13th (2016)
Selma director Ava DuVernay chose a subject even more ambitious than the life and times of Martin Luther King for her follow-up: 13th is a comprehensive survey of the racially charged evils of the prison-industrial complex, tracing a line from slavery to the present-day world of mandatory minimums and trumped-up drug charges. With carefully researched arguments and a dash of righteous white-hot fury, DuVernay strikes a noble blow for black rights and black lives.
Room 237 (2012)
Have you seen The Shining? No, I mean really seen The Shining? Rodney Ascher's fascinating documentary digs deep into the hidden meanings that eccentric obsessives have projected onto Kubrick's riddle of a film. One school of thought suggests Kubrick made the movie as a confession for having faked the moon landing in 1969; another reads the film as a commentary on the white man's genocide of Native Americans. The film is as deep as its viewers are willing to believe.
Life Itself (2014)
Roger Ebert was the most popular film critic ever to put pen to paper; he was one of the best, too. This biography recognizes his achievements as a wordsmith, but spends more time trying to get at the core essence of a man who played as many roles as the actors he wrote about — the glitterati hanger-on, the dutiful husband, the profligate drinker, the gregarious man about town, and the devout acolyte of cinema.
Selections by Matt Patches, Charles Bramesco, Devon Ivie, and Rachel Handler.