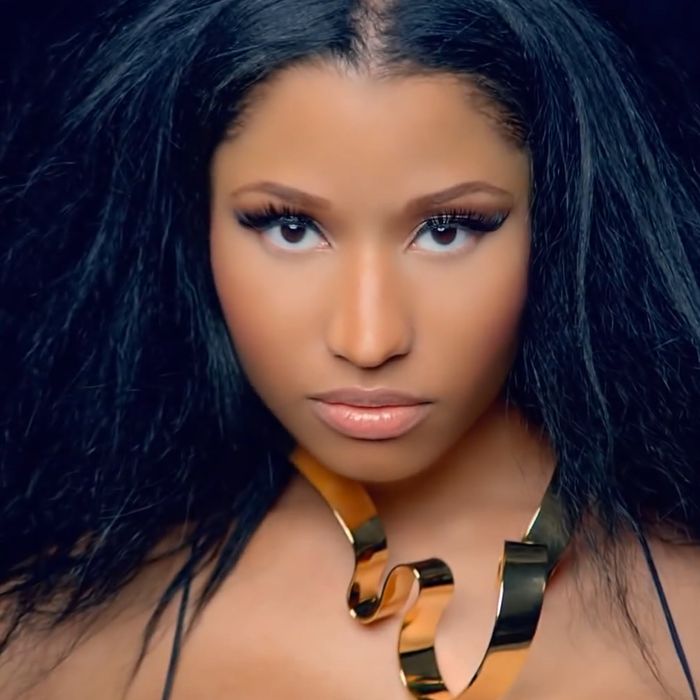 Nicki Minaj has trouble saying no. With over 140 (!) features on other people's tracks under her belt in just seven years, she's such a prolific guest that the past two weeks alone have seen the release of not one but three Nicki-stamped videos.
So what makes one Nicki Minaj guest-verse better than the next? First: shade. She thrives on making subtle, backhanded statements, whether they're aimed at specific people or simply general reminders of how, ha-ha, she wins, you lose. Second: cheekiness. Nicki finds ways to use her guest verses to say things she maybe shouldn't on other people's tracks, but she does it with such endearing disregard that it's hard not to respect her. And, finally: It has to be weird. Nicki loves characters, accents, fairy tales, and pop-culture references, and she employs them expertly, either individually or all at once.
15. "Up All Night" by Drake (2010)
"Make Me Proud" is probably the most famous Nicki feature on a Drake track, but the key to their relationship is mutual devotion to Lil Wayne's label/empire, Young Money. On "Up All Night," the pair rep that team loyalty to the max in a celebration (the first of many) of how far they've both come.
14. "I Luv Dem Strippers" by 2 Chainz (2012)
It's not hard to sound great rapping alongside 2 Chainz, but Nicki made sure to have a little fun with her turn on this stripper love-letter. Her flow is straight-up nasty, which speaks to her knack for unhinged brilliance. Starting with "2 Chainz, you fucking crazy / Motherfuckers know I'm fucking crazy" and capping it off with a reference to The Little Engine That Could, her "Strippers" verse is peak Nicki: hater-resistant, whimsical, and constantly surprising.
13. "Animales" by Romeo Santos (2014)
The prolific Nicki knows no genre boundaries in her guest spots. This year, she offered both rapping and singing to bachata king Romeo Santos's Formula, Vol. 2. Santos has been ridiculously successful in a number of Hispanic communities and has had noteworthy English-speaking crossover success, so he doesn't really need this, but that doesn't make a Minaj appearance any less welcome. On "Animales," the two New York City natives seduce their fans with angelic vocals and sweet Spanglish.
12. "Y.U. Mad" by Birdman (2011)
Nicki is truly in her element rapping with her mentor, Weezy. She gives "Y.U. Mad" a subtle, effortless aggression, worming the song's title into your brain … almost as unforgivably as those questionable blonde dreads (ostensibly a nod to Wayne's default look). She also gives us one of the best shade lines of her career (and in her canon, there are many): "As for your career? Dead. Ghostbuster."
11. "My Chick Bad" by Ludacris (2010)
Give credit where credit is due: Ludacris and Nicki Minaj are both totally responsible for #hashtagrapping — dropping in emphasized, sometimes random-seeming words at the end of their lines. Here they did it before hashtags were even a thing ("coming down the street like a parade, Macy's"). Nicki comes at her verse as though she had literally just been taken off a leash, brilliantly rhyming "bestie" with "teste" right off the bat, then bragging that her shoe game is crazy enough to warrant committal, and, most important, spits with a skin-crawling delivery, "It's Nightmare on Elm Street and guess who's playing Freddy?" Jesus, Nicki, I hope it's not you.
10. "Bang Bang" by Jessie J (2014)
Is it too much to call "Bang Bang" the new "Lady Marmalade"? While Jessie and Ariana are screaming on the ground, Nicki drops in via helicopter to save the day with a supercharged verse that kicks off not with a brag, but with a casual name-check of her own moscato brand.
9. "Flawless (Remix)" by Beyoncé (2014)
Do you remember where you were when the "***Flawless" remix dropped? Of course you do. Hosting "ONIK-UH" on the remix of her 2013 feminist manifesto was a statement on Beyoncé's part, and Ms. Minaj delivered. While Bey referencing the infamous elevator incident is definitely this year's No. 1 Baller Move, Nicki gave us a series of gems too, like "we A-listers / we paid sisters" and a reference to another famous guest-turn of hers ("he want 'Monster' Nicki in Sri Lanka").
8. "Dance A$$ (Remix)" by Big Sean (2011)
As we have been reminded this year, Nicki Minaj is the queen of butt songs, and for good reason. She understands that singing about a booty — either her own or someone else's — is an art form that requires specially crafted puns and a sense of humor. Who else could get away with extending the final vowel in "Wakiki" for no particular reason? Who else can throw couture shade, again, for no particular reason? Just take all our money now.
7. "I'm Out" by Ciara (2013)
"I'm Out" has to be one of the Top 10 Most Important Self-Care Songs out there, largely because the glow of self-empowerment provided by Ciara and Nicki together radiates hotter than the sun. It's also the perfect example of what makes Nicki such a master: She's fantastic at collaborating with other women. Both are fierce on this track, and both go harder than usual without overpowering one another.
6. "Lil' Freak" by Usher (2010)
Sure, sure, their new collaboration is great and all — how can we not love a song that gave us the line "he only last six seconds like a Vine"? — but let's take it back to the start, shall we? In 2010, Usher and Nicki created one of the best songs for bumping booties and shoulders together. Here, Nicki proves that comparing yourself to Santa can be sexy (if you're Nicki Minaj, that is) and that the wait for a seamless Everybody Loves Raymond reference in a pop song was worth it.
5. "'Til the World Ends (Remix)" by Britney Spears (2011)
As apocalyptic as you would hope: At the start, this leader of the survivors of a zombie wasteland is confident and cocky … before transforming into a zombie herself with her monstrous affected accent. She breaks character for a second, though, to utter, "Ricki Lake!"
4. "Beauty and the Beat" by Justin Bieber (2012)
In this charming pop ditty, Nicki gives us Radio Disney rhymes without losing her bite and definitely without sacrificing the prime rhyme of "weiner" and "Selen-er." While she has continuously gotten flack for going "pop" with her sound and image, Nicki proves that an artist can be a serious spitter with mass appeal while also having a sense of humor about herself, and even about the song she's on.
3. "Bottoms Up" by Trey Songz (2010)
Though Trey Songz is infinitely better at raunchy R&B slow-jams than he is at pseudo–Chris Brown party thumpers, "Bottoms Up" is a pretty great club jam. That's thanks to Queen Minaj, who offers up a verse with more salt than the rim of a margarita glass. Nicki rattles off a straight-up terrifying string of ratatat rhyms that transitions into a pretty spot-on imitation of Anna Nicole Smith's baby voice as she imitates Songz's intonation from all the song's previous moments.
2. "5 Star (Remix)" by Yo Gotti (2009)
Nicki lands at the song's end here, but her verse has a near-cinematic quality that makes the song feel as though it's been waiting for her to show up. It may be her best take on the demented Barbie persona she affects so well in her accents and old videos, but the real treat is noticing how the line "Ask Lil Wayne who the five-star bitch is" reappears throughout her career, on tracks like her late-2013 cover of PTAF's "Boss Ass Bitch."
1. "Monster" by Kanye West (2010)
Obviously. One of the most classic guest-verses in hip-hop history, this packs every Minaj trademark in. But what makes it her most memorable solo how is the way that, as hip-hop's leading character actress, she took the song's title and ran directly off the deep end with it, besting Jay Z, Rick Ross, and Kanye in the process. 'Ye can be the king, but watch the queen conquer.