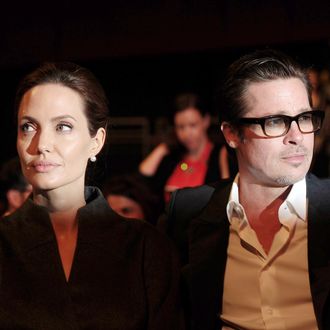 Photo: Carl Court/Getty Images
Entertainment Weekly has a bunch of new information about By the Sea, the upcoming Brangelina collaboration that has previously been shrouded in secrecy. (Sexy secrecy.) Among the revelations …
Brad and Angelina will play an unhappy couple whose marriage is changed forever during a seaside vacation. Jolie plays Vanessa, "former dancer," while Pitt is Roland, "an American writer." Previous reports indicate the pair will "become sexually obsessed with their neighbors."
The film takes place in 1970s France. Which, judging from the pictures, means groovy sideburns for Pitt and lots of eyeliner for Jolie. Also, no cell phones: "It removes many of the distractions of contemporary life," Jolie told EW.
Angelina is taking the Tommy Wiseau approach. Besides playing its lead role, Angelina is also the film's writer, director, and producer. (Pitt is co-producing.)
Melanie Laurent will co-star. The French actress will play one of the aforementioned neighbors, while Neils Arestrup (A Prophet) and Richard Bohringer (The Cook, The Thief, His Wife & Her Lover) will play "vibrant inhabitants" of the local town.
The film is currently shooting in Malta, an occasion that Jolie has dubbed a "workingmoon." That word had better not catch on.