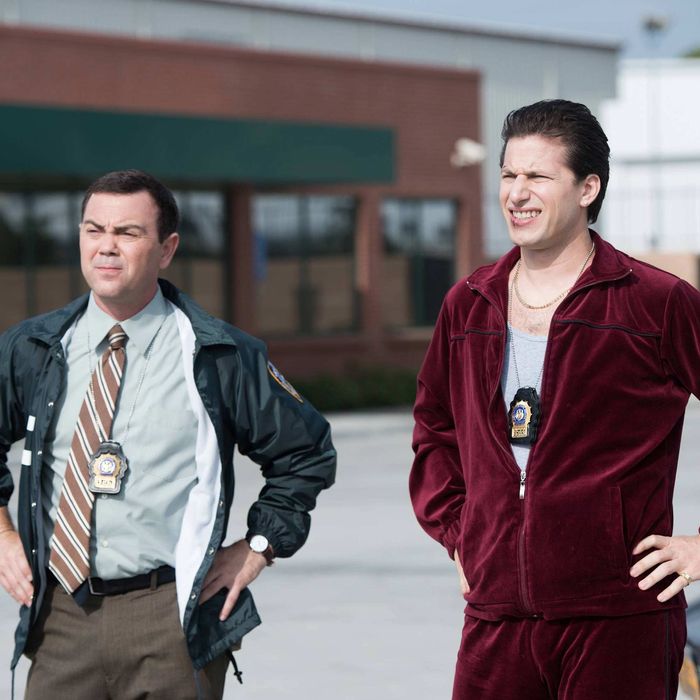 When we left the NYPD's 99th Precinct back in March, Andy Samberg's Jake Peralta was going on a six-month hiatus of his own, joining the FBI to do some undercover work on a massive Mafia case. So it's no surprise that Brooklyn Nine-Nine's second-season premiere opens on that most iconic of Mafia occasions — a wedding — with Peralta at the peak of his toast-giving, cologne-wearing, old-man-kissing powers. (He can't, however, keep a credible goombah accent for more than a few lines — shoddy craft from a supposed Brooklyn native.) But like Peralta with his car keys, the show is itchy to hit the reset button, and we're back to the status quo before the opening credits roll. "I've missed us," Peralta says to Holt in the tactical van, setting the old dynamic right back where we left it.
Considering he opened Brooklyn Nine-Nine's pilot quoting Donnie Brasco to the cameras in an electronics store, Peralta might have had a rougher transition from undercover life back to the Nine-Nine bullpen. But there's clearly a lot riding on the show's time-slot transition to the animation no-longer-domination of Sunday night, and so Peralta's back to standard goofball mode pretty much instantaneously. The maggots living in his desk drawer are the only sign he's been gone at all.
To be fair, not much has changed in the precinct, either, aside from a ban on headphones and a seemingly unending cycle of role-play training scenarios led by Terry, who's been alternately showing up as an angry prostitute, a lost 7-year-old, and a ticking unattended backpack. Peralta's romantic dynamic with Santiago, which didn't even get to nascent will-they-or-won't-they territory until the halfway point of the first season, is continuing to inch along so slowly that it's sometimes unclear why it's even happening at all. That said, the show deserves credit for having Peralta own up to his feelings at the end of last season, and though he initially goes back on them here (blaming nervousness about the undercover stint), it's especially refreshing,and surprisingly mature to see him own up to them once again by episode's end. But with Santiago still dating Teddy (this episode's sex-tape gag: "I'm With Someone, Nothing's Gonna Happen"), any tension here is likely to continue to be scotched until at least mid-season. Look for Peralta and Santiago to finally become a couple sometime in 2018.
The show spends more time on an unexpected romantic pairing: Boyle and Gina, who found themselves in bed together after a drunken night at the end of last season. Boyle, who seems to have recovered admirably from breaking up with his fiancée, is unsurprisingly overjoyed to see Peralta, but Gina can see from a mile away that he's unlikely to keep their dalliance a secret now that Jake's back in the picture. ("Every time you talk, I hear that sound that plays when Pac-Man dies.") She spends the next few days holding an anticipatory funeral for her above-it-all office image, exchanging her favorite wolf blanket for a naked-mole-rat sweater and even stooping to eat lunch with Scully and Hitchcock (who've been upgraded to series-regular status). But while he's once again incapable of keeping a surprise party under wraps, Boyle is too afraid of Gina to confess to Peralta. Indeed, they wind up right back in bed together at episode's end. Gina's going to have to lay off the sauce if she wants to keep her sex life confined to bike messengers and higher.
Holt seems to be the only one with bigger things on his mind than his detectives' romantic exploits, stressing out over the arrival of a new NYPD commissioner. (He apparently never even smiles anymore — poor Kevin Cozner.) The show wisely took this week to reset its former dynamic before it brings in this new foil for Holt (she'll be played by The Closer's Kyra Sedgwick); I hope the new commish will promptly raid all the junk food that Scully stores in the ceiling above his desk. But it also means that Andre Braugher is squarely back in killjoy mode, a shame after seeing some of his looser exploits last season (ballroom dancing!). With an appearance from his withholding parents foreshadowed multiple times in the premiere, however, Holt's reserve is likely to wear thin at some point in season two. No wonder he's all about the preparedness drills.
Overall, this was a solid season kickoff for the show, which really found its rhythm in the back half of season one and continues to evolve a unique tone pitched somewhere between the workplace semi-realism of The Office and the gloriously goofy world-building of Parks and Recreation. In fact, it crammed in so much information (I haven't even mentioned Peralta's costumed attempts at catching a wayward Mafioso, featuring a delightful guest turn by Jenny Slate as the perp's girlfriend) that I'm curious if new viewers were a touch overwhelmed — though there were certainly enough good punch lines to lure them in. Brooklyn Nine-Nine's world is unquestionably a fun one to hang out in. Now it's time for the ensemble to take things to the next level. Which should probably be the tagline for my sex tape.