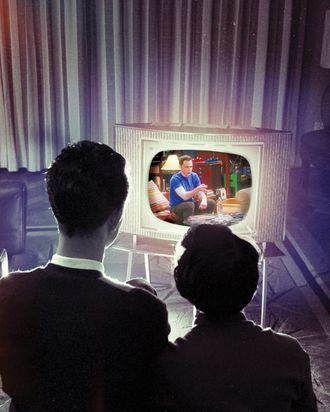 Photo illustration by Gluekit
Photo: Bert Hardy Advertising Archive/Getty Images
Here's how big Thursday-night TV used to be: During the mid-'90s, when NBC populated the evening with Friends and Seinfeld and ER, some 75 million Americans made a point of watching at least a portion of that lineup every week. Two decades on, like everything else in TV, the numbers for that night are a whole lot smaller. Last season, the combined average audience on Thursday for ABC, CBS, NBC, and Fox was around 33.5 million viewers — or about the same as the audience for ER or Seinfeld alone at their peaks. More distressing for the networks, nearly 7 million viewers had abandoned Thursdays in just the previous year. With dramatic declines like these now common throughout the week, after decades of Chicken Little predictions about the impending demise of network TV (or the notion of one or more of the Big Four moving to the somewhat friendlier climes of cable), it seems as if the sky is finally falling.
Yet even though fewer of us are watching on Thursdays, the night remains critical to broadcasters for a basic reason: It's where the money is. Or, more precisely, where certain kinds of ad revenue can be found. Because most feature films open on Fridays, movie studios will still drop a lot of money for ads that air just before people make their weekend plans. And retailers, including automakers, also look to Thursday programs to prime shoppers for weekend deals. This, in addition to its massive ratings, is why CBS's The Big Bang Theory, which airs on Thursdays, charged more for a 30-second spot — about $317,000 — than any other scripted show on TV last season. And why, of the 20 costliest shows on which to buy ad time last season, seven aired on Thursdays, according to Ad Age. For all the talk about time-­shifting in TV these days, timing still matters — and no one is more invested than the networks in making sure that remains the case. "Since I've been at CBS, since I've been watching television — it's been a dominant night," says CBS Entertainment chairman Nina Tassler.
Executives are carefully readying their spin in case the results are disappointing again this year, though. Tassler points out that her boss, CEO Leslie Moonves, has talked in recent months about how the network is less dependent on ad dollars as it increasingly mines other revenue sources, including selling its shows to streaming outlets such as Amazon. "Every night is a battleground now," says Fox TV Group chief operating officer Joe Earley. "If you look across the week, almost every time period is competitive." Perhaps. But it's impossible to look at all the moves the networks are making on Thursdays this season — every network has some of its biggest guns out for this fight — and not come away convinced that what we're witnessing is the networks making one last, swaggering stand for cultural hegemony rather than admitting defeat and becoming little more than glorified cable networks. The night NBC once promoted as "Must-See TV" is now where the networks are most loudly begging viewers: Don't flee TV. Below, how each of the four is attacking the problem.
******************
CBS
The incumbent powerhouse that's spending big to hold its lead.
It's rare for a network to keep a winning lineup on the bench, but that's exactly what CBS is doing with its Thursday schedule this fall. The Big Bang Theory, Two and a Half Men, Elementary — none of them will be seen in their regularly scheduled late-week time slots when the new TV season kicks off later this month. Instead, Thursday Night Football has taken up temporary residence on the network through the end of October. CBS shelled out a reported $275 million — or $34 million per game — for the eight-week NFL package, all on the proposition that it will help solidify the network's stranglehold on Thursdays, a night it's won every season but three since the start of the century.
And odds are the NFL on Thursdays will be massive, or at least big enough to let CBS defeat all rivals early in the season, both in overall viewers and among key demo groups like young men. But while the network will gladly take the ratings boost it will get from the NFL, what it's really banking on is a much less certain halo effect — that viewers who come to CBS for football in September and October will stick around for its Thursday lineup of sitcoms, a bid to replicate the success NBC had through most of the '80s and '90s — and a surprisingly vexed one.
Since The Big Bang (far and away the most-watched comedy on TV) moved to Thursdays in late 2010, CBS has been unable to find a comedy to follow it — three of the four new sitcoms scheduled behind it at 8:30 have been pulled after one season or less despite the lead-in. Last year, things improved slightly: The Will Arnett–led The Millers was still the season's No. 1 new comedy despite disappointing ratings (and is getting a second chance this season). By the end of the season, CBS will have to worry about Two and a Half Men disappearing, but in the short term, that show remains a key asset, and Tassler predicts it will get a boost from the hoopla surrounding its final season. She's hoping that Men, plus the millions of viewers who will come to CBS for football, will help the night's only newcomer, The McCarthys. It's a standard CBS family sitcom, centered on a Boston brood (including a gay son) obsessed with sports. "It's a sports-themed show on what will be a sports-themed night," Tassler says.
******************
ABC
Going after women with more soapy drama from TV's top producer.
The network's Thursday strategy begins and ends with Shonda Rhimes. The superstar showrunner behind Thursday staples Scandal and Grey's Anatomy is taking over a third hour on the night, adding the Viola Davis–led legal thriller How to Get Away With Murder to her roster. Not since the legendary Aaron Spelling controlled Saturdays for several seasons during the '80s has a single ABC producer so dominated one night. "She's [our] new president of entertainment for Thursday night," jokes ABC's actual entertainment chief, Paul Lee. In fact, Lee believes in the producer's power so much, he had ABC run internet ads over the summer in which Rhimes  appeared alongside her on-camera stars to discuss their shows' upcoming seasons. "We live in such a postmodern world," the Lee says. "I would argue that most of our core audiences know Shonda … they love Shonda, they know what she promises. And it provides real value. Her brand is a very valuable brand."
While the power of Grey's and Scandal has been enough to allow ABC to finish a consistent No. 2 on Thursdays (and a strong No. 1 with young women), the network hasn't had any other recent hits that night despite trying a slew of scripted shows — retro trifles like Pan Am and a male-skewing thriller, Last Resort. Shifting Grey's to the leadoff hour and sliding Scandal back an hour to 9 p.m. solves a bundle of problems at once: It guarantees ABC will dramatically improve its 8 o'clock numbers, puts the network's top show at the center of the night, and gives Murder time to build a following in the slightly less competitive 10 p.m. hour.
If there's a downside to ABC's Thursday thinking, it's that ignoring guys potentially shuts out a whole class of advertisers. Last season, ABC's lineup ranked first among adult women under 50 but a distant fourth with men of the same age — easily the biggest gender gap of the four major broadcast networks. While it's certainly better to be very strong among one group than none at all (see: NBC), ABC increasingly resembles a cable network, focusing on one segment of the audience rather than casting a wide net.
******************  
NBC
Abandoning comedy after a decade of decline.
NBC heads into Thursdays this fall finally ready to concede what's been obvious for some time now: "Must-See TV" as we've known it is dead. "We haven't had a strong comedy presence on the night for a while," admits Jeff Bader, the network's president of program planning. While 30 Rock, Community, and Parks and Recreation are beloved by critics and loyal niche audiences, none ever broke out in the same way as NBC's last true Thursday-night comedy hit, The Office. An attempt to go broader last fall with star vehicles for Michael J. Fox and Sean Hayes didn't work out, either. And so, for the first time since 2006 — and for only the third time since The Cosby Show debuted in 1984 — the network will begin the fall with just a single hour of comedy on Thursdays. The 8 p.m. hour will now be occupied by long-running reality competition The Biggest Loser, while at 10 p.m. Parenthood will play out its final 13 episodes. The lone comedies, both new, will air from 9 to 10: Bad Judge (Kate Walsh plays a … bad judge) and A to Z (Broadway vet Cristin Milioti and Mad Men's Ben Feldman play mismatched lovers at the very start of their relationship). Those shows won't have long to prove themselves, however. Starting in February, they'll vacate their time slots to make way for The Blacklist, the James Spader–led crime-procedural surprise hit from last season, which was NBC's most-watched first-year drama since ER and the network's biggest new show of any kind since The Apprentice. And among viewers under 50, it ended up with bigger numbers than almost every other drama on TV last season, including its new time-slot rival, Scandal. Moving it gives NBC two powerful platforms from which to promote new dramas, with the Katherine Heigl–led State of Affairs now following The Voice and conspiracy thriller Odyssey set to air after The Blacklist. Plus, last season, the Spader show gained 6 million viewers each week via DVRs — more than any series on TV. Bottom line, says Bader: Shifting Blacklist to Thursdays "was the strongest move we could make with a potentially small amount of downside."
******************

FOX
Older viewers (and an old show) are the future.
Like NBC's, Fox's Thursday lineup is a concession to reality — in this case, that there's almost no way the network will be able to finish first or even second on the night. After anchoring Thursdays for several years with music competitions, the network will start rebooting this season. The X Factor has been canceled, and American Idol will air far fewer hours. The new game plan: murder-mysteries. At 8 p.m., Fox will lean on Bones, a reliable warhorse since 2005. It will be followed by Gracepoint, a remake of the rapturously reviewed British series Broadchurch. The gritty procedural elements of both shows distinguish them from ABC's soapy dramas or CBS's comedy lineup. But more important, Fox thinks they'll appeal to both men and women — unlike ABC's Shonda block or, early in the season, CBS's NFL games. "We are playing off of the fact that other networks are going one way or the other," explains Earley. (Like the NFL, it's a game of inches: Bones' audience last season was still 62percent female, which seems high until you realize that 74 percent of Scandal's viewers are women.)
Beyond demographics, Fox's Thursday lineup relies on some pretty basic scheduling theory. In a time slot with established demographic powerhouses, Fox has slotted Bones, a show that has a fiercely loyal audience willing to watch (or DVR) it whenever it airs. By contrast, Gracepoint is more of a departure. It's the network's attempt — minus the nudity and bad words — to mimic what non-broadcast networks and streaming-video services have done so well over the past decade with their highly serialized, feature-film-like dramas. Event series like Gracepoint "create noise [and] cut through the clutter, Earley argues. "It helps us compete with cable."
The twists and turns promised by a limited series also encourage viewers to watch as close to live as possible, something ABC's Scandal has mastered with its weekly barrage of "OMFG" moments. And that's key at a time when a growing number of viewers, abetted by DVRs and Netflix, no longer think of TV in a linear fashion. Advertisers are willing to pay networks for audiences who don't watch commercials in real time, but only to a point — three days after the fact is accepted as the cutoff (though some deals are being written based on tune-in up to a week out). Most of the Big Four's Thursday moves are designed to add urgency. The makeovers won't solve all the problems facing broadcast TV. But for now, the networks aren't quite ready to give up trying to persuade us to watch on their timetable.
*This is an extended version of an article that appears in the September 8, 2014 issue of New York Magazine.