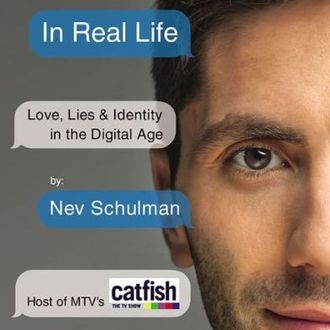 Photo: Grand Central Publishing
In his new book, In Real Life: Love, Lies & Identity in the Digital Age, Nev Schulman — the boyish host of the MTV show Catfish — writes about the time he was "tossed out" of Sarah Lawrence College for punching a girl in the face. In the passage, Schulman explains away his behavior by saying he "hadn't been aware of" the fact that the person he punched was a woman, because she was "short, stocky, crew-cut-styled."
So it struck many former students at Sarah Lawrence as hypocritical when Schulman tweeted a selfie from an elevator on Monday night, condemning former Ravens running back Ray Rice for domestic abuse against his wife, with the message "Real men show strength through patience and honor. This elevator is abuse free."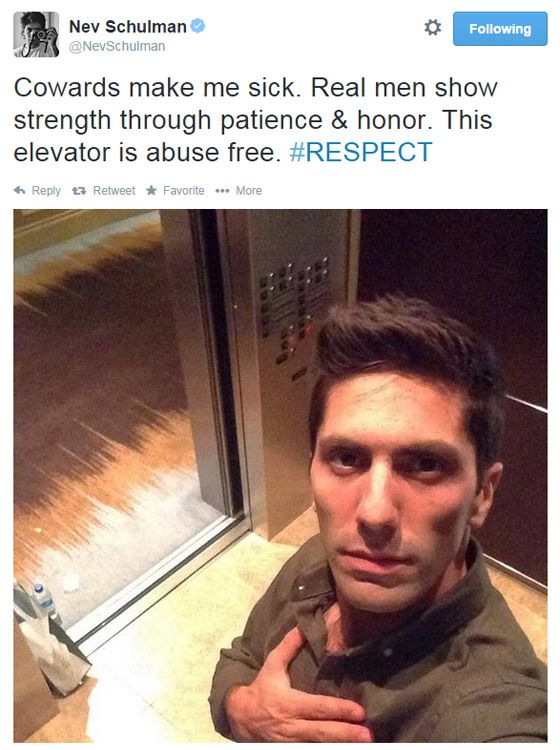 The anecdote Schulman shares in the book is also strange, not just because of the casual tone in which it's written, but because it clashes with the carefully crafted public image Schulman puts forth both on his show and in his book. In both, he is an affable romantic, tirelessly crusading for the internet's lonely hearts, kindly helping reassemble their spirits when the people they fall in love with don't turn out to be who they said they were. But his account also clashes with the version of events we heard from other people present that night, as well as from the woman Schulman punched.
Here's how Schulman describes the incident in In Real Life:
I decided to photograph the school's annual Sleaze Ball, a night of debauchery, drugs, and girls dressed primarily in lingerie. While I was photographing, an individual who didn't like that I was taking pictures attempted to tackle me and smash my camera on the ground. Since the camera was attached to a strap around my neck, I found myself in a very unpleasant situation, much like a dog with a choke collar. In an effort to free myself, I punched the person and ran off; when I returned minutes later, I discovered that the short, stocky, crew-cut-styled individual that I'd fought with was a woman—a fact I hadn't been aware of in the heat of the moment. The next thing I knew, I'd been arrested.

The case was dismissed almost immediately, but Sarah Lawrence took the opportunity to toss me out once and for all. I never even finished my junior year. My attitude was, "Never mind. No big deal. I had it coming." It didn't matter much to me. But my mom was crushed. She'd always put her neck out for me more times than I could count, and now I was hurting her legacy at the school she loved so much. I'd finally screwed up so badly that it ended her relationship with Sarah Lawrence for good.
Rumors of this incident have cropped up across the internet in various forms over the years, and students we spoke with tell the story in a much different way than Schulman does.
Vulture spoke with the woman Nev attacked, and she provided a detailed statement of the incident. Her statement matches the description of events given to us by four other Sarah Lawrence students who attended the dance.
On April 28, 2006, during his junior year at Sarah Lawrence, Schulman — a photography and dance student — decided to take pictures at the Sleaze Ball, a coming-out dance celebrating LGBTQ students held at Bates, the campus's cafeteria. The student Schulman assaulted, who wished to remain anonymous, tells us:
To be quite clear, Schulman's account of the events of that night is as suspect as all his other endeavors. I attended the dance he mentions and saw that he was taking pictures of queer couples dancing and kissing without their permission. I talked to the Student Affairs liaison at the event, who I knew from my work study job, but nothing was done about it. I confronted him, and asked him to stop taking pictures. I didn't tackle him and I certainly didn't choke him with his camera strap. I tapped his shoulder and he turned and hit me out of nowhere, I went down and he held me in a head lock and repeatedly punched me while I tried to get free. The impact broke my glasses and the rest of the night was a blur. I got off the floor, talked to police, then went home to sleep. When I woke up the next day, my face was bruised, I was hurt, and a friend urged me to go to the hospital, which I did.

From the hospital, I was directed to legal services and received legal advice. I was advised not to press charges because it would be a difficult case to win, as I didn't have any broken bones and it would be his word against mine. I also felt intimidated because his lawyer had been waiting for me in the parking lot after my legal meeting. I didn't talk to him but it was clear that Nev's family had the means to drag me through a lengthy court case. As an LBGT financial aid student I didn't think the chance of getting justice looked good.
The anonymous student published a post to Facebook the day after the incident took place, which provides more detail. In the post, she says Schulman began "pounding his closed fist into my temple about six times," and after a visit to the emergency room she was prescribed painkillers for the injury.
"I can tell you with absolute certainty Nev punched a girl who I and many other people knew straight in the face," says one Sarah Lawrence grad who was DJing at the event and witnessed the incident. "He punched her and then he ended up more or less running off." (The students we spoke with all declined to be named, out of respect for the unnamed victim, and because they did not want Schulman sending lawyers after them.)
In a statement provided to Gawker, Schulman claims that he hit the woman in "self-defense."
Schulman was detained by campus police and subsequently arrested (the Yonkers police department declined to show us the report, urging us instead to file a FOIL request).
The female victim eventually posted photos on Facebook of her injuries. "Her face was fucked because she was wearing glasses," one student who saw the pictures said. Another Sarah Lawrence student wrote on her Tumblr, "i remember seeing the pictures she posted to facebook afterwards, her eye was bruised and swollen, and there was a cut on her nose. like, this was no bullshit punch, he pretty much fucked her up."
Ken Schneck, a former administrator at Sarah Lawrence, confirmed Schulman was involved in an incident, but declined to provide details.
Four different Sarah Lawrence students we spoke with said that Schulman's mother, an influential Sarah Lawrence alumna who is the co-president of an anti-violence nonprofit in New York City, tried to convince the college to keep Schulman enrolled, but students started a letter-writing campaign demanding that he be expelled.
"Several people, myself included, really threatened the administration pretty heavily to pressure them to hold him accountable," said the student who witnessed the attack.
Because he was in another student's MFA dance project, Schulman was allowed to return to campus for the performance, but was not allowed back to complete his degree, according to three students.
Some students speculated to us that Nev may have tweeted the anti-abuse selfie knowing full well that people would uncover the passage in his book and call him out for his behavior at Sarah Lawrence.
"Nev's really not stupid," said the DJ who witnessed the punch. "And a lot of people think Nev tweeted that knowing that it was in his book." He essentially made the "right" PR move, the student suggested, by getting ahead of the press and addressing the incident before they could find out about it.
"He definitely believes any publicity is good publicity," the student said. "Whether it's right or wrong."
Ken Schneck, the former Sarah Lawrence administrator, added, "All I can say on the record, as the former Assistant Dean of Student Affairs, is that he was a condescending, entitled, reprehensible tool. :)"