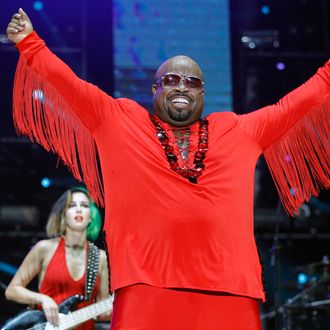 Photo: Srdjan Stevanovic/Getty
Some celebrites know how to use social media as a publicity platform (see: Beyoncé), and others do not. But it's the general rule of thumb that when you've already got charges stacked against you, you should probably stay off Twitter (and Instagram, and Facebook, and whatever else you might use). This special edition of Celebrity Dos and Don'ts is directed at CeeLo, who went on a tweeting rampage after being charged with rape from a 2012 incident where he slipped ecstasy in a woman's drink. The prosecution didn't pursue the charge, citing a lack of evidence, but Green pleaded no contest to one felony count of furnishing a controlled substance and was sentenced to serve probation and community service.
For some reason, Green then thought it was a good idea to tweet the following (which was very quickly deleted): "People who have really been raped REMEMBER!!! … If someone is passed out they're not even WITH you consciously! so WITH Implies consent." Yikes. He also continued to tweet at people who disagreed with that definition of consensual. But after his publicist presumably got wind of the situation — and after the "unrelated" cancellation of his TBS reality show, The Good Life — CeeLo issue this tepid non-apology:
"Sorry, not sorry." In conclusion: No more Voice, no TBS show, indefensible ideas about rape, and an actual rape allegation — so ends the CeeLo Era of 2010–2014.