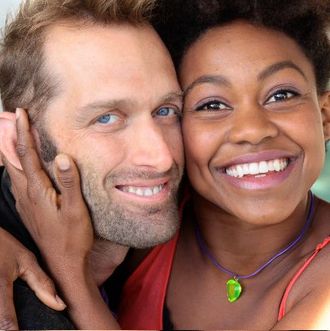 Danièle Watts, a black actress best known for her role as Coco in Django Unchained, was in handcuffs on Thursday as a result of kissing her partner, Brian James Lucas, in public. She claims that she was detained by two LAPD officers for "refusing to agree that I had done something wrong by showing affection, fully clothed, in a public place." Lucas accused police of racial profiling, saying they just saw a "hot bootie shorted black girl" kissing a white man, and assumed Watts was a prostitute.
According to Watts and Lucas, who wrote about the incident on Facebook, the LAPD stopped and asked to check their IDs. Watts was talking on the phone with her father and refused to do so. She was handcuffed and put in the back of the cop car — reducing her to tears — until the officers figured out that she was actually just a working actress. She wrote:
As I was sitting in the back of the police car, I remembered the countless times my father came home frustrated or humiliated by the cops when he had done nothing wrong. I felt his shame, his anger, and my own feelings of frustration for existing in a world where I have allowed myself to believe that "authority figures" could control my BEING… my ability to BE!!!!!!!
Meanwhile the LAPD say they have no record of the incident because it wasn't an official arrest. (UPDATE: Police claim they were responding to a complaint about a couple having sex in their car, and they say leaked photos and an audio recording back up their version of events. Read more here.)

The couple posted several photos of the incident: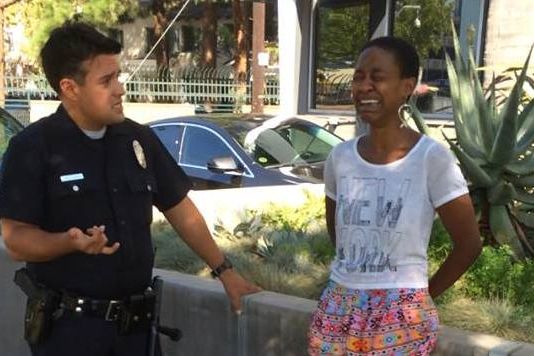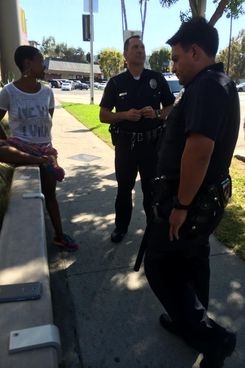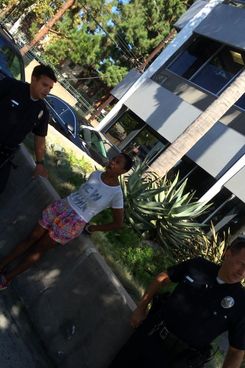 This post has been updated throughout to include the LAPD's account.