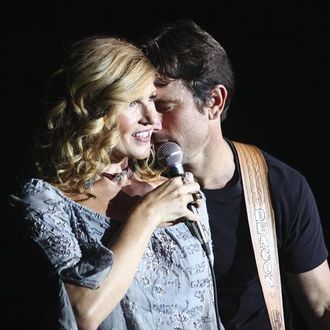 Network TV's premiere week rolls on, and so does Vulture's daily breakdown of each night's winners and losers. Here's how Wednesday played out:
What Clicked
ABC's Black-ish is the best-reviewed network sitcom of the new season, and viewers showed up in droves to check it out. The debut of the Kenya Barris co-creation drew an impressive 10.8 million viewers in its first outing, attracting virtually the same size audience as lead-in Modern Family (10.9 million); among viewers under 50, Black-ish notched a 3.3 rating out of a 3.7 for Modern Family. Both numbers, but particularly the total viewer tally, represent a stunning reversal of fortune for ABC, which for years has watched as one comedy after another has dropped like a rock after Modern Family. It's far too early to declare Black-ish a surefire success, but its stunningly good debut is a very good sign.
The news for ABC was also good earlier in the night, at 8:30 p.m., where sophomore sitcom The Goldbergs generated excellent numbers its first original Wednesday night episode. Creator Adam F. Goldberg's autobiographical half-hour averaged 7 million viewers and notched a 2.3 rating with viewers under 50, its second-best Nielsen performance ever (only its series debut, which aired behind the massively rated Agents of S.H.I.E.L.D., opener did better). Where Goldbergs wowed was in the demos: Its 2.3 rating represented a 10 percent improvement on its lead-in, The Middle (7.4 million, 2.1). And it won the 8:30 half-hour among women under 35.
NBC, meanwhile, may have found another critic-confounding success. The Mysteries of Laura has been savaged by reviewers, but one segment of the audience — older women — seems to be totally into the show, at least for now. After a successful preview last week behind America's Got Talent, the Debra Messing detective series drew a jaw-dropping 10 million viewers in its 8 p.m. debut, beating CBS stalwart Survivor to win the hour. Now, among the demo group NBC says it's targeting — adults under 50 — Laura was a dud, scoring a 1.5 rating (lower than last fall's second-season bow of Revolution in the hour). But older folks are people, too, so perhaps NBC will find a way to make the numbers work, particularly since Laura did decently among women ages 25 to 54, with its 3.0 rating in that demo within spitting distance of ABC's comedy block. (The show's gender gap is huge, by the way: Its men 25 to 54 rating was a mere 1.6.)
What Didn't
New Fox chiefs Dana Walden and Gary Newman knew they had a tough task ahead of them when they replaced former boss Kevin Reilly late last summer, but they might not have imagined things would be this bad. While Gotham launched well on Monday, Tuesday nights are a disaster, and Wednesdays are no better. Promising drama Red Band Society fell to just 3.4 million viewers and 1.0 demo rating in its second outing, losing about a quarter of its premiere audience. While the show is competitive among teen girls (it beat Black-ish in that demo), it's flatlining in every other demo, with younger male viewers in particular shunning the show. Fox will be patient with Red Band and praying DVR numbers result in some record gains. But it's worth noting that a year ago, The X Factor drew twice as many young viewers as Fox's Wednesday lineup this fall. Simon Cowell's music competition may have been an expensive disappointment, but it at least had a loyal core following that kept Fox afloat in the fall. Letting it go may prove to be a very costly mistake for the network.
Another Wednesday dud was ABC's Nashville, which tried to get viewers to watch in real time by having some of its musical performances air live. It didn't work: The series lost half of its Black-ish lead-in, averaging a 1.5 in the under-50 demo, down 25 percent from last fall and trounced by the Big Brother 16 finale and the season debut of NBC's Chicago P.D. ABC rightly notes Nashville does well with DVR replays, but the live performance stunt didn't make a difference in getting viewers to watch live.
Instant Analysis
For the past few years, ABC execs have stubbornly refused to air a straight-ahead family sitcom behind Modern Family, instead using the precious prime-time real estate to try out mismatched efforts such as Cougar Town, Happy Endings, Super Fun Night, and Mixology. Some of those shows were good; others not so much. But none ever made sense behind TV's dominate family half-hour. (Even Suburgatory, while a closer match than the other shows, never made sense there, since it was an arch examination of suburbia and single fatherhood rather than a celebration of the nuclear family unit.) Last year, ABC might have tried to see what Trophy Wife or The Goldbergs would do behind Modern Family, but execs had no curiosity to find out, even after Super Fun flopped hard. All of this is history now, of course: Even if Black-ish drops off a lot in coming weeks — a real possibility, though we're not predicting that — the show's amazing debut numbers should allow it plenty of room to fall and still end up as a solid companion (and maybe even eventual successor to) Modern Family.
Elsewhere, Wednesday's numbers underscore a couple of early trends this season. NBC's 2013–14 comeback momentum is not slowing: The network, which until recently could do no right, now seems unable to do wrong. Laura should've been a total dud, and maybe it'll get there, but NBC's scheduling and marketing teams are so good now, they're at least getting its shows sampled. That's sadly not the case at Fox, which is paying a price for an awful summer in which it had no big scripted or unscripted weapons, and for the misguided optimism of giving up The X Factor in favor of a slew of untested new programming.