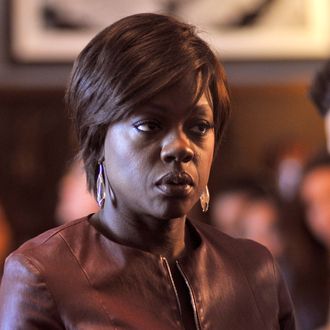 Photo: Nicole Rivelli/? 2014 American Broadcasting Companies, Inc. All rights reserved.
Network TV's premiere week is when broadcasters roll out their biggest new shows and bring back (most of) their returning hits. Vulture is keeping tabs on how this flood of programming is playing with viewers, serving up a daily dissection of the Nielsen numbers. Here's how Thursday unfolded:
What Clicked
Nothing to be angry about here: ABC's Shondaland Super Bowl scored a Nielsen knockout, with newcomer How to Get Away With Murder debuting to the biggest young-adult audience of any new show yet during the very young season. Murder brought in 14 million viewers and averaged a 3.8 rating among adults under 50, actually building on its Scandal (11.9 million, 3.8 rating) lead-in among viewers and improving slightly on last fall's Scandal season premiere. Even better for ABC, moving Scandal back an hour did nothing to harm its numbers: Last night's episode was its most-watched and highest-rated episode yet. And at least for now, the riskiest part of ABC's Shonda strategy also clicked, with Grey's Anatomy effortlessly relocating to 8 p.m. with 9.8 million viewers and a 3.0 rating. That's down about 12 percent from last year, but such a modest decline is normal for a series that has been on the air so long. Plus, ABC basically doubled its 8 o'clock ratings from last fall, when Once Upon a Time in Wonderland failed to open and then faded fast. (One big caveat: Grey's biggest potential rival for live viewers, CBS's The Big Bang Theory, is off Thursdays until the end of next month.) Overall, ABC scored its best numbers on Thursday since 2009 — an amazing feat in an era in which live network viewership has plummeted.
Over at Fox, Bones moved (again) to Thursdays and did … okay. The season premiere averaged 6.2 million viewers and a 1.6 rating with adults under 50, which is on par with last May's finale but well below what the show opened to on Monday when it was perfectly paired with Sleepy Hollow. (Yes, that is an editorial commentary.) And yet, underscoring how tough things have been so far for Fox, Bones is currently the network's second most-watched show of premiere week (behind only Gotham) and it did a bigger demo number than anything the network aired on Tuesday or Wednesday, despite the fierce competition from ABC and football. Finally, Thursday Night Football appears to have bounced back from its somewhat soft numbers last week and should easily end up the night's biggest program.
What Didn't
NBC's early-season momentum came to a crashing halt last night, with a two-hour The Biggest Loser settling for just 4.5 million viewers and a 1.3 demo rating. In its first hour, Loser settled for the same young-adult audience as the on-hiatus Parks and Recreation; at 9 p.m., the reality show did barely half the numbers as last fall's premiere of The Michael J. Fox Show. Of course, Fox (and Sean Saves the World) quickly gave back those viewers. In essence, NBC is starting Thursday right where it was last season, treading water for now and praying The Blacklist can turn things around when it rides on to the night in February. The Peacock also has to be nervous about how its new 9–10 p.m. comedies will do next month when they go up against the ABC juggernaut.
Instant Analysis
ABC went into this season with 99 problems, but Thursday night wasn't expected to be one. But while most industry insiders expected the network's revamped, Shonda-centric schedule to do well, last night's opening numbers were far better than even the most pie-eyed ABC exec could've dreamt. It helped that Fox and NBC are basically giving ABC a pass early in the season; the network also invested many millions over many months to make #TGIT (Thank God It's Thursday) an event. Numbers will surely fade as the impact of ABC's brilliant marketing campaign wears off. But all indications are that ABC is well positioned to dominate Thursdays once football goes away in a few weeks. And with the network having put together a winning comedy block on Wednesdays (finally!), Dancing With the Stars doing okay on Mondays, and freshman Forever showing signs of life, ABC's season might not be as rocky as some of us thought. (One final observation: The top two debuts of the fall season so far among viewers under 50 are ABC's Black-ish and How to Get Away With Murder. Both feature African-American leads. Perhaps network and studio casting directors will keep this in mind next spring.)