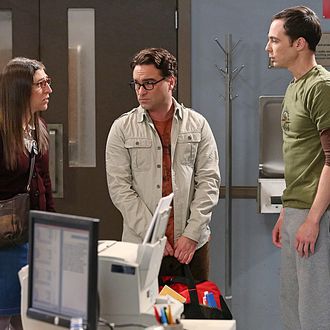 Photo: Michael Yarish/CBS
And so it begins: The new broadcast-TV season officially commenced last night, which means that all this week, Vulture will be wearing our green eyeshade, crunching the Nielsen numbers, and reporting to you how all the new and returning broadcast shows did in their debuts. First up (obviously), here comes Monday:
What Clicked
The night's two most heavily hyped new dramas, Scorpion and Gotham, both turned in decent performances on a very competitive first night of the season. Powered by blockbuster numbers for The Big Bang Theory (more on that in a minute), CBS's Scorpion (14 million viewers) stung nearly twice as many sets of eyeballs as Fox's Gotham (8 million); the race was far closer with adults under 50 (3.3 rating versus 3.1, respectively.) Scorpion obviously benefited from being behind Big Bang, which attracted nearly 18 million viewers (and a 5.4 demo rating) with back-to-back episodes; next week, Mom will air at 8:30, giving the new CBS dramedy a much lower lead-in. Still, Scorpion isn't a known brand (like Gotham) and represents a total departure for CBS at 9 p.m. Monday, where comedies have lived for three decades. There were whispers around Hollywood yesterday that, based on pre-season tracking surveys, Scorpion could end up flatlining like last year's Hostages debacle. That didn't happen, so: Score one for CBS.
Likewise, Fox execs have equal reason to feel relief, and even mild happiness, over the first numbers for Gotham. It had to be a self-starter at 8 p.m. and debuted after a summer in which Fox was often completely off the Nielsen radar. Nonetheless, Gotham, backed by months of off-network marketing (including an impromptu delivery of Gotham-themed sunglasses and Swedish fish to the Vulture offices yesterday), turned on the lights and boosted Fox's 8 p.m. Monday numbers by nearly 40 percent versus last fall's Bones debut. Fox is also predicting Gotham will do even better once people clear out their DVRs, projecting the show's demo rating will soar to 5.1, putting it ahead of CBS's projected DVR-adjusted score for Scorpion (4.9). Given neither show has aired before, it seems a bit risky for broadcasters to assert anything about how things will end up after time-shifting, but execs are tired of reading headlines about declining viewership, so here we are.
Overall Monday, the two biggest winners were CBS and NBC. The Eye had more viewers than any other network Monday, while The Voice (12.7 million viewers, 3.9) paired with the season-two return of The Blacklist (12.5 million, 3.4) to make NBC the demo leader. The intense competition and growing age of The Voice did push the singing show to its lowest-rated fall debut yet, which may explain why Blacklist experienced no sophomore surge and actually came in below its series premiere numbers last fall among viewers under 50. But Blacklist is the most time-shifted show on network TV, so this morning's mild "decline" could well end up disappearing once DVR viewers get counted.
What Didn't
Yesterday we rated as "moderate" the chances Sleepy Hollow would experience a sophomore surge. Turns out even that was generous: The buzzy thriller began its second season with a disappointing 5.5 million viewers and a 2.0 rating — down nearly 33 percent from its series premiere last fall, and a tick below even its January season-one finale. Fox's aforementioned summer from hell surely didn't help (since few people were watching its endless promos for the premiere), nor did the fact that the show has been off the air for nine months or that the competition was so intense last night. Fox believes many Sleepyheads (as the show's fandom calls itself) are into delayed gratification and that the show will pretty much double its demo numbers once DVR ratings get counted. Stay tuned.
Elsewhere, ABC's Forever didn't flat-out flop, but it didn't do all that well with its special Monday preview. After an okay-rated Dancing With the Stars (12 million viewers, 2.0 rating), the fantasy procedural gave back about 25 percent of its lead-in, bowing with 8.3 million viewers and a 1.5 rating. A year ago, Castle did a 2.2 with viewers under 50 and matched its DWTS lead-in. ABC now has to pray audiences will show up tonight at 10, when Forever moves into what's been a cursed time slot for ABC of late.
Instant Analysis
Network television is a deeply challenged medium, but it ain't dead yet. Despite hand-wringing by some on Madison Avenue, premiere week remains an effective tool for luring viewers back to the Big Four: Five shows last night attracted more than 10 million same-day viewers, which is about five times the total number of shows on all of cable that do that on a regular basis. Competition for viewers was ferocious Monday (there was also a big NFL game on ESPN), and yet, every broadcaster drew a solid-size crowd. Ratings will drift downward in coming weeks, of course, as some viewers decide to stack up episodes on DVR or decide to bail on new shows that don't live up to expectations. But it was a good night for broadcast.