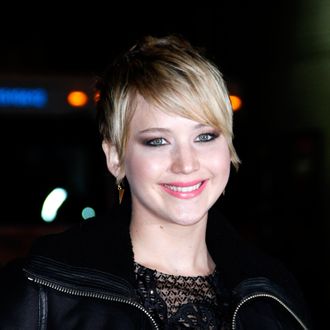 Photo: Donna Ward/Getty Images
Jennifer Lawrence has been in contact with authorities after nude photos of her and a number of other female celebrities, including Ariana Grande, Kate Upton, and Victoria Justice, were leaked on 4chan yesterday. The authenticity of all the images could not be verified, although Lawrence's rep has confirmed that it is her featured in the photos. "This is a flagrant violation of privacy. The authorities have been contacted and will prosecute anyone who posts the stolen photos of Jennifer Lawrence," said Lawrence's spokeswoman Liz Mahoney on Monday.
Likewise, Kate Upton's lawyer said in a statement: "This is obviously an outrageous violation of our client Kate Upton's privacy. We intend to pursue anyone disseminating or duplicating these illegally obtained images to the fullest extent possible."
Actress Mary Elizabeth Winstead spoke out against the hacking on Twitter (and has since announced that she was going on an "Internet break" after being the target of insults and verbal abuse — the internet is a wonderful place!):
Meanwhile, Ariana Grande's reps denied that the photos were legit, as did Victoria Justice:
According to a statement released to The Hollywood Reporter, the FBI plans to investigate the source of the images. "The FBI is aware of the allegations concerning computer intrusions and the unlawful release of material involving high profile individuals, and is addressing the matter," a rep said in a statement. "Any further comment would be inappropriate at this time."

Apple is also looking into whether users' iCloud accounts were compromised. "We take user privacy very seriously and are actively investigating this report," said Apple spokeswoman Nat Kerris in a statement.
The extent of the hacking remains unclear, but an alleged master list of all the women targeted has been circulating online, including names such as Rihanna, Kim Kardashian, Cara Delevingne, and Mary-Kate Olsen.